Did you know that Dublin has outranked London in a 2014 poll of the top cities to live in Europe? Also its architecture, atmosphere, people, history, music, pubs and city's hospitality have made Dublin one of the most romantic, popular travel destinations in Europe. It really doesn't matter where you go in the world, and how much you pay for luxury, if the people and the atmosphere aren't right, you won't want to repeat the experience. In Dublin these ingredients are normally an integral part of the recipe, so the next step is to find the hotel that suits your purposes best and will help you have a romantic break.
This list is by no means definitive, and not in any order of preference. However if you are new to Dublin, this guide will definitely help you choose the best hotel for you. If you have been to Dublin and stayed at a particularly romantic Dublin hotel, please feel free to tell us about it in the comments below.
Chosen as one of the Travellers' Choice top 25 luxury hotels in Ireland, the Four Seasons Hotel Dublin is located in the beautiful area of Ballsbridge. This is one of Dublin's most luxurious districts, where many of the embassies are located. The area is filled with mature leafy trees and is within a 15 to 20 minute walk to the city centre, if you are going to Stephen's Green.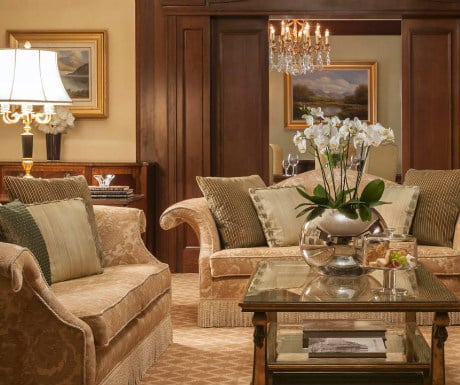 The hotel is luxurious, elegant and romantic. There are little feelgood factors such as beautiful brands like L'Occitane, plus if you really want to push the boat out, you could book a Deluxe Suite, that might be bigger than some people's apartments. The bed in this suite is not far off the size of a tennis court. Another little touch is the professional quality hairdryers, that as any woman knows, can make or break that romantic weekend. We need to have very good hair days, during a romantic trip!
Grand, gracious, romantic and beautiful – the Merrion Hotel is the perfect choice for lovers spending time in Dublin. Nominated within the top 25 hotels for a romantic stay in Ireland, the Merrion Hotel is a pure experience of elegance, excellence and considered by many to be one of the best, if not the top hotel in Dublin. The location doesn't get much more central, as it's in Stephen's Green, and the romance of its Georgian gracious interiors may be the first thing to hit you when you walk in the door.
Another highlight of the Merrion Hotel is the beautiful Roman style indoor pool, not to mention the full-service spa as well as a well-equipped fitness centre. Throughout the hotel is a feeling of intimacy and privacy, and of course if like me, you consider food to be part of romantic experience, then the two Michelin star restaurant Patrick Guilbaud will be the icing on the cake. This is next door to the hotel, and currently the only two Michelin starred restaurant in the country.
The rooms, much like all aspects of the hotel, are lovely and seamless. Around the hotel you'll see beautiful artwork placed on the walls. The Merrion Hotel is a romantic, peaceful haven situated in one of the best locations central Dublin has to offer
Although not a huge surprise in the friendly city of Dublin, your romantic stay will be further enhanced by the hotel's friendly, perfectly trained staff. Consider choosing one of the Superior King rooms, especially ask for one facing the garden, which is lovely and also rather large.
The Marker Hotel is one of Ireland's top 25 luxurious hotels, according to Travellers Choice. You'll find this hotel in the Dublin Docklands area, and in my opinion, one of its highlights is the rooftop bar which has superb views across the city. This is one to choose if you are looking for a modern, romantic hotel. It's beautiful in a modern way, and is an excellent example of how hospitality should be done.
If you don't want to leave the hotel too often, the good news is that the food is very good, not to mention the great cocktails that they serve. In fact, if the Irish weather allows it, why not order some delicious cocktails and drink them on the hotel's roof terrace. As a Dubliner, I can tell you that this is somewhere to appreciate the city centre at night-time.
The Shelbourne Hotel is something of an institution in Dublin. An icon of luxury and history, this romantic hotel was built in 1824. Located on Stephen's Green, the hotel has a grand, majestic entrance with very traditional elegant decor. It continues to be a top choice amongst locals and visitors – for more time than I care to remember, it's been a trendy spot to pop in for a drink in the gorgeous bar, or stay there for a few wonderful, romantic nights.
If you're looking for grandeur, this is the hotel for you. A renaissance hotel, it is the perfect choice for traditional, romantic elegance. Don't expect massive, modern bedrooms-remember that the hotel was built in 1824, and the romance that it offers is one of yesteryear. The rooms, like the rest of the hotel, are pure elegance. This is somewhere that has a special ambience.
The Shelbourne Hotel is in a wonderful location, with staff who are super attentive, and if it is romance and luxury that you are looking for, this can be an exquisite experience.
Situated a hop, skip and a jump away from Grafton Street, The Westbury Hotel is elegantly decorated with plush couches, elegant bathrooms, neutral colours and modern patterns. With plenty of space throughout, the location couldn't really be any more central.
This romantic Dublin hotel has 205 rooms complete with elegant bathrooms, lovely linens, minibars and Nespresso machines. However in a hotel like the Westbury, it would be rude not to have afternoon tea. If you haven't tasted Irish scones, it should really be on your list of things to do.… and why not do it in a hotel that oozes romance and style?
One other thing that needs to be said about this hotel, is that the genuine interest and friendliness of staff should make your stay even more romantic and memorable.
Also in the Ballsbridge area of Dublin, is this charming, romantic hotel – Aberdeen Lodge. This is another choice for those who want to experience the real warmth that many of these hotels have to offer, that really puts the finishing touches on to any romantic, luxury break.
Actually the food in this hotel is also very good, if you don't feel like venturing out into the city centre. Even if you don't eat dinner at the hotel, you will be greeted with a lovely fresh pot of tea and a delicious, home-made cookie.
7. Ariel House
Another of the hotels located in the leafy area of Ballsbridge, Ariel House offers a wonderful, romantic experience. Beds are big and cosy, breakfast is delicious and the staff are so very attentive. The rooms are also spacious and very comfortable, and much like the neighbourhood of Ballsbridge – the feeling and style is of understated elegance.
Although this is not on the edge of Grafton Street, it is within a 20 minute walk or so. Alternatively the DART station is two minutes away from the hotel. This hotel is one to consider if you prefer a little bit of peace, a feeling of old-style romance and the feelgood factor of staff who really do care about their guests.
8. Dylan Hotel
If funky romance is more your style, then this boutique hotel located in Ballsbridge, could be right up your street. With 44 rooms, each of which has been individually decorated, the Dylan Hotel in the leafy district of Ballsbridge, is close to the city centre but peaceful at the same time.
The bedrooms are somewhat whimsical combining the classic with the artistic, and throwing in some bold statements from time to time. There is underfloor heating in the bathroom also, iPod docks which contain the Dublin walking historical tours and well stocked minibars.
If you really want to treat yourself and your loved one, then consider asking for a room which has a bathroom with a huge luxury tub and a small flat screen TV.
This hotel is for those who love a good splash of bold colour, eclectic accents and modern furniture. Hang out with your other half in fun bedrooms which have huge adjoining bathrooms. A lot of the rooms in this hotel have separate walk-in showers and soaking tubs. When booking you should ask for a room with a tub, and this means all you need to do is relax in the tub with a drink from the minibar.
It is in a wonderful location, overlooking Stephen's Green, and also offers 24 hour room service. If you are looking for central, stylish, romantic… then this could be for you. Little touches such as nightly chocolates, exceptionally friendly staff, fluffy duvets and a choice of three distinctive restaurants, make this hotel extra special
10. The Gibson Hotel
The Gibson Hotel offers a kind of quirky, romantic feeling. Situated close to the O2, it may be a little out of your way unless you are planning to go to a concert there. However if you check out the location and it suits you, then the little touches will definitely charm you. Each morning you will find a quote from one of Ireland's many famous writers, stuck on your mirror.
As you wander around the hotel you will notice plenty of pieces of modern art, lurking randomly around each corner. This hotel is all about light, glass, modern features and bold colours.
On the south side of Dublin's River Liffey, you will find the Radisson Blue Royal Hotel. This is a luxurious contemporary property on the river's south side, with upscale bedrooms, especially suited to couples. If you want extra space to relax and lounge around, consider booking a suite. The stylish, sleek bathrooms have walk-in showers and tubs.
There are 150 rooms, a cocktail lounge, a bar and two restaurants. Please note, however, that there is not a fitness centre, although there is a local gym close by, which guests have access to.
12. The Morrison
The Morrison Hotel is hip and trendy, centrally located and attracts a younger crowd. The River Liffey separates the hotel from the crazy bustle of Temple Bar, so although you're close, you are not in the middle of this super lively spot.
Come to this hotel for a romantic break if you love being fashionable and trendy, if you want to fit in with funky light fittings, lots of leather, and an artistic palette of turquoise and purple. The bedrooms are decked out in cooler more neutral shades, and are very well soundproofed, which is just as well because you are right in the middle of Dublin city centre. Lounge around in your fluffy bathrobe, feeling romantic in your stylish, spacious bedroom.
If you don't feel like venturing out of the hotel, you and your partner could hang out in the cocktail bar and enjoy a copious range of cocktails, in buzzing surroundings.
The location of the Croke Park Hotel is not city centre, however it is within walking distance, for those who like to walk – between 20 to 30 minutes or so. Situated opposite the stadium of the same name, this could be the perfect choice if you or your partner loves sports. For foreigners who have not seen a GAA match, it is worthwhile to plan your trip to coincide with a Gaelic football match. If the teams are well matched, you will be amazed at how fast this sport is.
The hotel's rooms are very generously sized, with voluptuous beds and pillows, for a fluffy, romantic feel. The staff are exceptional, and once you are aware of the location of the hotel, it's a great choice for the GAA stadium, Croke Park, and also if you need to get to or from Dublin airport.
Jackie de Burca is Co-owner of Catalonia Valencia.
If you would like to be a guest blogger on A Luxury Travel Blog in order to raise your profile, please contact us.