As we all know, the weather in the capital can be a little unpredictable. During the winter months we become accustomed to taking shelter from the driving rain in dingy basement bars, whilst trying to keep our core temperature above zero. So when the sun finally does come out, it is justifiably a major cause for celebration. Here in the UK weather forecasters are predicting the hottest summer since 1976, as indeed they have been doing every summer since 1976. But just in case they might be right this time, it's good to know where to find a sun terrace should you need one. Space on these terraces is at a premium on a hot summer's day, so once you have decided which one is your favourite, you might like to keep it to yourself…
1. Aqua
The central location of this roof top cocktail bar, just off Oxford Circus, makes it a perfect place to escape from the crowds down below. Even luxury shopping can be exhausting in the height of summer. There are two large external terraces with sensational views down Piccadilly, and across the West End. They do get a little crowded, but that's a small price to pay for the pleasure of enjoying your favourite cocktail in the glorious sunshine, in the centre of a great city. In spite of its name, the Porn Star Martini is quite delicious.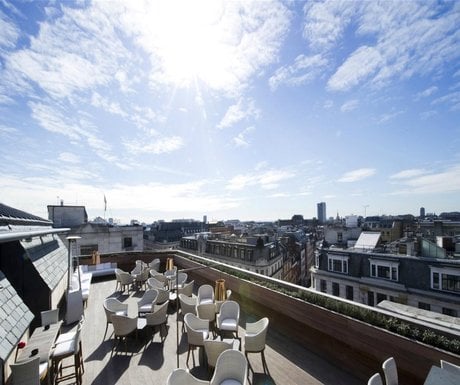 Located on the 10th floor of the shiny new ME Hotel on The Strand, Radio Rooftop Bar offers incredible views of the London skyline. The extensive terrace area is equipped with stylish sofas and extremely efficient heaters which means that you can still sit outside even when the sun is long gone. This is a destination for the sleekly dressed and genetically blessed – even the cocktails are good looking, and have unspeakably glamorous names. Since opening last year, Radio Rooftop Bar has become THE place to be on a hot summer's evening. Booking a table in advance is advisable – but once you are installed at your table, the lively music and electric atmosphere might just keep you here until the early hours…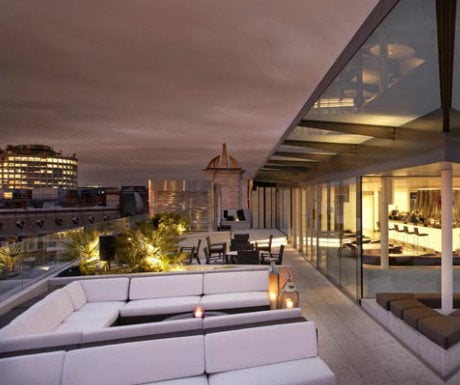 Le Bar is an elegant and enticing cocktail bar situated above this Covent Garden Michelin star restaurant. It is perfect for pre-dinner drinks, as well as being a destination in its own right. The open air terrace is small but perfectly formed. The staff is both knowledgeable and engaging, which further enhances the pleasure of your visit. You will find all the classics on the menu, together with a few cocktails you will probably never have heard of, but might like to try.
This lively Scottish restaurant in Belgravia comes complete with whisky bars, private dining rooms, live jazz and the all-important cigar terrace. It tends to attract an eclectic mix of gregarious, eccentric, hedonistic folk, but they are mostly well-bred, affable and very entertaining. With a generous supply of tartan rugs, it's a cosy place to be even when the weather is more reminiscent of the Scottish Highlands than St. Tropez.
5. Coq d'Argent
This summer the Bar and Grill terrace at the Coq d'Argent has been transformed into a beautiful French Riviera-inspired oasis, known as Yacht d'Argent. As you sip your sumptuous summer cocktail you can almost imagine yourself being transported into a world of opulence and Super Yachts. I said almost…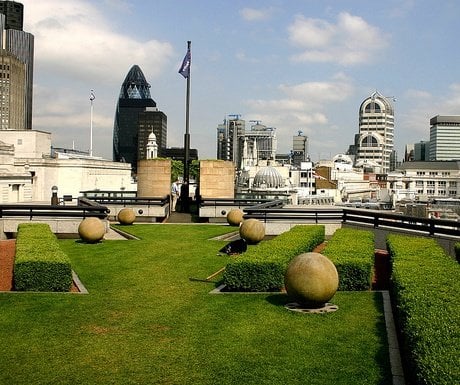 On the basis that you can practically touch its iconic dome, this has to be the best place in London for a "St. Paul's selfie". One of the largest public open air roof terraces in Europe, Madison Cocktail and Tapas bar is a must.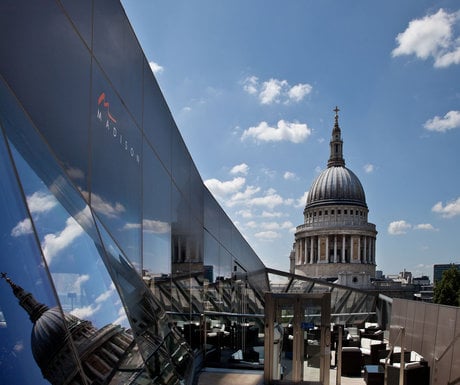 7. Sushisamba
175m high on the 38th floor of the Heron Tower, Sushisamba's roof top terrace offers unparalleled views of the City to the West, and the Olympic Park to the East. If you can't bear to look down, you can always gaze at the gorgeous golden glowing tree in the centre of the bar whist you decide if you are in the mood for a Nina Fresa or a Chu-Cumber.
8. The Angler, South Place Hotel
The Angler roof top terrace in the South Place Hotel aims to bring a little piece of Provence to the heart of London. And it doesn't do a bad job I might add. Planted with lavender, herbs and an imposing pair of olive trees this West facing sheltered terrace seems to have its own little micro climate where the sun remains trapped well into the evening.
9. Skylounge by Doubletree at Hilton
If a view of Tower Bridge isn't enough to entice you, this summer's pop up Mexican bar should be. With Mexican food, Mexican music and frozen mojitos, there's a lot of fun to be had in the sun. With its resident DJ and extensive cocktail menu, it's perfectly possible to find yourself still in the Skylounge until the early hours.
With Big Ben on one side and Nelson's Column on the other, the slick little terrace of this iconic sky bar allows you to tick off a few top tourist attractions without even having to move from your chair, whilst providing you with a perfect place to watch the sun go down.
Whether you are visiting London for business or leisure, nothing beats a sun drenched terrace as the ultimate pleasure…
Ceri Tinley is the Co-Founder and MD of Consensio Holidays.
If you would like to be a guest blogger on A Luxury Travel Blog in order to raise your profile, please contact us.