My stay at the St. Pancras Renaissance Hotel was all too brief, arriving at around midnight and leaving the next morning in order to catch a flight to Shanghai from Heathrow. That said, it still gave me enough time to get a brief insight into why this beautiful George Gilbert Scott designed building has become such an iconic hotel in the city since its re-opening in 2011.
The welcome
The welcome process was polite, quick and efficient which is appreciated with a late arrival when all you're really wanting to do is just crash. I was personally shown to my room, passing through the bustling Booking Office Bar & Restaurant en route.
The room
I stayed in one of the Chambers Suites – the Junior Suite, with its tall ceiling, large bed, seating area with comfy chairs, a desk area where I could do a spot of work and bathroom.
One of the novel things about the rooms here is the view. The rooms look directly out onto St. Pancras railway station.
Guests staying in the Chambers Suites have exclusive access to many benefits including The Chambers Club Lounge, offering snacks and drinks throughout the day, and personal butler service.
The bathroom
There were gowns and slippers (I don't usually use them and certainly didn't need to with a one-night stay), ample fluffy towels, REN toiletries and even a rubber duck!
The facilities
Sadly, I didn't really have much time to use (or explore!) any of the hotel's facilities. Guests of the Chambers Suites receive a complimentary breakfast which I did enjoy in the relaxed setting of the exclusive Chambers Suites Club Lounge prior to checking out.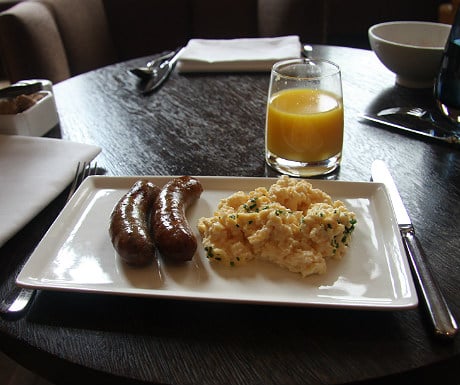 It would have been nice to have made use of the Gentlemen's Tonic Express Barber Shop, but sadly time didn't allow – I had to get to the airport.
Other nice touches
There was a lovely array of cheese, fruit, chutney and crackers laid out for my arrival, along with a kind welcome note and half bottle of wine.
Cost
Rooms in Barlow House at the St. Pancras Renaissance Hotel start from £235 per night.
The best bit
The bed. It was super comfortable – just what you need before an 11-hour flight!
The final verdict
A lovely hotel that is as grand inside as it is out. A great location at St. Pancras station (also close to King's Cross and Euston), with one of the most unique hotel room views I've experienced in a while.