When people find out I'm a travel writer, they invariably ask me what my favorite place is. I usually reply, "That depends on what I'm in the mood for.  My favorite exotic place would be Papua New Guinea. Favorite country is Turkey. Favorite city is Buenos Aires. But Kauai, which had been holding firm as my favorite island for ages, just got replaced by my new found love, Newfoundland.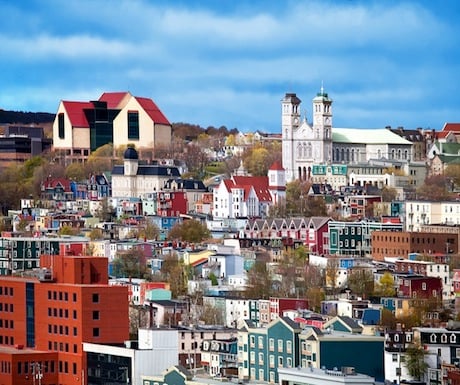 1. You could easily spend a month driving around this huge, breathtakingly gorgeous (we're talking on par with Angelina Jolie) marvelously quirky province. Note: the province is actually named Newfoundland and Labrador incorporating the island of Newfoundland and mainland Labrador to the northwest, but most locals refer to them separately.
2. In 1949, Newfoundland (originally England's oldest overseas colony) joined Canada as its youngest province. Previously known as the "Grand Cod Fishery of the Universe" it fell upon hard times when the cod fishing ended. Due to a booming oil and gas industry it is snapping back with a vengeance.
3. With only one week to visit, I was wisely advised to split my time between the vibrant capital city of St. John's (the oldest English-settled city in North America) and "out of town", where I explored the scenic coastal villages sprinkled along the dramatic coastline of the Avalon Peninsula.
4. The historic capital city of St. John's is a winning combination of small town charm and a sophisticated cultural scene. A wee walk out of town brings you to the Leaside Manor, an impeccably maintained 1920s heritage inn, where old world charm meets modern convenience.
The Compton House, their lovely sister property next door, is an elegant Victorian mansion surrounded by an appealing English garden. Tip: ask to have breakfast delivered and nibble on it while you while luxuriating in your double-size Jaccuzi.
5. Food lovers have a plethora of farm/sea/forest to table restaurants (run by passionate proponents of Newfoundland cuisine) to choose from.
Here are some of my recommendations to get you started:
Book far in advance for a table at the elegant Raymonds Restaurant, voted Canada's best new restaurant.
The quaint 18th century Mallard Cottage features updated, Newfoundland classics using freshly foraged, tongue-to-tail food from the area's finest purveyors.
At Bacalao, for a once in a lifetime experience, order the "Iceberg Growler" cocktail, made with iceberg gin and served over 10,000+ year old iceberg ice cubes which pairs nicely with Bacalao's "soon-to-be-famous Seafood Chowder" and Tongues and Cake, Bacalao's nod to the cod, a delicious duo of lightly crisped cod tongues (similar to tender calamari) with a pan-fried salt cod cake.
Tip: Save room for the spicy Honey Brown Ginger Cake made with local artisanal Quidi Vidi Honey Brown beer.
Chinched Bistro serves imaginative, international cuisine based on traditional methods and local products. Exciting palate-pleasing entrees include spicy Korean Fried Octopus, Cod Tongue Tacos and Chicken & Waffles.

Tip: The Charcuterie Plate is a thing of beauty. Chef Shaun spends months handcrafting a variety of sausages, paté's, and terrines that comes with assorted homemade crackers.
6. After exploring the colorful, jellybean row houses, museums, galleries, and original boutiques which occupy the strollable downtown area, head down to the dock for an unforgettable boat trip (complete with 12,000 year old icebergs that have floated down from Greenland, humpback whales, puffins and a fascinating commentary by Capt. Barry) with the award-winning Iceberg Quest Ocean Tours.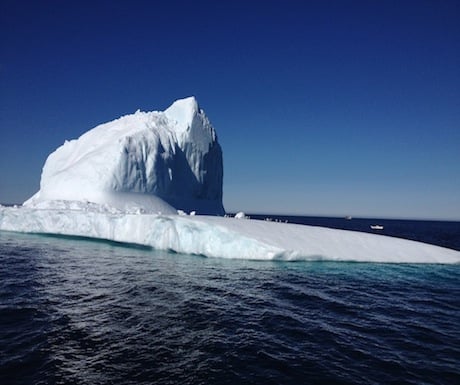 7. Pick up your rental car for the easy hour drive to Green's Harbour (passing many "Beware of wandering moose" signs along the highway) where you'll check into one of the ten beautifully appointed suites at the Doctor's House Inn & Spa, your secluded little patch of heaven for the next few days.
Like finding a cherry in the box of chocolates, this hidden gem is so special that you'll be tempted to snuggle into your four-poster feather bed, leaving only to wander the acres of flowering fields, gardens, and trails, perhaps pausing to pat the Newfoundland ponies, sheep and goats. The head down to the dining room, for a table by the crackling fireplace or perhaps you'd prefer a view of the garden, for a creative Table d'hôte dinner prepared by the amazingly talented, award-winning Executive Chef Chris Chafe. It absolutely blew my mind that Chafe, a Canadian Top-Chef contender, makes everything in-house, from the artisan breads, farm-fresh cheese, salads from the on-site greenhouse to the palate-cleansing sorbets.
Tip: As soon as you arrive book any of their sumptuous Aveda spa treatments where you'll gratefully succumb to Rosemary's (the esthetician) magical touch.
If you can manage to tear your self away from this paradise, some gorgeous, albeit quirky spots well worth a visit include:
8. Brigus. A picturesque fishing community on Conception Bay where you can tour the home of famous polar explorer Bob Bartlett, who accompanied Perry to the North Pole.
9. Cupids. It is virtually impossible not to fall under the spell of this 400 year old village, the first English colony in Canada.  Stop in at The Cupids Legacy Centre, a beautifully designed museum that brings to life the fascinating story of John's Guy's (the first settler) colony. Don't miss the rooftop faerie garden.
Tip: drive up the hill for an impeccably fresh, fried cod lunch at Cupid's Haven, housed in what was originally St. Augustine's Church.
10. Dildo. A must-see, if only to take a picture of the town's sign. It actually is a charming, G-rated, fishing town, where the locals have a lot of fun naming their boats. The Dildo and Area Interpretation Centre provides information about the cod fish hatchery located on Dildo Island in the 1800s. It also houses a 40-foot whale skeleton and artifacts made by people living here 3,000 years ago.
Tip: take a detour on the drive back to St. John's to Rodrigues Winery, famous for their local fruit wines. Try a sip of their "berry pie in a bottle" including their hand-picked Wild Blueberry, Exotique Wild Cloudberry or Partridge Berry wines and liqueurs.
Janice Nieder is Founder of Travel with Taste.
If you would like to be a guest blogger on A Luxury Travel Blog in order to raise your profile, please contact us.