Nothing beats a good cheesecake and this tried and tested recipe creates a decadent and smooth dessert that is pretty much the perfect end to any meal. With a crumbly crust, vanilla filling and a wonderfully creamy topping, serve a slice of this with some fresh fruit for a delicious sweet spring treat. Serves 12.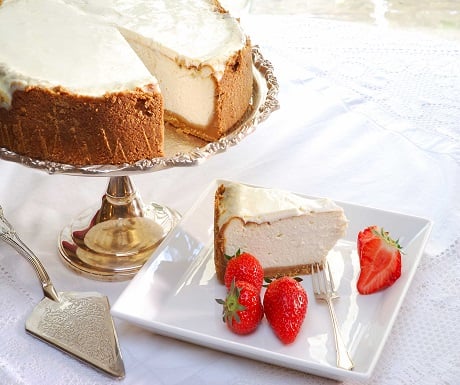 Ingredients
1.35kg Philadelphia cream cheese
6 eggs, separated (room temperature)
350g granulated sugar
1 vanilla bean, split and seeds scraped out
1 tablespoon vanilla extract
A pinch of kosher salt
A 20cm spring mould
Topping
450ml sour cream
50g sugar
Crust
250g finely ground graham cracker or Digestive biscuit crumbs
130g white sugar
170g butter, melted
2g ground cinnamon (optional)
Directions
1. For the crust, mix the graham cracker crumbs, sugar, melted butter, and cinnamon until well blended.
2. Press the mixture into the mould to ensure a thin, consistent layer and bake at 190oc for 7 minutes. Leave to cool, then chill for an hour.
3. Whip the cream cheese and half the sugar.
4. Add the egg yolks, vanilla seeds, vanilla extract, salt and sour cream, and whip thoroughly, scarping the bowl.
5. Whip the egg whites with the rest of the sugar.
6. Fold the whites into the cheese mixture and very gently pour into the prepared pan.
7. Wrap the bottom of the mould pan and place in a water bath.
8. Bake in the oven for an hour at 180oc then turn off the heat and allow to remain in the oven for another hour.
9. Remove, cool on a rack, and then refrigerate for twelve hours.
10. To finish, pre-heat the oven to 100 degrees Centigrade.
11. Mix the sour cream and sugar for the topping, top the chilled cheesecake, and bake for 20 minutes.
12. Finally chill for 24 hours before serving.
Thank you to Mrs. Beatrice Tollman, President and Founder of Red Carnation Hotels for the recipe.
If you have a recipe you would like to share with  A Luxury Travel Blog's readers, please contact us.