When I returned from Japan a few years ago, it took a while to get back to myself. I was sitting at my desk writing emails, but my heart was wandering the crowded streets of Kyoto. I was squished on a subway that was delayed and packed beyond capacity, and all I could do was mentally cross my arms and huff and puff and think of the by-the-minute accuracy of Tokyo's trains.
For me, the itch to pack up and go is always present, making itself known in the moments when I change my desktop wallpaper to Norwegian fjords or Tibetan monasteries, or when I wander down the travel section of the bookstore. But then, the truth: Traveling doesn't always come cheap, and jetsetting around the world isn't something most of us can do at the drop of a hat. We need our jobs and careers to fuel our wanderlust. We need to accumulate vacation time before we can jump on a plane (or train, or automobile).
Here are some tips that you can employ when you find yourself daydreaming about being somewhere other than your desk and chair.
1. Play tourist in your own city
You have a favourite gym. You can hang out at, or steer clear of, the most raucous nightlife district. You can name every stop on the transit system. You know which days offer discounts at the movies, and where to go if you need to fill prescriptions.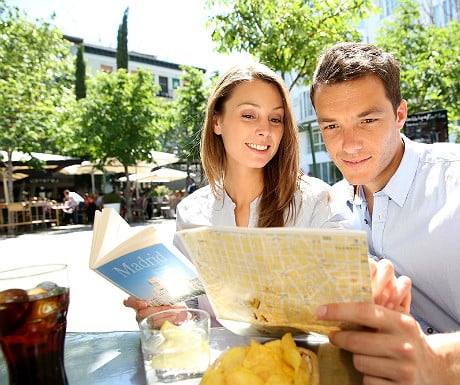 Knowing where you live is completely different from experiencing it.
In our condo, the night view usually consists of the twinkling lights of our TV, laptop, or mobile device (usually all three at once.) For my husband's birthday one year, I decided to book a one-night stay at a swanky hotel in the heart of downtown. Experiencing our city from a different point of view made me see where we live with fresh eyes.
Find a tour book of your city, or look it up on Wikitravel. Hop on one of those tour buses that allow you to disembark at various points of interest. Ooh and aah and look around you with wide-eyed wonder. You'd be surprised at how it looks through a tourist's lens, and amazed at the history you never knew. When is the last time you visited the zoo, or stopped to enjoy a historic landmark? You soak in art and history in other places. Now it's time to see the exhibit at your local museum.
2) Plan your next dream vacation
Use this down time to dream about your next vacation. Get ideas and inspiration about where to go next, or revisit your bucket list and figure out the next destination to cross off. Pinterest is a gold mine of stunning images that will whet your travel appetite. If you aren't sure where to start, it has a category that's just for travel. Brush up on your travel savvy by visiting blogs and reading travelers' tips.  Arm yourself with knowledge. The information will stay in the back of your mind the next time you take off. You'll build interest and anticipation for your next trip without spending a dime.
Bonus: the simple act of planning a trip makes us happier.  Science has proven it!
Take it a step further and search for places that you don't think you'll ever go.  I love mountains and hiking, but running water and electricity are my friends.  A breathtaking trek to see the towering cliffs of Baffin Island will likely never happen for me. But I still get a kick just browsing through galleries of the gorgeous barren landscape.
Similarly, safety concerns and dealing with bureaucratic processes can make getting into certain countries more hassle than it's worth. Our pals at Google can help us get a snapshot of otherwise inaccessible places. Which leads me to the next point:
3. Take a virtual trip around the world with Google
The internet isn't called the "world wide web" for no reason. It's a huge and wonderful place with contributors from around the globe acting as a tour guide. While you're busy working toward your next trip, you can take one for free.
Google's Street View takes you to famous landmarks, helps you discover remote destinations, and shows you highlights from cities around the world, one click at a time with sweeping panoramas.
Swim with sea lions in the Galapagos, get lost in the clouds at Everest Base Camp, or wander around the colourful streets of Brazil, all in one morning. The world is literally at your fingertips. If you can't be there right now, I've found that this is the next best thing.
4. Explore outside of where you live
Pick a direction, any direction. Now drive for a couple of hours.  Take in the way that architecture and landscapes melt away and reappear as you drive.
If you live in a big city, get out of the hustle and bustle and look for something green, beachy, or mountainous.  If rural living is your thing, go for a weekend jaunt to explore a nearby town or metropolis. The goal is to shock your system. Take yourself out of your everyday surroundings and get a break from everyday life. The short drive will trick you into thinking that you've been away from home longer than you actually have. As a city girl, I see many people subscribe to this thinking as the highways leading out of the urban centre is like a mass exodus on Fridays.
Images: Shutterstock