Staying in contact with friends and family when you travel can cost a bomb and although the European Commission just dropped international roaming rates in Europe for European residents on 1st July, people from the UK alone are still estimated to spend £500 million on roaming fees this summer – it happens to the best of us. Here are a few tips to help you stay connected when you travel, without the huge roaming bill.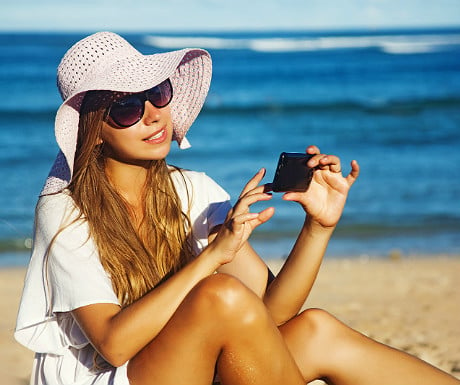 Switch your browser
If you switch your browser to Opera it will compress your data by as much as 50% meaning you pay half the price than you would for the same activity. The quality of webpages, uploading and downloading data is not affected. Opera Max has recently been released and should save you quite substantially. Data roaming is usually what causes international roaming bills to sky rocket!
Don't stream
If you are travelling internationally, don't stream music or movies unless you are rich and love to waste money. Instead make sure you are prepared with all the tunes and films you need before you travel to keep costs down.
Travel apps
Travel apps are great but most of them need a data connection in order to work which is pretty irritating as they can end up ramping up your phone bill something chronic. When you are looking at travel apps before you travel, make sure they are available offline – there are quite a few good ones that work offline including Triposo, TripIt and Google Maps.
Change your SIM
If you change your SIM card to a pay as you go SIM card you will ensure that you cannot overspend. You can set a certain amount of credit and just to up when you need to – meaning no excessive data bills. This was you can still be contacted when you travel if you need to be. There is a wide variation as pay as you go SIM cards so make sure you get one that is suitable for your purpose as you may be able to get free incoming calls, and cheap data internationally. Local SIMs can be a good idea but topping up in a foreign language can be near impossible so keep this in mind.
Monitor your usage
On most handsets you can set a data limit, this will ensure you don't go over the amount you have allowed yourself. When you are setting data limits its best to check what the cost per megabyte is so you can work out how much you are prepared to pay per day.
Data compressor
As well as having an Opera browser, you can further compress data with data compression apps like Onavo Extend. It works in the background to compress data so you can get online for less.
Turn off data roaming
Before you fly, you should turn off data roaming otherwise your phone will update all your apps, emails and social accounts when it connects to a network when you land. You should tweak your settings to ensure that automatic updates are disabled, this way you can update just the apps that are important. When you need to check emails and Facebook turn data roaming on till they all update and then switch it off again when you need it.
WiFi
Use WiFi wherever you can, this should be when you update your apps manually and sync your emails. If you need to download anything, do it when your connected to WiFi. You can also use WiFi connections to contact friends and family wither by Skype or Viber.
Image: Shutterstock
Andrea Crome is Marketing Manager at WorldSIM.
If you would like to be a guest blogger on A Luxury Travel Blog in order to raise your profile, please contact us.