The Filet Oscar is a classic recipe that blends two true heroes in 'surf and turf' with an authentic American steakhouse twist. "Oscar Style" literally means topping one of the finest steaks, the filet, with the fresh taste of asparagus, generous servings of lump crab meat and a creamy Béarnaise sauce. The result is a striking plate presentation and delicious flavours. Serves 4.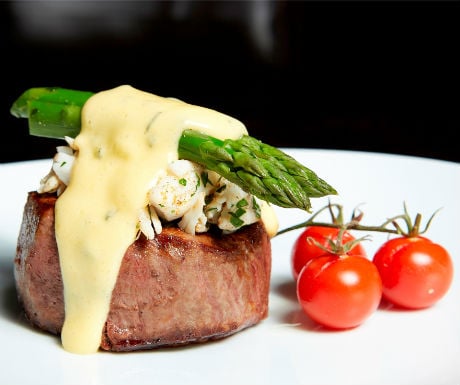 Ingredients
4 x 150g centre cut, quality filet steaks (preferably Aberdeen Angus)
1 bunch medium asparagus, blanched and grilled
120g jumbo lump crab meat
4 bunches of vine cherry tomatoes
150 ml Béarnaise Sauce (as per recipe below)
25ml vegetable oil
½ tspn Old Bay seasoning
Salt and pepper to taste
Béarnaise sauce
25g diced shallots
1 bunch fresh tarragon, chopped
35 ml dry white wine
60 ml tarragon vinegar
1 bay leaf
6 egg yolks
2 tbsp water
250g melted unsalted butter, still warm
Directions
For the Béarnaise sauce
Place shallots, tarragon, wine, vinegar and bay leaf in a saucepan. Reduce until syrupy. Remove from heat, strain, and set aside.
In a stainless steal bowl combine egg yolks and water and whisk until frothy. Place over a saucepan of simmering water and whip until thick and mixture forms ribbons over itself when lifted. Remove from heat.
Gradually whisk in melted butter. Add tarragon reduction and season to taste with salt and pepper.
Thin with water if needed.
To serve, stir in chopped tarragon and ladle 2 ounces sauce into a small bowl.
To prepare the dish
Heat a griddle pan or heavy cast iron pan.
When hot add vegetable oil, season steaks with salt and pepper and place in pan.
Ensure the steaks are well coloured before turning.
Cook to desired temperature but preferably medium rare approximately 8 minutes.
When steaks are cooked remove from pan and place on wire tray to rest in a warm place.
Drizzle tomatoes with olive oil, sprinkle with sea salt and roast in oven for 4/5 minutes.
Warm asparagus under grill.
Heat crab meat in pan with a little butter season with old bay and salt and pepper.
To serve, heat steak quickly under the grill, spoon the crab on top of each steak lay across asparagus, and spoon over béarnaise, serve on plate garnished with tomatoes.
Thank you to Julian Ward, Head Chef at JW Steakhouse for the recipe.
If you have a recipe you would like to share with  A Luxury Travel Blog's readers, please contact us.