Greece's colorful and gorgeous islands are truly one of the biggest and most beautiful assets of the Mediterranean region. From the Dodecanese to the Ionian Islands, these lovely tourist destinations offer an intoxicating and one-of-a-kind vacation to its visitors. What's more, every island group in Greek has its own unique charm and allure that would beckon all sorts of travelers. On top of it all, these islands have the most picturesque landscapes and seascapes on the face of the earth.
Best island on a budget: Serifos
A backpacker's delight, Serifos is without a doubt one of the world's best value island destinations. From accommodations to food, nearly everything in this Greek island destination is offered at a very affordable price. What's more, the island has a plethora of attractions that keep you hooked and entertained for a number of days, such as the Archaeological Collection, great beaches and Livadi & Surrounds.
Best island for food: Crete
Foodies would surely please their gastronomic urges with Crete's famous culinary specialties, such as myzithra and dakos. Furthermore, the island is known for its olive oil, yogurt, honey, olives, and cheese. If you love hearty and healthy Greek food, make sure to book a trip to this beautiful Greek island.
Best island for beaches: Mios
When it comes to beaches, Milos definitely tops the list of the best places for a Greek Island holiday. Boasting more than 70 fine pristine beaches, the island of Milos indeed has a wide and diverse collection of beaches that include local favorites like the Sarakiniko, Tzigardo, Papafragas, and Paliochori beaches.
Best island for luxury villas: Mykonos
Home of the finest and most luxurious villas in Greece, Mykonos showcases a dazzling array of world-class epicurean villas, such as Vila Kymothoe, Ioannis Retreat, Villa Ammos, Villa Sandy, Moonlight Villa, Starlight Villa, Villa Alegria, and a whole lot more. For the most part, the villas available in Mykonos offer great views of the stunning Kapari Beach. Moreover, these villas are equipped with the latest and most advanced facilities and amenities. As for their ambiance, almost every villa Mykonos has a tranquil and laid-back feel.
Best island for families: Tilos
Known for its agriculture and eco-tourism, Tilos is an ideal respite for tourists who are traveling with kids. With over 300 plant species and 120 wild bird species on display, this island will surely amuse children, parents as well as people who are fond of nature photography. In addition, the island has a load of family-oriented activities to offer to its visitors, such as donkey rides, seaside picnics, and tours around its archeological sites.
Best island for a romantic break: Santorini
With its gorgeous whitewashed houses, legendary sunsets and otherworldly scenery, it's hard not to feel the romance on the island of Santorini. Aptly billed as the ultimate honeymoon destination in Greece, Santorini beckons newlyweds and romantic couples with its nostalgic and relaxing ambiance. Like a Greek god struck by the love arrows of Cupid, the island's romantic vibe will certainly make you fall head over heels once again with your other half.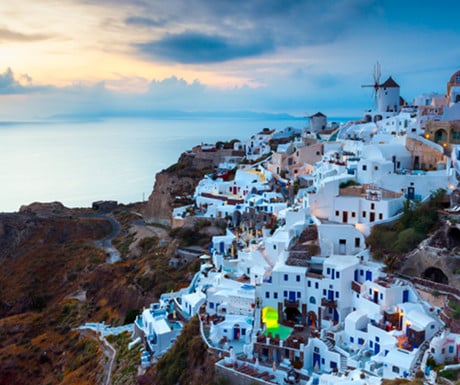 Best island for an active break: Naxos
For a heavy dose of island fun and adventure in Greece, head off to the island of Naxos. Here, you get to enjoy scenic and exciting trekking adventures with quick stops to several historic sites, such as Byzantine churches, Hellenistic towers and ancient temples.
Christos Hajipapas is Head of Business Development & Strategy at Cyplon Holidays.
If you would like to be a guest blogger on A Luxury Travel Blog in order to raise your profile, please contact us.