Are you planning a trip to Paris soon? That is a great idea! Yet, you don't really know how to visit the capital? Will it be by bus or by taxi? By tramway or metro? How can you enjoy fully your stay in the French capital?  Here are a few original ways to visit that you might not have considered. Whichever you chose,  they will all give you a different vision of the "greatest city in the world".
In a horse-drawn carriage
The traditional horse-drawn carriage run by one or several horses appeared in the 18th century. The invention of engines and the mass production of cars (Fordism) contributed to putting cars within everyone's reach and thus to the decline of horse-drawn carriages. However, they had their moment of glory and are symbols of Paris' history so what could be better than to return to the period when the Tuileries Palace was still the residence of the kings of France, and go for a ride in a horse-drawn carriage through the streets? The concept is very similar to the one proposed by the bâteaux-mouches (excursion boats) or buses: a tour which is more or less as long and that will allow you to discover Paris' monuments (the Eiffel Tower, the Champs-Elysées, the Louvres, etc.), Paris Calèches, Les Calèches de Versailles and Les Attelages de Paris… allowing you to discover Paris differently.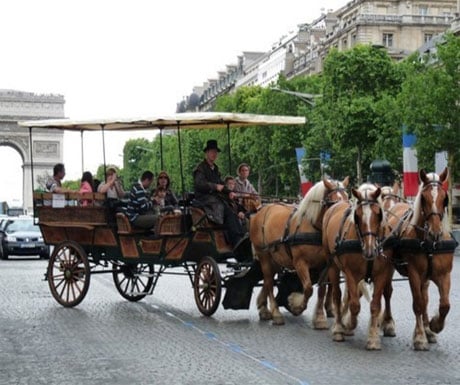 With a bike
Indeed, even if bikes are a very traditional and ordinary means of transport, they provide a great number of possibilities. First of all, you have to choose your bike: a tandem for those in love, a tricycle, an electric bike, a bike from the Vélib public bicycle sharing system or a mountain bike for daredevils and those who are sporty. Then you have to choose your visit. Will it be a visit to the monuments, discovering medieval Paris or a ride in Paris' parks and gardens (the Jardin d'Acclimatation, the Bois de Vincennes, the Parc des Buttes-Chaumont, etc.)? It's up to you to decide if you prefer a guided tour or to adventure out alone on the 350 km of bicycle paths which the city boasts, by day or by night. For guided tours, you can find out more from specialized organizations such as Paris Bike Tour or VeloParis.
By boat
Bateaux-mouches, Bateaux Parisiens, Vedettes Pont-Neuf and Les Yachts de Paris (different kinds of Parisian excursion boats) are definitely terms with which you will be familiar. All of these companies provide magnificent excursions on the Seine.
So go off and explore Paris' most beautiful monuments. No matter which company you choose, the tours are very similar and the monuments are always in the same place: the Eiffel Tower, Grand Palais, Pont Alexandre III, Place de la Concorde, the Musée d'Orsay, the Musée du Louvre, Notre Dame Cathedral and Hôtel de Ville can all be admired during an hour-long excursion. It is also possible to have lunch or dinner on board during your excursion. The boats of the Seine are unique to Paris and are an essential experience for those who want to visit Paris differently.
By metro
The "Paris Metro" is one of the symbols of the city. Its construction began in November 1898. The first line, Porte Maillot–Porte de Vincennes, was inaugurated on 19th July 1900 during the Paris World's Fair. Entrances to stations were designed in art nouveau style by Hector Guimard. Eighty-six of those entrances are still in existence nowadays.
The initial project consisted of 10 lines, which correspond to today's lines 1 to 9. By 1920, despite a few changes from the schedule, most lines had been completed. With its 14 lines today, Paris is densely networked with stations. You can easily get to most parts of the city. Even if most of the system is underground, a few lines are elevated (line 2 and line 6 for example) and allow you to have a good above glimpse of the city.
Visit Paris by Metro is the official app of the RATP. Fully translated into English, German, Dutch, Italian, Spanish and Japanese, it is intended for use by anyone who wishes to effortlessly explore Paris by Metro. The app is available for Phone and Windows phones and allows you to calculate your routes to and from the subways stations and the touristic sites listed, find the railway map even when your network is offline, and download a free map of Paris where you can locate yourself. Finally it also provides all the information you need to know about the capital's most famous places.
Even if those ways are different and a bit original, you won't breathe Paris' atmosphere if you don't walk a bit along its streets, avenues, boulevards… take the time to lose yourself at least once during your stay.
Didier Moinel Delalande is a Director at Hotel Mathurin.
If you would like to be a guest blogger on A Luxury Travel Blog in order to raise your profile, please contact us.