Fly camping in Africa is a wonderful and wholly unique experience which is a 'must-have' addition to any luxury safari. A fly camping excursion will take you out into remote parts of the bush which are not always reachable by vehicle. To spend a night out in the dry African bush is magical, you lie and listen to the sounds of the night around you whilst looking up at the milky way – the fly camps are usually set up near to your luxury safari lodge and you walk (sometimes as far as two hours, or as little as thirty minutes) with an experienced ranger out to these amazing locations. Here are our top five fly camping experiences in Africa:
Sand Rivers Selous Fly Camp , Selous, Tanzania
A steady walk down to the fly camp while listening and looking at the creatures around you will just be the start of what is to come. Watching elephants pass by your fly camp in a subtle moonlight or looking up at the sky through the mosquito net from the comfort of your tent, Sand River Selous provides a spectacular opportunity not worth missing.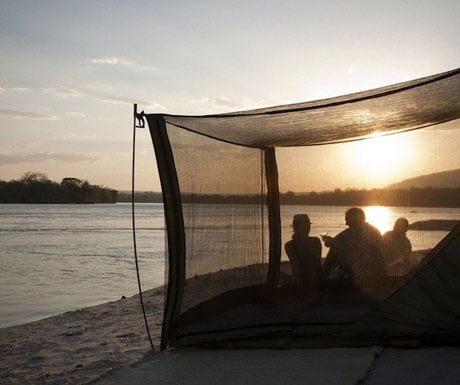 Chada Katavi Fly Camp, Katavi, Western Tanzania
Chada Katavi Fly Camp offers a simple mobile fly camp with experienced guides, scouts and staff to take you to the most remote and beautiful areas of the national park. On your way there you could take a shorter or longer route with an armed scout. While camping out you will be able to hear animals around you, such as hippos grunting in the background or a palm tree swaying in the wind as an elephant gently scratches himself.
Selinda Canoe Trail Fly Camp, Northern Okavango, Botswana
The Selinda Canoe Trail Fly Camp lasts 5 days as you travel east along the Selinda Spillway. Each night is spent camping along the river banks; the ideal setting for Botswana's leading walking and canoeing safaris! The trail begins about 45 kilometers downstream from Selinda Camp, northeast of the Okavango Delta. The trail will include easy paddling and you will encounter wildlife along the Spillway's banks, as this area is known for elephants, buffalos, wild dog and roan. The Spillway has few hippos and crocodiles making the journey relaxing and peaceful.
Sosian Ranch Fly Camp, Laikipia, Kenya
Lazy days spent at Sosian are all about freedom in the bush – here they want you to really explore and get into the Kenyan way of life, be it on night drives, by riding safari or walking. Of course they also offer a wonderful fly camp excursion down by the river – an idyllic place to wake up!
Garonga Sleep Out, South Africa
Garonga offers a stunning wooden sleep-out deck with magnificent views overlooking the veldt. Garonga is situated in the private Makalali Conservancy in the Limpopo Province and an 80 minute drive from Phalaborwa and Hoedspruit airports; west of the Kruger National Park. You will be left alone with a radio, drinks box, a luscious picnic hamper and hot drinks to enjoy the night in relative luxury. The main camp is only a 20 minute drive away and you are provided with a wash basin and toilet nearby. This fly camp is a truly dreamlike experience.
Rose Hipwood is Managing Director of The Luxury Safari Company.
If you would like to be a guest blogger on A Luxury Travel Blog in order to raise your profile, please contact us.