Although originating in Italy, pizza has become synonymous with America. Pizza joints are amongst the most popular dining venues across the States, particularly in bustling New York City. Some of the world's tastiest pizza finds its home in the Big Apple, with every pizza joint claiming to sell the finest slice on earth. We've scoured the city to put some of these claims to the test, and have thoroughly enjoyed doing so, too!
Di Fara Pizza
Di Fara Pizza has won countless awards for its 'za. The joint's Italian owner, Domenico DeMarco, comes from a family of bakers, therefore it's no surprise that his pizza is New York's finest. A simple menu ensures that every slice of pizza is utterly delicious and perfect, with a small range of toppings – including sausage and garlic – available to enhance the culinary experience.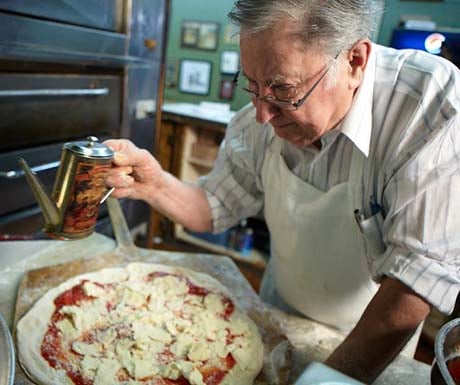 Sal & Carmine's
Serving authentic pizza, Sal & Carmine's has been in operation since 1959, and is still vastly popular with tourists and locals alike. Their pizza has a scrumptious crispy thin crust, with just the right amount of tomato sauce and cheese to accompany it. If you are in search of a classic and straightforward slice of authentic pizza, look no further than here.
Joe's Pizza
Perfect for on the go, Joe's Pizza is a hit with both pizza newbies and enthusiasts. Whether you're after a lunchtime snack or midnight feast, this hole-in-the-wall-style joint will see you right. Joe's Pizza's simple menu ensures that nothing can go wrong in the pizza-making process, and that every slice comes out of the oven deliciously perfect. We recommend the mouth-watering fresh mozzarella pie!
PeteZaaz
It's all about the toppings at this innovative pizza palace. From the Pizza de Hawaii (ginger mango, queso fresco, chipotle pork) to the Baked Potato (crème fraiche, white cheddar, applewood smoked bacon), you're bound to find a pie that suits your taste buds.
New Park Pizza
Serving great pizza for decades, New Park Pizza has earned its reputation as being one of New York's best pizza joints. The pizzas are baked in a brick oven, ensuring that each pie comes out with a crispy crust and perfectly cooked ingredients. We're sure you'll love the tangy tomato sauce and supple cheese that coats these pizzas.
Artichoke
These slightly more upmarket pizzas are well worth the extra money. Not only are their margherita slices baked to perfection, but so are the unusual and sumptuous crab pies, made with crab sauce, fresh mozzarella and a surimi stuffing. Over the years, Artichoke has gained in popularity and now boasts multiple dining venues; they even have their own brand of frozen pizzas, for those times when you just can't wait to tuck into one of their pies.
Lombardi's
Utterly legendary, Lombardi's is a must when it comes to grabbing a slice of pizza. Although fantasy can sometimes sully reality, Lombardi's will live up to your dreams of expertly baked pies. Choose from a range of delicious toppings, including homemade meatballs and sweet Italian sausage, to compliment your pizza's sweet tomato sauce and melted mozzarella cheese.
Matthew Coe is Online Marketing Manager for Wanderforth.
If you would like to be a guest blogger on A Luxury Travel Blog in order to raise your profile, please contact us.