10 of the most intimate boutique hotels in South East Asia
There's nothing quite like enjoying the exclusivity of being in a hotel that caters to just a select few – hotels that are small and intimate. The advantages are many – the best of them being that you are almost family during your stay. More often than not, you will find that the hotel staff is happy to go that extra mile to make your holiday unforgettable. Combine that with the warmth of the typical Southeast Asian hospitality and you will find yourself spoilt for choice. What's more, we offer you a choice that suits every pocket! Here are 10 of the most intimate boutique hotels you will find in Southeast Asia:
Akatsuki, KohSamui, Thailand
This intimate little hotel gives you 5 suites to choose from. With rates beginning from USD 1165, it is an amalgamation of Japanese culture with the freshness of the Thai tropics. The ambiance invites you to kick off your shoes and commune with nature.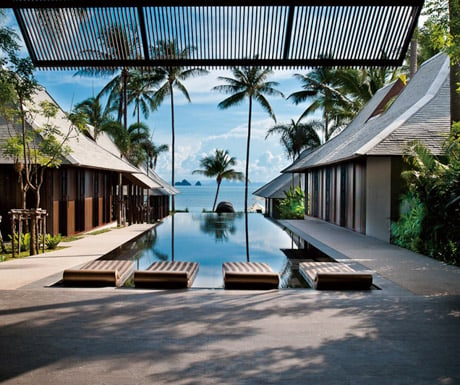 To make the experience all that more exclusive, the resort limits itself just to one booking a day and each guest has a choice of 5 pavilions to choose from for a wonderful dining experience. And what's more, you have a chef all to yourself, catering to your palate, all through your stay. A butler and driver are part of your personal staff. Talk about luxury!
Bon Ton Resort, Langkawi, Malaysia
Consisting of just 8 villas, this boutique hotel is built on a hundred year old coconut plantation, each villa is quaintly named and all of them afford you a delightful view of the lagoon. Each suite is equipped with every convenience to make you more than comfortable, right from slippers and sarong to WiFi! The rate for each suite starts around USD 300.
A word about the villas – these are actual old timber houses sourced from Kedah, brought to Langkawi, restored and rebuilt. Each one tastefully designed to recreate the ambiance of a village setting.
Abaca Boutique Resort, Mactan Island, Philippines
You will find the delightful Abaca Boutique Resort on the small island of Mactan in the Philippines. Built on the oceanfront, the hotel gives you the illusion of being practically on the water. This exclusive resort caters to only a few and has 6 suites and 3 expansive villas to choose from, and the rates offered are around USD 360. Each suite and villa is elegantly decorated with ethnic chic and large glass windows that afford you a view of the ocean, letting the morning light in to softly touch you into a luxurious wakefulness.
Eat at the Mediterranean style restaurant, or lounge around at bar where you can choose from a super selection of single malts. The ocean is irresistible to those who love adrenaline charged water activities like kayaking, parasailing, snorkeling and jet skiing. Or, you could just chill, out with some traditional treatments at the spa. Checking into this exclusively situated hotel promises to be a dream come true…
One Eleven, Bali, Indonesia
This unusual hotel is the last word in exclusivity. Arriving there surprises you with the view of high, fortress like walls that turn into vertical gardens when you step in. Its exclusiveness stretches to it being an adults only hotel, with nine private villas. The décor is modern and seductive. The service is personalized, with a butler assigned to each villa. Every villa becomes your own private world with its own tranquil little swimming pool, a spa, a kitchen and an outdoor living room, in addition to the bedroom and bathroom. If you are peckish, give the butler a call and he rustles up a delectable meal for you right in your kitchen.
The Shiro offers you deliciously fresh sushi and sashimi that you can wash down with sake or a Japanese beer. With rates at around USD 490 during the low season, you will find that the hotel, although tucked away behind these high walls, is conveniently within walking distance of the busy Lakshmana Street, where you can get your dose of shopping and eating out.
The Samar Villa & Spa Resort, Siem Reap, Cambodia
An exclusive and elegant hotel, it is tucked away not too far from the temples of Angkor. The hotel offers you just 8 Suites to choose from – with 2 villas, an apartment and 5 junior suites. This is an ideal place to get away and celebrate an intimate special occasion. Cambodia being rich in history and tradition, the library is open to anyone interested in learning more. For those gastronomically inclined the chef par excellence serves up the most delectable concoctions and will even stretch to inviting you to tastings and cookery lessons! If you choose to make this your holiday destination, you could pay USD 81 during the off-season, but more in high season for a suite of your choice.
Sireeampan Boutique Resort & Spa, Chiang Mai, Thailand
Located in Chiang Mai, Thailand, this hotel has 11 suites and was originally built as a destination for the family and friends of a real estate developer in Thailand. His focus was to have a place that was as welcoming as one's home. The hotel is beautifully laid out and the uniqueness of the service is its unique selling point. Each guest is treated like a part of the family. Encouraged by the response of his family and friends, he threw the hotel open to the public, and within a year of its opening, and was duly awarded one of top ten boutique hotels in Asia. Their basic studio starts at around USD 280.
The piece de resistance of this lovely little hotel is the Piano Lounge. Sitting down at the end of the day over a glass of wine, entertained by the pianist playing the beautiful grand piano, is a perfect way to relax. And what's more, he is there all through the week to entertain you. But should you feel the urge to sing, they have even provided for a Karaoke area!
The Scent Hotel, KohSamui, Thailand
Entering the Scent Hotel is like tripping into a secret world that stimulates the senses. The location, the décor, and yes, the fragrances, all meld together to take you back into the colonial world of ancient Indochina. With rates starting around USD 330, you are treated to the view of an expanse of water no matter where you stay. There are fourteen rooms to choose from. The décor in every room bears evidence of the colonial influence, enhancing the ambiance of old world charm, taking you back to a different era.
Dining at Le Jaroen or Le Petit Indochine is like embarking on an exquisite culinary journey. You will find yourself at the best tables on the island and every culinary offering is a treat to the senses.
The Houben Hotel, Krabi, Thailand
Built on the top of a cliff, the hotel overlooks the Andaman Sea and gives you access to one of the best little hidden beaches on the island, just a hop, skip and a jump away in the Kantieng Bay. There are 15 rooms to choose from, each one giving you a panoramic view of the sea. There are suites to suit every pocket with rates beginning from USD 260. A special instruction here though, they do not accommodate children below 12. So, do keep that in mind.
Although the resort is small, it lacks nothing in its completeness. A wonderful infinity pool, a spa and a Thai restaurant are all perfectly put together to make the whole experience delightfully relaxing. Understated in its elegance, there is nothing that jars the senses.
Hotel Tugu, Bali, Indonesia
This is one of the most unique boutique hotels you will ever find. Situated on Canggu beach in Bali, it was conceptualized and brought into being by a man whose passion was collecting the most exquisite antiques he could find all over Indonesia. The hotel has 20 suites and 1 villa; each one decorated dramatically and themed around a story. Nestled amidst fragrant gardens and lotus ponds, each suite is a little world on its own, affording you all the privacy you need. The hotel boasts four restaurants and really, you are spoilt for choice.
A complimentary massage sweetens your stay at this beautiful antique museum hotel. In addition, you will find every amenity you can think of to make your stay acquire a dream like quality. Rates begin at USD 410 and include free airport transfers and complimentary high tea during your stay.
Hotel de la Paix, Luang Prabang, Laos
The
Hotel de la Paix
used to be a French Colonial Fort, built way back in 1910. It metamorphosed over the years into being the Governor's residence and at some point along the way, a town prison. After much restoration and renovation, it is turned into this beautiful boutique hotel, with stunning architecture and deservedly made a world heritage site by the UNESCO. The hotel has 23 suites with rates that begin with USD 235.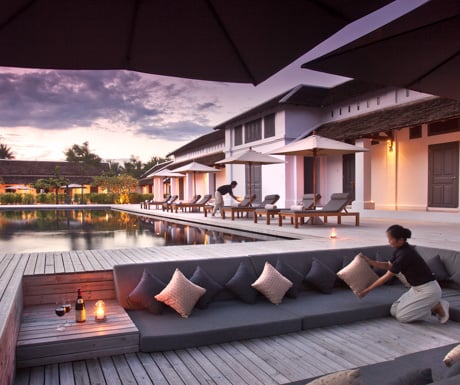 To add to the temptation of staying in this beautiful hotel, is the Spa Indochine. It is the most unique spa in Laos. Designed to look like a traditional Lao village and in keeping with the ambiance, only natural products are used in the spa treatments. Customized treatments are available too, on request.
Carmen Anderson is Founder of Here and There Without a Care.
If you would like to be a guest blogger on A Luxury Travel Blog in order to raise your profile, please contact us.
Did you enjoy this article?
Receive similar content direct to your inbox.