The Atlas Mountains boutique hotel – Domaine Malika
A charming hotel at the foot of the Atlas Mountains in
Morocco
is a rare sight. And if you are on a private tour of Morocco, you should at least spend a night here. The first thing that strikes you is that the owner has chosen not to use wool sofas, wood beams or stuffed animals, the norm around the area. Paul Goetz is the host, a young French man who arrived in Morocco 8 years ago. In the beginning, he managed for a short time a Riad in
Marrakech
but soon felt that he wasn't meant for the hustle and bustle of the Medina. He wanted to be in the countryside and, after looking around , he eventually came upon a well- to- do man from Casablanca which owned a quirky villa at the foot of the Atlas Mountains. He immediately fell in love with the house and decided to turn it into a 7 rooms and suites guest house.  When I first met him he was as passionate and driven as he is today – but I do remember being a little skeptical about him trying to offer something different to visitors that wanted to spend a few days relaxing in the Atlas Mountains. But with Richard Branson's Kasbah Tamadot a few miles away, he may have not been the only one taking a risk.
But time proved him right – not only had
Domaine Malika
secured the first position on Trip Advisor's best hotel in the area for the last 5 years or so, but also slowly built a reputation even among the locals. They added a spa, a boutique, have expanded their garden and gave their kitchen a French touch. The rooms are spacious and the views are bewildering. Three of the bedrooms have their own private access to the roof terrace where you are greeted by sun loungers and breathtaking views of the snowy peaks of the Atlas. The lounge is 1950s inspired leather chairs, board games, three fire places and a well-stocked library.
The luscious pool is just what you need after a long summer day or a hike in the surrounding High Atlas and the wine garden accommodates late dinners during those warm summer nights. I certainly enjoyed mine one evening last June, while the hotel was lighted lantern, cicadas and frogs came out roaring, cawing and lolloping the pool. The atmosphere though is of classy, ​​not groundbreaking. But again, if you want a buzz or a bling, you wouldn't be here but at the Comptoir in Marrakech, sipping on a margarita. Here, it's about breathing in the pure air of the Atlas Mountains, enjoying a glass of red on the rooftop terrace or walk in the gardens by moonlight. It's like you are at home here and it feels almost sacrilegious to spend just one night. And if you are just finishing a private tour of Morocco, it's just the right place to crash and charge your batteries, before going back to Marrakech or the airport. And if you needed another reason, Paul already made ​​the news – in  Travel and Leisure magazine last year, he was described as "ebullient and deeply hospitable".
During one of our conversations, he told me that one of the reasons why he chose to have a guest house here, next to Ouirgane, is the distance to the city, a mere one hour drive. It's far enough away to offer his guests a complete change of scenery and a real alternative to the city, yet without too much driving involved. This close to Marrakech you couldn't find more tranquility, nature and authentic Berber hospitality.  To not mention the chic decor – Art Deco/ Art Nouveau furniture and fittings provide a stark contrast to its surroundings yet remains unpretentious. The spacious rooms, with their pristine white walls and large windows create a bright atmosphere and allow you to enjoy the nature that surrounds the house. And in general the guests know what to expect before arriving on the location – the different design is a magnet.
They are not the only boutique hotel in the area though. Richard Branson's Kasbah Tamadot is just a few miles away. Does it put any pressure? Apparently not. Instead, Paul believes that such a stunning hotel can only push all guest houses in the region to become more competitive. In his own words: "Kasbah Tamadot is an example of good taste, quality of service and excellence. We have a great relationship with their team and our customers are always happy to go and try lunch at Kasbah Tamadot".
Domaine Malika is not only close to Marrakech, but also on one of the most scenic roads of Morocco, yet most visitors are not aware of it. A route that begins south in Taroudant, a former quiet and charming town, where many private 4×4 excursions converge, arriving from the desert. It rises to cross Tizi n Test pass at 2000 meters above sea level, which lingers along Berber hamlets to arrive later than the old mosque Tinmel the 12th century, and then spent Asni Tahnaoute to finally arrive in Marrakech. But many guests here also combine Marrakech, the Atlantic Ocean and the Atlas Mountains as part of the tour of Morocco for one week. The guests usually stay 3-4 days and that proves that there are quite a few things to do on site, in addition to taking in the breathtaking panorama of snow-capped High Atlas. The main activities have to do with the nature and culture. Trekking in the Atlas Mountains on foot or by mule or horse, learn the secrets of local cuisine by following one of the Moroccan cooking classes or spa and hammam treatments provided by Hanane within the spa are just some examples.
The mix of French and Moroccan cuisine is also something that sets Domaine Malika apart. Agnes, Fouzia and Hafida are the three ladies behind the good reputation around our restaurant. Fueled by the idea that people also travel by their taste, they wanted to go further and create a rich culinary identity yet unpretentious and fusion of French and Moroccan roots culinary traditions. Examples are: "beetroot soup with apples and spices", "Aumonières fresh goat with dates", "fillet of sea bream in foil with orange and anise seeds", "stuffed quail with couscous and onions" "strawberry mousse fresh coriander. Needless to say, most of the ingredients come from their own orchard.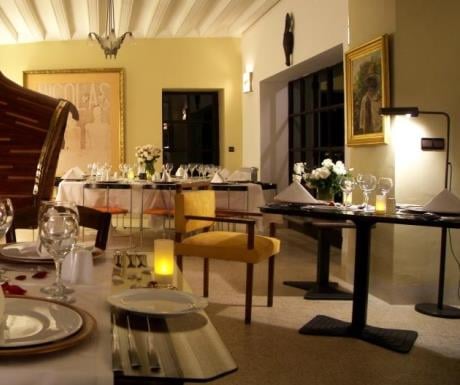 The surrounding music blends very well in the atmosphere of the house and is now in the restaurant, the garden or the living room. If you think that you are likely to hear Hotel Costes or Café del Mar sort of compilations, think again. Jazz from the 50s and 60s is the norm. On my last stay I must have heard three different versions of 'Summertime' during dinner.
Paul is also very proud of their hotel's contribution to the construction of a bridge over a nearby river that allowed the village children to attend the local school. Nadia, a famous Moroccan actress, was one of the regular customers and friends, but we had the chance to make a small contribution. She discovered by chance that the bridge over the river was half undone, and therefore, it is very difficult for children to go to school on the other side. Motivating a handful of people around her, she managed to complete the construction of the bridge, allowing people in general, but especially the children, to cross the river during rains and avoid several hours of walking, which deprive often attend school.
But what makes Domaine Malika special above all, is Paul's humbleness and passion for what he does. In his own words: "I ​​love this country that has given me so many opportunities. I like the Moroccans who welcomed me with generosity and, above all, I love my job that allows me to share it with people from all over the world. "
Rates at Domaine Malika from 140 euros per night for a double room, including breakfast.
Cristian Martinus is Managing Director at Sun Trails.
If you would like to be a guest blogger on A Luxury Travel Blog in order to raise your profile, please contact us.
Did you enjoy this article?
Receive similar content direct to your inbox.