Moscow's rich cultural heritage infuses the city; her historic architecture and monuments, some dating to the 15th century, emanate majestic beauty. Hardly stagnant, this bustling metropolis has welcomed modernity in the form of internationally renowned high-end hotel brands. These five luxury establishments have added five-star polish to the vibrant Russian capital.
The top-rated Lotte Hotel, introduced to Moscow four years ago, is the exponential favourite among elite business and leisure travelers. Expect white-gloved service from check-in to check-out. The opulence of the crystal chandeliered, marble-clad lobby speaks to its South Korean roots, whose influence extends into guest bedrooms so technologically advanced that the excitement of remote control curtains is quickly replaced with curiosity-slash-amusement at the automatic TOTO washlet (there are three settings; front cleaning, rear cleaning and dryer).
Located between the pedestrian Old Arbat and the bustling New Arbat, it's an easy 60-minute stroll to the Red Square although a cab/private car (BMW or Jaguar) can get you there in 15 minutes. The guest room portion of the hotel is illuminated by an atrium – corridors are lined with planter-box balconies that overlook a ground-level interior garden. Underground, the popular Mandara Spa is a den of respite for beauty editors, locals, and international guests. The dark wood-paneled Club Lounge is a lovely meeting space complete with dining area, but for those in a New York state of mind, the Japanese MEGU restaurant evokes a sexier clubby feel.
Imagine opening the French door of your suite to reveal a panoramic view of the glorious Red Square. Such is the superior location enjoyed by the Hotel National. The 1903-built hotel joined The Luxury Collection by Starwood in September 2009 and evokes the prestige of eras gone by: an elaborate Art Nouveau staircase sweeps from floor to floor, passing stained glass windows along the way; riding the old-fashioned elevator is charming; and rooms, while updated, invoke the property's historical significance.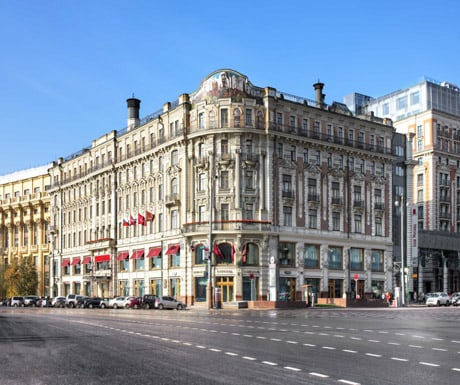 Over the years, dignitaries, political leaders, and Hollywood stars including US President Barack Obama, Jack Nicholson, Sophia Loren, Placido Domingo, and Michael Gorbachev have stayed within its walls. Situated by Manezhnaya Square, the hotel stood on the sidelines of many landmark events including the Victory Day Parade of 1945 and the immense public meeting held after suppression of the military takeover in 1991. There's a jewel-box of a spa stocked with glorious Guerlain products, and a few floors down, the opulent Moscovsky Room, with its resplendent breakfast buffet of crepes, cold cuts, smoked fish, caviar, and pastries, welcomes spectacular city views (an amazing sight at night for the twinkly lights). For travelers who like to be close to the action, this hotel is minutes away from St Basil's Cathedral, the Bolshoi Theatre, GUM department store, Red Square, and high-end shopping. The metro is a few steps down the street.
Kempinski Hotels is Europe's oldest luxury hotel group and its 22-year-old Hotel Baltschug Kempinski honours the brand's philosophy by embracing Moscow's culture and heritage. This beautiful property is located at the base of the Moscow River Bridge and housed in a 19th century architectural treasure. Thanks to a renovation that started in 2012, many of the public areas, rooms, and suites have been reimagined under the eye of European design house CADÉ. The chic marble lobby, defined by a custom-made purple Murano-glass chandelier, encompasses the reception and adjoining bustling lounge bar while functioning as a temporary exhibition space for art on loan.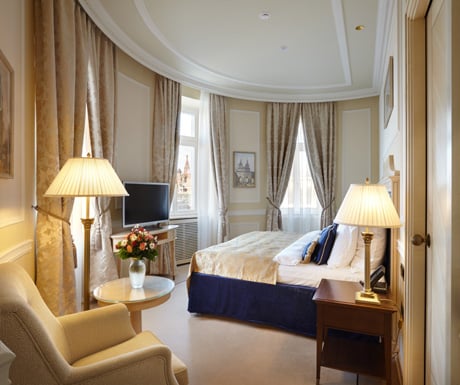 Recent works have included seven Angels- Demons fiberglass sculptures provided by Moscow's Triumph Gallery. Design elements that "wow" include marble-clad bathrooms with MOR amenities, design accents in ochre and royal blue, and regal curtains that frame waterfront views of the Kremlin and St Basil's Cathedral — a spectacular sight at sunset. Buffet breakfast at the Baltschug Grill is especially memorable: Prepared in the open kitchen, cold cuts, smoked fish, crepes, freshly-baked pastries, muesli, and eggs are that much more delectable with a Moskva River view. BONUS: Pavel Nikolaev, President of Les Clefs d'Or in Russia and the hotel's chief concierge, is an outstanding source of advice for the "best of" in Moscow.
The Ritz-Carlton opened in 2007, right around the corner from Hotel National, on Tverskaya Street; easily identifiable for the row of black Mercedes' parked beneath its high-arched entryway. Throughout the space, expect the level of attention we've come to appreciate from this global five-star chain — the ground level lobby, flanked by sweeping staircases, evokes imperial Russia.
Meanwhile, the contemporary O2 lounge on the rooftop boasts 360-degree view of the Red Square and Kremlin, best viewed with a Champagne while seated in a sixties-inspired red-velvet-lined cocoon chair… unless, of course, you're dining on fresh sushi prepared by acclaimed Japanese chef Seiji Kusano. Guests who require dedicated concierge services and a dash of privacy may consider a Club Level suite, which offers access to the spacious Club Lounge on the 11th floor with a summer terrace overlooking Manezhnaya Square. Below ground, Art of Shaving offers barber services while the pristine spa, run by UK-based ESPA, is a tranquil haven, loved for its black-and-gold mosaic lapping pool lit by colored fibro-optic Swarovski crystals.
Across the road from Hotel National, steps away from The Resurrection Gate that opens up to the Red Square, stands the anticipated Four Seasons Hotel Moscow. A replica of the original Hotel Moskva (you may recognize its sketch on a bottle of Stolichnaya Vodka), it stands in the former hotel's footprint but with an all-new construction and forward-thinking interior design by Richmond International. In addition to the 15-storey buildings, two restaurants led by renowned chef David Hemmerle, a cocktail bar, atrium lobby, and a 3,000-square-metre (more than 28,000-square-foot) spa, the most sought-after room is destined to be the palatial 520-square-metre (5,600-square-foot) Pozharsky Royal Suite.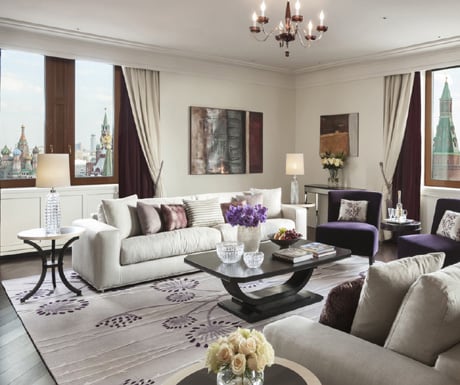 Located on the 7th floor, its expansive terrace will offer views of Manezhnaya Square and Alexandrovsky Garden, making it perfect for entertaining, especially during the sun-drenched White Nights. The hotel is due to open in October 30, 2014 and is one of the most anticipated luxury projects yet. Historical note: The former Hotel Moskva was so hot in the sixties that when Elizabeth Taylor learned of Gina Lollobrigida's check-in, she'd declared, "two stars cannot stay in the same hotel!".