By
Janice Nieder
on Oct 08, 2014 in
Accommodation
,
Attractions
,
Eastern Europe
,
Estonia
,
Europe
,
Food and Drink
,
Going Out
,
Hotels
,
Regions
,
Restaurants
,
Travel Miscellany
The first time I visited Tallinn was approximately 10 years after Estonia regained its independence in 1991. My impressions were that although it had excellent Slavic cheekbones it was still on the verge of becoming a major tourist destination. After last month's visit, I'm here to report it has finally "verged" with flying colors. Below are a double handful of good reasons to pack your bags and head to Tallinn ASAP!
Overview:
1. Nicknamed "E-Estonia" or the "European Silicon Valley" Estonia (where Skype was created) this baby Baltic country is now a world leader in high-tech industries.  It was the first country to allow online voting and 98% of its 1.3m citizens bank online. It exudes young entrepreneurial spirit and holds the world record in start-ups per person. You'll notice this same exuberance as you wander around Tallinn (Europe's oldest capital) exploring their rich cultural offerings, an array of designer and artisan boutiques, the local food scene with a hearty nod to New Nordic Cuisine, and unique accommodations ranging from historic elegant country manors to Medieval mansions that have been luxed-up and transformed into boutique hotels scattered throughout their UNESCO World Heritage Old Town.
Oldest and best:
2. Check into St. Petersburg Hotel, where hipness and history join forces. St Petersburg dates back to the 14th century and is the oldest hotel in Estonia, but without a hint of stodginess. After a recent sprucing up by renowned British interior design agency Andrew Martin, it's like staying at a wealthy aristocrat's home who surrounds himself with erotic works of art, sumptuous fabrics, crystal chandeliers and believes in kick-starting the day with a scrumptious Estonian buffet breakfast.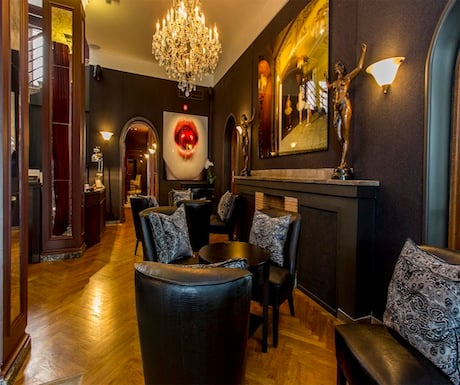 Get your bearings:
3. There are a variety of walking tours centered around the twisty, cobblestone streets of Tallinn's impeccably preserved Old Town, but for an utterly fascinating overview of Estonia's tumultuous past, our guide, Uve Poom, the CEO of Unitas Foundation and author of  "Tallinn by the Stand-Up Tour Guide" not only educated us but kept us in giggles.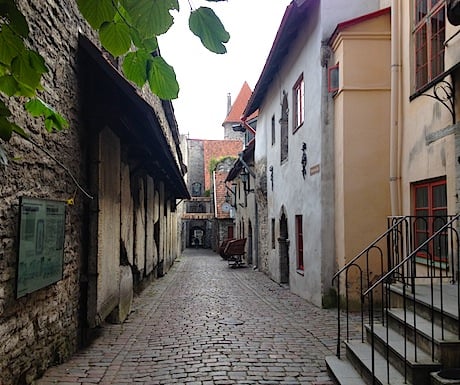 Biggest surprise:
4.  I admit that when I read about Lennusadam Seaplane Harbour, a brand new maritime museum that opened in a mammoth, century-old hangar, I wasn't the slightest bit interested. However, since I happened to be in the nabe I decided to give it a quick peek. WOW, it was simply amazing! It's uber hands-on (test your Top Gun skills on the machine gun, torpedo & flight simulators) and high-tech (natch-it's Estonia).  I loved the state-of-the-art "Collect and Read" card. When something piques your interest you simply hold the card up to the display and further info is automatically emailed to you.  Plan on a couple of hours to explore the war ships and the world's largest ice breakers, crawl through a 600-ton submarine from 1936 and then peruse their new fashion exhibition, Sea in the Wardrode.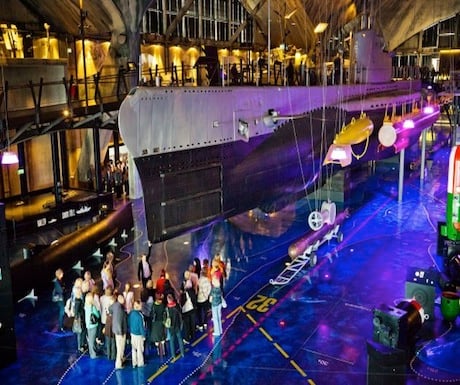 Two hipster neighborhoods:
5.  A short stroll from the museum brings you to the Kalamaja  ("Fish House") district lined with wooden boardinghouses where fishermen, sailors and factory workers used to live. It has recently evolved into a trendy bohemian district filled with artist studios, popular eateries, cool music venues, and a colorful Russian flea market where you can score deals on everything from Soviet bullet casings to pork chops.
6. Roterman Quarter is a stylin' district where old dilapidated industrial buildings have morphed into an avant-garde complex filled with lively restaurants and eclectic boutiques. Check out Rotterman Salt Storage, now the Estonian Museum of Architecture, a magnificent limestone building which hosts interesting exhibitions and art events in the basement.
Over and Under Views: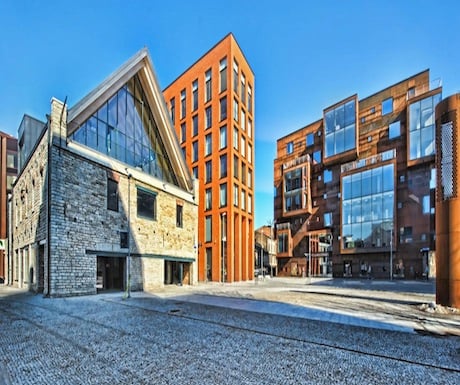 7. Unless you have wings, the best panoramic view of the city is from the gondola of the new Balloon Tallinn. The helium-filled balloon is tethered to the ground and smoothly rises 400 feet high, where (on a clear day) you can see Finland.  Although it was originally thought to be a seasonal attraction, the ride has been so popular that the owners have decided to stay open year round. "Winter balloon rides will be very exciting: the sea is frozen and our fairy-tale-like Old Town is covered in white snow. "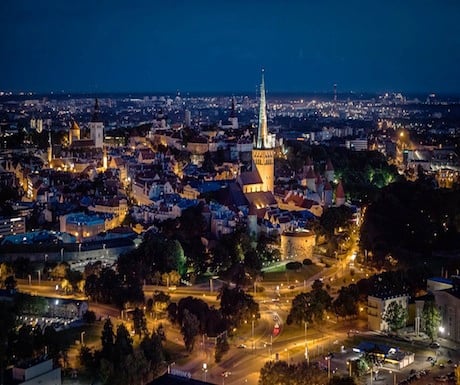 8. For a totally different perspective head underground to tour the Bastion Tunnels. These secret pathways were built in the1600s, and used as a defensive tunnel system for transporting soldiers, ammunition and for spying on the enemy.  Many years later the tunnels were transformed into air-raid shelters equipped with electricity and running water.
Super shopping with much cheaper prices than the other Nordic countries:
Estonia's arts and crafts scene is in synch with the burgeoning food scene. Both respect traditional methods and utilize local products but add a contemporary, creative spin.
9. Katariina Gild – start at this historic merchant's house filled with artisans' studios and watch the skilled craftspeople create felt hats, hand-carved wooden spoons, quality leather-bound books, sophisticated woven goods, stylish linen fashions, etc.
Estonian Design House – this attractive limestone gallery exhibits exciting works by cutting-edge young artists, such as Reet Aus, a fashion designer who created Trash to Trend – Using Upcycling in Fashion Design.
Eesti Esindus – at first glance it looks like a typical souvenir shop, however everything in this co-op is locally made from natural materials. Good buys include trivets carved from fragrant juniper wood (put a hot teapot on one and the lovely juniper aroma will permeate your kitchen) handmade linen scarves and an interesting selection (with copious samples available) of artisanal food products such as elk sausage, dried berries and local schnapps.
Modern Estonian cuisine:
Although there are a large variety of international restaurants in Tallinn, the big buzz is about the New Nordic Cuisine, where imaginative menus feature Estonia's fresh, seasonal, farm/forest/island to table food. Some succulent examples can be found at:
10. Leib Resto ja Aed – it will take supreme effort but try and limit yourself to just one basket of addictive, handmade "Leib" (black bread) so you'll have room to enjoy the pure flavors of Liivimaa grass-fed beef, farm-fresh goat cheese and house smoked trout fillet. The talented owners, a chef and a sommelier, created Leib because they are "passionate about sharing the goodies from their homeland".
NOA – is not content to be known simply for their stellar skyline views of Tallinn, hip architecture, amusing driftwood furniture, or picturesque seaside location.  Even if they were situated at the end of the dark alley I'd recommend them for their artful presentations, light clean flavors and eclectic menu cleverly categorized by Surf, Surf and Turf and No Turf (veggie)…and more of that fabulous bread.
11. This is an extra-credit point they get for the free WiFi that is available almost everywhere in Tallinn, so you can kiss those roaming charges goodbye.
For more details on what to see and do in Tallinn – or the rest of Estonia – check out the user-friendly, official Visit Estonia website.
Janice Nieder is Founder of Travel with Taste.
If you would like to be a guest blogger on A Luxury Travel Blog in order to raise your profile, please contact us.