5 unique luxury hotels in Singapore
Singapore is a vibrant ultra-modern city that is continuously re-defining itself. With one of the world's best Urban Planning Organizations (URA) determined to develop Singapore into a 'great city to work, live and play', the city-state is flush with creative architects, interior designers, building renovators and entrepreneurs, all eager to make their mark.
It's estimated that Singapore's skyline changes significantly every six months. The two-year construction and completion of iconic Marina Bay Sands Complex on reclaimed land is an excellent example of a planning concept that forever changed the face of the city. Not surprisingly, such a wealthy, booming city abounds in luxury hotels of all genres, sizes and designs. Besides the usual international chain hotels and standard-style city hotels, Singapore boasts several superb, one of a kind luxury hotels. From creatively renovated colonial buildings to state of the art modern marvels, from large to small and intimate, these unique luxury options offer something special for international travelers visiting SE Asia's wealthiest city-state. Here are five of the best:
The Fullerton Hotel
This classy
luxury hotel
was created by transforming Singapore's original general post office building, a designated Historic Landmark Building. The massive stately stone edifice dating from 1928 features dozens of Neo-Classic fluted Doric columns, both external and internal; an exquisite triangular-shaped, sky-lit atrium lobby with stone walls soaring 36.6M / 120 feet to the roof; a centrally-placed, curved grand marble staircase and two spacious open-air restaurants.
Fullerton
is pure class and elegance.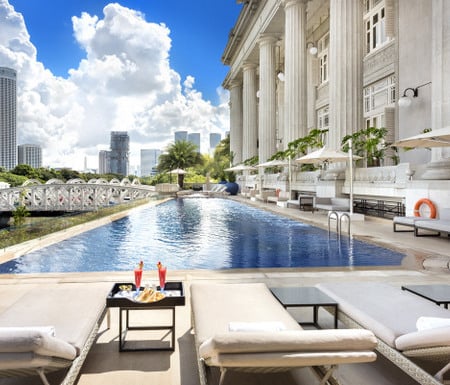 The Fullerton opened its doors in 200 after intensive renovations, offering an impressive 400 luxury rooms decor-ed in shades of vanilla, beige and white. Each room offers stunning views out over the city or inward onto the grand atrium lobby. Fullerton is perfectly located beside the Singapore River, directly across historic Cavenagh Bridge from the equally grand Asian Civilisations Museum on one side and the city's famous mascot Merlion Statue, Marina Bay and The Esplanade Concert Hall on the other side.
Marina Bay Sands
When
Marina Bay Sands Hotel
opened its doors in 2010, it instantly became one of the most famous hotels in the world and a new Singapore icon. Its phenomenal, daring architecture and prominent location on Marina Bay add a fantastic modern splash to the harbor front. But Marina Bay's most renowned feature is its astounding rooftop infinity pool on the 57th floor, the highest in the world.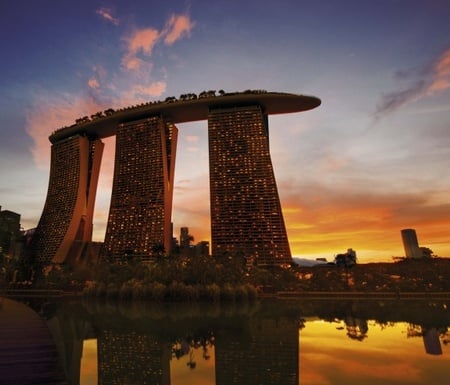 Views from the rooftop pool of nearby skyscrapers, further across the entire city CBD, and beyond to distant regions of the island-state are simply jaw-dropping. The massive, soaring hotel lobby is another marvel, featuring floor to roof glass walls and luxurious restaurants, bars & cafes. With an astounding 2,561 rooms & suites, Marina Bay Sands is the largest in Singapore, 5th largest in SE Asia and 34th largest in the world. Staying at this iconic hotel is a truly unique experience.
Wanderlust Hotel
Housed in a large renovated colonial building on the edge of Little
India
,
Wanderlust
surprises guests with extremely creative, playful, even outrageous room designs. One entire floor consists of rooms each in a single color scheme: either red, green, yellow, pink or blue. Another floor features rooms inspired by pop art and origami. The third floor offers rooms with space-age, tree, typewriter, bling and ASCII themes.
The hotel lobby boasts an impressive collection of unusual eye-catching vintage chairs, a chic bar and Coccotte, their popular French rustic cuisine restaurant. Wanderlust is a fantastic boutique hotel choice for artists, art aficionados, creative types and those young and playful at heart.
The Scarlet Singapore
Singapore's very first luxury boutique hotel presents a glamorous but racy atmosphere, featuring exceedingly rich textures and color schemes throughout its seductive lobby, restaurant and individually-designed rooms. You'll find velvets, satins, leathers, animal prints and brocades. Deep ruby reds, glowing golds, regal purples and shocking blues.
The 80-room hotel is housed in a beautifully restored 1924 art deco building on the southern edge of Chinatown, surrounded by chic boutiques, renovated colonial Chinese shop houses, private clubs, restaurants and bars.
Klapsons, The Boutique Hotel
The moment you lay eyes on
Klapson's
state-of-the-art, creatively navigable website you understand you're dealing with an ultra-modern boutique hotel. Its pure white, space-age reception and luxurious lobby filled with designer Italian interiors, accented in vibrant colors and sophisticated LCD designer lighting, appeal particularly well to artists and those creatively inclined.
Boasting a mere 17 rooms and suites, each individually decor-ed in modern Italian furnishings, Klapsons offers a truly unique luxury experience. Despite its petite size, it features several intimate outdoor garden spaces, exquisite suites with interior jacuzzi spas, and a chic alfresco sky bar/restaurant on the 17th floor that provides stunning views over Singapore CBD.
Did you enjoy this article?
Receive similar content direct to your inbox.