When in Morocco earlier this month, attending PURE Life Experiences, I had the honour of also participating in a cooking workshop with 2 Michelin star chef Philippe Jourdin who oversees the four restaurants at the beautiful Royal Palm Marrakech. Philippe is a winner of the much-coveted 'Meilleur Ouvrier de France' and in the workshop he demonstrated how to make this delicious (we got to taste it afterwards, of course!) sea bass dish.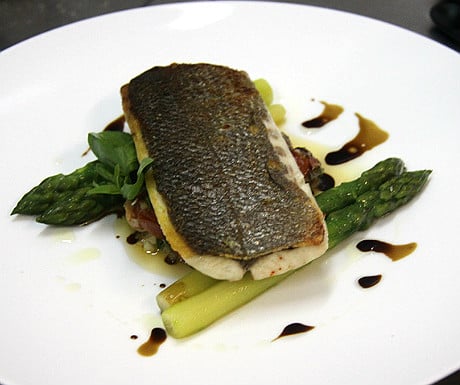 Ingredients
Serves 10
4 kg sea bass
20 pieces of green asparagus
100gr of minced celery stick
200gr of fennel
100gr of spring onions
200gr of cherry tomatoes
100gr of pitted olives
10gr of basil
3dl of olive oil
0.5dl of balsamic vinegar
Fleur de sel
Directions
Preparation
Fillet the sea bass and remove the bones with pliers; cut into portions of 140g, season with salt and Espelette chilli peppers; roll in olive oil and wrap in cling film. Cook in a steam oven at 70°C; remove the fillets after core cooking at 48°C, leave to rest in a warm place, then pan fry skin-side down for 2 minutes.
Crispy marinade
Mince the celery and spring onions, dice the fennel and cut the tomatoes and olives in two. Mix everything with a little olive oil, season with salt and Espelette chilli peppers, add the chopped basil and keep at room temperature.
Garnish
Peel and cook the green asparagus in plenty of salted water; plunge into ice water to stop the cooking and roll in olive oil.
Presentation
Season the vegetable marinade with balsamic vinegar place between the 4 asparagus spears. Place the sea bass fillet on top of the marinade. Drizzle with olive oil and balsamic vinegar and garnish with basil leaves.
Thank you to Philippe Jourdain, Head Chef at Royal Palm Marrakech for the recipe.
If you have a recipe you would like to share with  A Luxury Travel Blog's readers, please contact us.