The Great Rift Valley which runs through Africa has much romance to it's history – many of the first Great Explorers discovered some of the earth's most beautiful lakes here, all of which offer you the chance to see Africa's raw beauty at it's best. Some of the more famous lakes like Lake Manyara and Lake Naivasha are easy to reach, and offer a tranquil start to a trip around Kenya or Tanzania – but there are many other Great Rift Valley lakes which are even more beautiful, and although you might spend half a day getting there you certainly won't regret it. Here are our top five off-the-beaten-track Great Rift Valley lakes:
Lake Baringo
Lake Baringo in Kenya is home to the Pokot tribe and is full of hippos and crocodiles. The lake is surrounded by dusty and wild bush and has pockets of tiny islands within it which make a fantastic holiday destination or camp site. Te cry of fish eagles here can be heard for miles and only adds to the sheer romanticism of the wildness of this area.
Lake Turkana
Lake Turkana is very special, not least because it's the world's largest permanent desert lake and largest alkaline lake, but because it sits in one of the most remote spots of Northern Kenya, and crosses into Ethiopia. Only the most intrepid of explorers make it up here but what they find will never leave them. Here the lake is a different colour from every angle and the harsh desert environment that surrounds it is not for the faint hearted – safaris here are other-worldly.
Lake Elementaita
Lake Elemenataita will not see you travelling for days to get there – it sits nestled in between Nakuru and Naivasha both of which are the more touristy destinations. There is something about the location of this small lake, with its flamingoes and mountains that makes you feel as if you have just discovered some hidden jewel that no one else has seen before.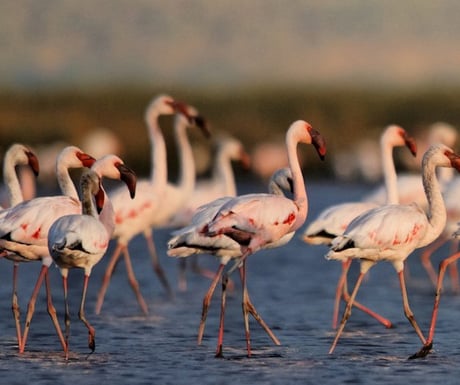 Lake Malawi
Lake Malawi is perhaps one of the most famous of the Great Rift Valley lakes but it is certainly still wild and remote. This incredible lake has white sandy beaches and turquoise waters similar to that of the Indian Ocean, and also boasts a vast number of brightly coloured cyclid fish, which only goes on to allow for some amazing snorkeling here. One can also canoe the length of the lake (taking some days to do it) and enjoy a truly wild and relaxing beach holiday here.
Lake Natron
Lake Natron is located in Southern Kenya and Northern Tanzania and is in a basin which is a Ramsar Site of significance. It is fed by mineral rich hot springs and is very shallow – this soda lake is in a location of such haunting natural beauty that you won't believe it exists until you have seen it with your own eyes. Here your safaris are based around walks around the lake, exploring the vast array of extremely unusual flora and fauna that exists here.
Rose Hipwood is Managing Director of The Luxury Safari Company.
If you would like to be a guest blogger on A Luxury Travel Blog in order to raise your profile, please contact us.