6 ways to taste your way around London as a tourist over the festive season
If you are a visitor or a local, with a keen interest in food, London is a melting pot of international cuisine just waiting to be savoured. Here are some ways of exploring London, while enjoying some delicious food and wine experiences, during the cold winter months.
1. BB Bakery bus tour
The
BB Bakery
, the French owned shop and café in Covent Garden, offers a London sightseeing tour with a difference. Taking a 1960s vintage Routemaster red bus, they have equipped it with comfortable seating and tables, all set up for afternoon tea, on both levels. And it's quite some afternoon tea! You can enjoy being served delicious sandwiches, mini quiches, cupcakes, scones (with jam and cream) and macarons, all while driving past London's main sights – The London Eye, Big Ben, The Houses of Parliament, Westminster Abbey, St James's Park, Buckingham Palace, Hyde Park, The Royal Albert Hall, Marble Arch, Piccadilly Circus, Nelson's Column, Downing Street and more.
2. Bateaux London
For those who prefer to see London from the water, a magical way to enjoy the Christmas lights, is to take one of
Bateaux London
's stunning boats for a cruise down the Thames. This way, you can take in the sights while relaxing over a delicious dinner, prepared on board. Specializing in modern British cuisine, using fresh and sustainable ingredients, the standard is at a level to rival some of London's most celebrated restaurants.
Bateaux London also offer lunch cruises, afternoon tea cruises and can be hired for private events.
3. Celia Brooks' gastro tour of Borough Market
The festive season is a special time at Borough Market, with the stalls decorated and laden with tempting delicacies, including Christmas gingerbread and hot mulled English cider. Why not join cook and chef,
Celia Brooks
, on one of her tours of London's oldest and most renowned food market? Starting with drinks, toast, and fresh fruit at Roast Restaurant, on the elegant mezzanine level of the market, you will then accompany Celia for an exclusive tasting tour. Officially licensed by Borough Market to conduct tours, she will ensure that you can enjoy the best that the market can offer, and enjoy tasting an array of treats along the way, from fine cheeses, olives and antipasti, to Turkish meze. Two tutored wine tastings are also included in this this educational and delicious market experience!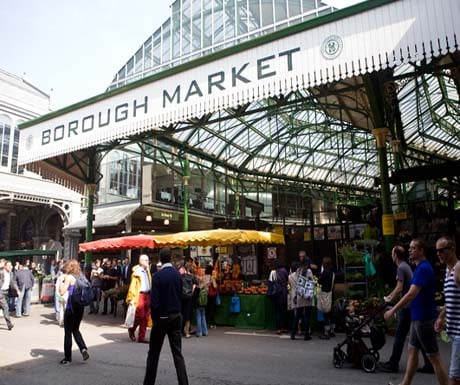 Celia also offers some enticing gastrotours of Portobello, Covent Garden and Marylebone Village.
4. Taste your way around East London on an Eating London Tour
For something completely different, try a 3.5 walking tour to discover the diverse and inspiring cuisine of East London. These tours are a great introduction to the East End's rich history and traditions which include influences from Jewish, Bangladeshi and French cultures. The 8 tastings will take you to markets, bakeries, shops, pubs and restaurants, where you will meet the owners and indulge in local delights, from English fish & chips to a fantastic Brick Lane curry. You will also visit historic sites such as the Old Spitalfields Market, the Truman Brewery grounds and several noteworthy areas featuring graffiti and street art.
The tour is for small groups, and taken by entertaining local guides, who will ensure you are well fed, as well as giving insights into the history and culture of the area – a great way to discover places which locals love, but aren't necessarily easy to find unless you are one!
5.  Soho International Food Tour 
London Food Lovers
offer a unique and fascinating look at Soho in the form of an Eat, Drink, and Cultural Walking Tour, which lasts 4.5 hours, and includes 10 food and drink tastings. It starts with breakfast in a tucked-away, historic location, followed by a walk through some of Soho's oldest and most charming streets, tasting your way from one international destination to the next. The tour includes a stop at a famous British pub, one of the five oldest in London, as well as an exclusive tea lounge, and the oldest wine bar in London … and, of course, no tour of this area would be complete without a visit to Chinatown.
Offering such a variety, this is a gourmet's paradise and you are sensibly advised not to eat much beforehand, as your tastings include breakfast, lunch and many snacks in between. The tour is restricted to small groups, and is a wonderful opportunity to discover the authentic eateries of the area, and learn about the history, folklore and rich cultural diversity which make up the international flavours of Soho.
6.  Food walking tours in London
When I started preparing this, I had absolutely no idea that there were so many interesting ways to entertain yourself in London, if you are a food enthusiast. For some more great ideas,
Walk Eat Talk Eat
, is another interesting website worth investigating. It also offers an East End Walking Tour, as well as a Borough and SE1 Tour, an Urban Carnivore Tour (which also focuses on the East End), and a very tempting sounding Farringdon Gin Tour!
Susie Marquis is Owner of The City Apartment Book Ltd.
If you would like to be a guest blogger on A Luxury Travel Blog in order to raise your profile, please contact us.
Did you enjoy this article?
Receive similar content direct to your inbox.