By
Paul Johnson
on Dec 02, 2014 in
Asia
,
Central America
,
Food and Drink
,
Guatemala
,
India
,
Indonesia
,
Interviews
,
Regions
,
Taiwan
,
Travel Miscellany
Samantha Chalker is a freelance travel writer and marketer. She has been travelling for the better half of a decade, in between failed attempts at office jobs and a home loan. She is often told she's curious, and sometimes told she's vegan – apparently it seems that's a personality trait these days.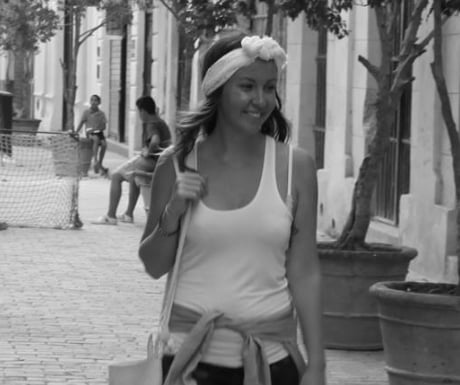 What is it that you do exactly?
I'm the Editor of inBali. My typical workday involves sorting through pitches, proofing new articles and meeting people who want to get involved with the site. That's when I'm not off reviewing eco-retreats in the jungle of course…
What do you enjoy most about what you do?
This role has afforded me the opportunity to see Bali in a whole new way. Going to the far-reaching corners of the island has been incredible, but it has been discovering the incredibly entrepreneurial spirit of the people living here that has really amazed me. I get the sense that those who come to Bali are seeking a new way of living, and I think most of them manage to find it here. This keeps me inspired and makes me love what I do.
What would you say are the 3 best places you've ever stayed?
1. My favourite place in Bali is Red Door Villa in Canggu. It's utter luxury, but somehow I manage to feel completely at home. Every time I wake up there, under a huge canopied bed with a banquet of fresh fruit and sunshine waiting for me, I feel like a princess. The food is second to none and the employees are helpful beyond words.

2. The Laguna Lodge Eco-Resort & Nature Reserve on Lake Atitlan in Guatemala was a fairy tale. The lake itself is so mysterious and picturesque, and the lodge just topped it off. It seems as though their garden produces everything they could ever need, from the bamboo used to make their lamps and bed sheets, to every delectable meal. National Geographic named it one of the top 25 lodges in the world, but I can't imagine anything topping it.

3. Ashiyana at Mandrem Beach on the South-West coast of India was an experience like no other. In a country that's buzzing with color and life, Ashiyana provides a place of peace and calm to recharge for the rest of your journey. The food was exquisite and the rooms were completely plush. Be sure to time your journey with a full moon – it looks particularly lovely over the river banks that meet the ocean.
What's been your most memorable dining experience to date?
I was at a restaurant in Kenting on the south coast of Taiwan, and being so close to the sea, I decided to order fish. It came out sitting atop a big silver dish, eyes open, tail and scales still on and flapping about madly in front of me, as if still struggling through its final stages of life. I sent it back screaming, "It's still alive!! Oh my god, I can't eat it like that." I was totally mortified. The chef came out and – through a bit of sign language and broken English – explained to me that it was the boiling water the fish was served on that was making it move. It was, in fact, as dead as a doornail. Silly me.
Have you rubbed shoulders with the rich and famous, either through your work or your travels?
I've sat in the same bar Ernest Hemingway frequented when he lived in Cuba; just like all the other tourists that visit Havana! And I think I was in Ibiza at the same time as Leonardo DiCaprio, but much to my disappointment we didn't run into each other. Not so many claims to fame.
What currently ranks highest on your travel wish list?
I'd like to go to Iceland and see the Aurora borealis and spend a year in Argentina learning Spanish.
Thank you for taking part in our interview, Samantha.
If you would like to be interviewed on A Luxury Travel Blog in order to raise your profile, please contact us.