By
Rose Hipwood
on Dec 16, 2014 in
Accommodation
,
Adventure Travel
,
Africa
,
Botswana
,
Camping
,
Leisure Travel
,
Regions
,
Resorts
,
South Africa
,
Speciality Travel
Sleeping out under the stars in Africa is a truly magical experience and one that will be the most memorable part of your safari if you are lucky enough to have access to it. Many of the luxury safari camps and lodges have caught onto the fact that it really appeals to people to sleep out under the African stars, with the noises of the bush around you and the milky way twinkling down on you. Star beds are the hottest thing being added to luxury safari camps this year – here are the top five new star beds which have popped up this year:
Tswalu have just completely redeveloped their owner's house Tarkuni, now you have five extremely luxurious suites all of which come with their own secluded and remote star bed. Now you can stay in South Africa's Kalahari and enjoy one of the most magical desert experiences in the world – a star bed.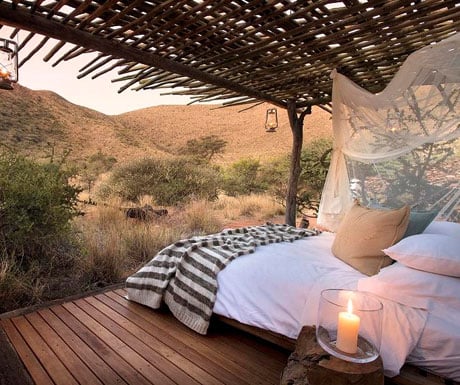 In the desert you have less light pollution, better stars and better night visibility which explains why this is the second desert star bed to pop up this year. Kalahari Plains had a complete refurb and is now incredibly enticing, especially since every room now has it's own private star bed on the roof. The Kalahari Desert is unbelievable in terms of terrain and wildlife species, and too many people miss this out when visiting Botswana.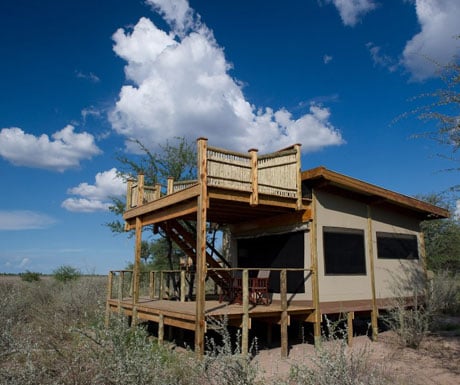 Lion Sands in the Sabi Sands (South Africa) have redeveloped their treehouses – they are extremely luxurious and offer guests a wonderful adventure in the bush – here you will often have lion or leopard calling nearby, and will go to sleep with the sound of elephants grazing beneath you – all of this in the lap of luxury, but nevertheless a treehouse / star bed.
4. Abu Camp
Abu Camp in Botswana's Okavango Delta is world famous due to it's herd of habituated elephants which one rides or walks with through the bush, although their star bed is not new, it hasn't gained that much publicity which is complete madness as it is truly magical. Not only is this star bed incredibly comfortable but it also sits next to the elephant enclosure – their slow rumbles will send you drifting slowly to sleep.
Leobo in the malaria free Waterberg is all about the freedom to explore anyway, so it is no surprise that they have a wonderfully romantic star bed which overlooks their lily pad covered hippo dam. This is a truly magical night which often sees giraffe eating around the elevated star bed and has you waking up to the magical sound of hippo entering the dam after a long night grazing. This amazing vast private reserve can arrange anything so even if you find you want to sleep somewhere else on the reserve (which does not have dangerous game) they will arrange it.
Rose Hipwood is Managing Director of The Luxury Safari Company.
If you would like to be a guest blogger on A Luxury Travel Blog in order to raise your profile, please contact us.