By
Paul Caddy
on Dec 30, 2014 in
Accommodation
,
Europe
,
France
,
Hotels
,
Leisure Travel
,
Regions
,
Resorts
,
Spas & Pampering
,
Speciality Travel
,
Switzerland
,
Vacation Rentals
,
Western Europe
During the Cold War, there used to be a smattering of towns in the USSR that were 'off the map'. Officially they didn't exist. Soviet mapmakers hid them in their atlases with the clever use of whatever they had to hand at the time (presumably well-placed blobs of gravy from a hearty lunchtime goulash?).
Fast-forward a quarter of a century and the Soviets, together with their games of municipal hide-and-seek, are long gone. Yet many towns and villages—wherever they may be in the world—still struggle to grab the attention of cartographers or winter tourists, including many smaller ski resorts. The world simply ignores them. For all intents and purposes they aren't there. They've 'done a Soviet' and disappeared.
Good! Sometimes the soul needs to stray from the braying hoards of Val d'Isere or Verbier. Don't get me wrong, these resorts have their place, and are justifiably popular, but now and again you need to go 'off-grid'. Here's three suggestions how:
Hauteluce
If Wikipedia entries are anything to go by, Hauteluce's 15-word entry in English is a remarkable declaration of, well, not much: the settlement is "a commune in the Savoie department in the Rhône-Alpes region in south-eastern France." So there you go: just over a dozen (unintentionally banal) words that inspire you to do, well, very little. Do I hear your fingers dancing across your keyboard as you rush to book your annual break there? No?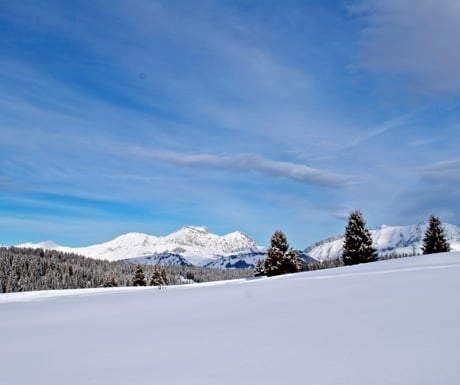 More's the pity, as this tiny alpine village is perfectly placed between two extensive ski areas: Les Saisies and Les Contamines-Montjoie, both a snowball's throw from Western Europe's highest peak (Mont Blanc). The former offers a reported 109 miles of pistes; the latter a respectable 75.
In fairness, the village mirrors its Wikipedia page: understated. There's a handful of restaurants and a wonderful local shop that bakes your morning baguette to order. Other than that it is a typical French village. The luxury in staying here is not having an embarrassment of choices, rather you can indulge in the simple pleasure of chatting with the friendly locals or being first in line for the chairlifts.
Hauteluce is a subtle treasure worth discovering. For a bit of luxury, head to the boutique hotel Hôtel Restaurant La Ferme du Chozal. They can also offer apartment rentals.
Flumserberg
Bored and kicking your heels in Zurich? Perhaps you've eaten your body weight in Swiss chocolate and fancy kick-starting a new exercise regime? If so, there's no better place to burn off a few thousand unwanted calories than in the ski resort of Flumserberg, about 60 miles south east of the city.
The town, popular with locals and expats alike, is about an hour and a quarter from Zurich and is worth it for rail journey alone. Trains leave the central station twice hourly. As they head out of town, through the bleach-clean suburbs and often just feet away from the glassy waters of Lake Zurich, the distant foothills of the Alps soon hove into view (for the best views, sit on the left). Just before you get off the train at Unterterzen—for the high speed gondola to the resort—Lake Walen presents you with a vista that is irrefutably Swiss: precipitous cliffs, electric-blue waters and, yes, snow-capped mountains. A true winter paradise.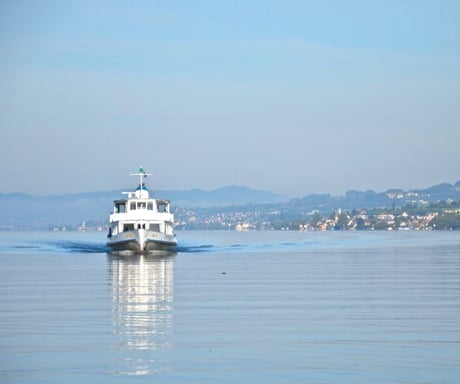 Tempted? Superb! That said, before you think about attacking the 40-odd miles of pistes, it is worth having a word with your hotel first. Some weeks, local schools decant hundreds of their students into the resorts around Zurich during their annual ski weeks. In terms of where to stay, why not head down the road (to the town of Bad Ragaz) and stay at the five-star Grand Hotel Quellenhof & Spa Suites.
Disentis
For our final resort, let's stay in Switzerland but head a bit further south; into the isolated valleys where a direct descendant of vulgar Latin is still spoken: Romansh. There's nothing vulgar, however, about this quiet corner of the Alps where timeless, elegant mountains stand guard over the source of one of Europe's greatest rivers, the Rhine.
When winter drapes its mantle of snow over the region in late autumn, skiers start fizzing with excitement, particularly those who like a bit of off-piste action (for which the resort is building up a solid reputation). If you hire a guide—highly recommended—there's oodles of fun to be had on the other side of the ropes; otherwise there's 37 miles of pistes to keep you occupied until dusk falls and ski legs surrender to fatigue.
For accommodation, the achingly stylish Chedi Andermatt, opened in 2013 and an hour's train journey from Disentis, is certainly worth considering, having just won a prestigious European Hotel Design Award for the design of its bedrooms and bathrooms. If the prospect of a train journey from Disentis to the hotel is too much after a day's skiing, then why not try design hotel La Val Bergspa Hotel Brigels, 12 miles to the east of Disentis?
So where's your secret spot? Go on, share it with us below. We won't tell, honest!