The Maldives is well known as a top luxury destination, famous for diving, blissful tropical islands, romantic honeymoons and picture postcard beaches where the clear turquoise waters lap gently against the white sand. It has all the makings of paradise, unless you're a vegan or vegetarian, as the thought of travelling to a remote island in a country where the national cuisine revolves around fish, might be a worrying concept where not even the thought of some world class luxury makes up for being stuck in paradise with nothing to eat.
But times are changing and there are now 2 luxury resorts in the Maldives that have perfected vegan luxury. You won't get fobbed of with a salad in these places, in fact you'll be spoilt for choice, indulged and amazed as you eat exquisite food that doesn't rely on using animal products.
Atmosphere Kanifushi is one of the new kids on the block in the Maldives, having opened in December 2013, it offers luxury all-inclusive holidays and is only 40 minutes away by sea plane from the capital Male.
It ticks all the luxury resort boxes with a stunning white sand beach, a top end Akiri spa and beachfront villas with luxury open air bathrooms.
Atmosphere Kanifushi is also home to the first all vegetarian restaurant in the Maldives, the aptly named 'Just Veg', offering fine vegetarian dining, including vegan and Jain options, which can all be enjoyed in a beautiful setting with far reaching views of the Indian Ocean.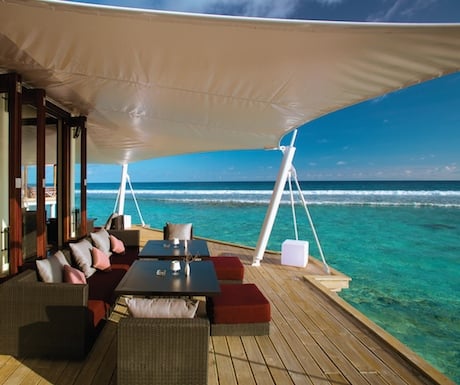 Michelin starred chef Fabrizio Marino made a guest appearance at Just Veg in September 2014 and his legacy lives on, with the menu offering a range of quality Italian inspired vegetarian dishes, alongside a selection of dishes from around the globe.
We loved the almond pesto tagliatelle, the delicious pad thai and the the fresh breads from the tandoor oven served with sweet and spicy chutneys and pickles. And it wasn't just us veggies that were raving about the food; night after night Just Veg was packed with people giving the veggie lifestyle a go and being pleasantly surprised by the great tasting food.
The other restaurants in this little slice of paradise are also more than capable of making their vegan and vegetarian guests feel at home offering everything from delicate, fresh Japanese Cuisine, beautifully crafted vegan sushi and even exquisite vegan desserts; we had meal after meal of wonderful plant based food.
All the chefs at Atmosphere Kanifushi seem to know how to make vegetarian and vegan food exciting, adding a fine dining twist to simple dishes like falafels as well as showcasing traditional cuisine from around the world that is also vegan, like a delicious sticky semolina pudding.
It's not just the food that's making this resort so vegan friendly, the in-room amenities which include sunscreen, lip butter and insect repellant are all made by luxury brand Kimrica, whose entire line is free from animal products and not tested on animals, making them 100% vegan.
There is also the Akiri spa, which in addition to offering traditional Balinese massages has a range of other treatments using vegan products. So there's no excuse not to book in a treatment and relax while listening to the sounds of the Indian ocean as you let your worries drift away.
This award winning luxury resort is our other 'go to' resort for vegan and vegetarian luxury in the Maldives, they were recently named 'World's Best Water Villa 2014' at the World Travel Awards, so you know you're in for a treat when you book a stay with them.
The 'Ocean Suites' sit on stilts over the lagoon and have steps that reach down to the water below where am amazing coral reef, hundreds of tropical fish and even sea turtles can be seen. The suites each have a stylish private infinity pool, cool hammocks strung over the water and laid back outdoor sofas which are perfectly designed for relaxing as you watch the sun go down.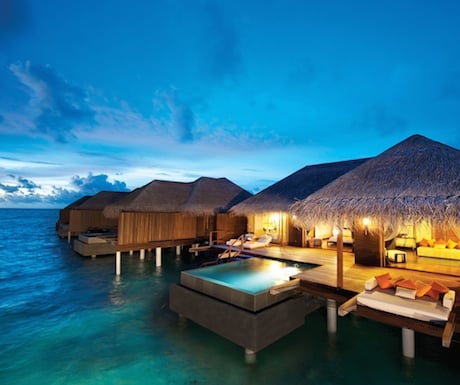 When the suites are this good it is tough to leave, but when you do the resort is packed full of places to spend your time, each of them offering picture postcard views that will be sure to live with you forever.
But it's the food that makes Ayada Maldives a particularly vegan and vegetarian friendly resort.
Just tell them you are vegan and sit back and wait as the most amazing food comes your way, whether dishes are on the menu or not, the talented team of Ayada chefs will pull out all the stops to make sure you get a real taste of vegan luxury at every meal.
You can eat healthy salads from their 'live' salad bar where the chef will freshly chop your chosen veggies for you or you can order a homemade vegan burger with all the trimmings for a laid back poolside lunch. Maybe you'll be tempted by some authentic Balinese food, rich with spicy peanut sauce and sweet 'kecap manis' or you'll opt for a dish like their 'Vegetable Stack' consisting of fresh crispy vegetables, perfectly grilled, with a rich tomato sauce and served on the creamiest vegan mash we've ever tasted.
Whatever you choose, it's unlikely you'll be disappointed by what you're served as the quality is exceptional.
Sit and watch the sun go down at Ayada Maldives' Ocean Breeze Restaurant and enjoy a meal of fine dining vegan food for one of those memorable evenings that will keep you smiling even when you've returned home.
Dine on 'Puy Lentil Salad with Parsnip, Pine Nuts and Lemon Dressing' which is deliciously crunchy and fresh, as well as being packed with roasted parsnip and pine nut flavours, or enjoy 'Herb Marinated Polenta and Grilled Eggplant with Tomato Reduction', with crispy polenta being garnished with pretty edible flowers.
All the food is presented beautifully, with care and attention, but it tastes as good as it looks too with delicate and wonderful flavours gracing every single plate.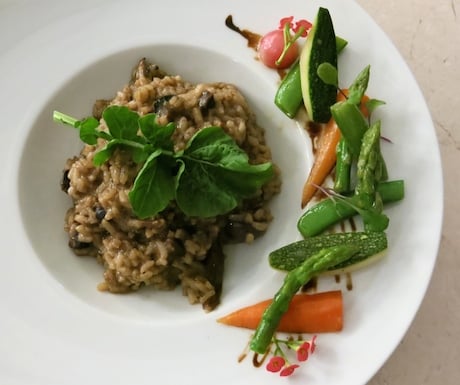 And as an aside, we think that Ayada Maldives might just serve the most fabulously presented Turkish coffee in town at the resort's Ottoman Lounge, where a wonderfully strong and smooth little glass cup of coffee is served to you on a spectacular silver tray, cranking up the luxury factor another notch or two.
Every day people are telling us that eating a plant-based diet has a much smaller impact on the environment and is better for our health (even if it's only adopted part-time or for just a few meals a week).
Now we can all have the best of both worlds; enjoying the luxury of a destination like the Maldives and eating in a way that's friendlier to the planet and the animals that we share it with, and better for us too.
There's no better way to enjoy being vegan or vegetarian than getting yourself to the Maldives and doing it style, that's for sure.
Paul Eyers is Founder of Vegan Food Quest.
If you would like to be a guest blogger on A Luxury Travel Blog in order to raise your profile, please contact us.