Three of Chicago's luxury hotels are situated on the Magnificent Mile's prime location of Water Tower Place. They have world class spas and attractive swimming pools plus excellent restaurants. They are located above or across the street from some Chicago's finest shopping venues and two acclaimed theaters: the LookingGlass Theater and the Broadway Playhouse.  The lake front. Navy Pier and world class museums are just a brisk walk or a short taxi ride away. So how does a traveler chose between The Four Seasons Hotel Chicago, The Ritz Carlton Chicago (a Four Seasons Hotel), and the Peninsula?  Sometimes it gets down to the amenities.
A Martini Man and a gourmet Chicago hot dog
The Four Seasons Hotel Chicago has striking avant guarde art works in the lobby and public areas. A kids' room is filled with toys and play areas including a safari tent and play kitchen.  The ballroom has silk paneled walls, crystal chandeliers, and a bride's room tol accommodate the women of a wedding party for changing and freshening up.
The Martini Man wheels his cart into guest rooms and mixes martinis to order. The Appletini and Chocolatini are fun for guests who want to go beyond the standard martini. Chocolate-covered strawberries are offered along with olives. For the kids, the Ice Cream Man makes sundaes and cones to order in guest rooms for the entire family.
The Four Seasons Hotel Chicago restaurant, Allium, features modern American cuisine with regional, farm-to-table dishes. The beef is from Creekstone Farms where the cattle are fed a vegetarian diet and are never given growth hormones or antibiotics.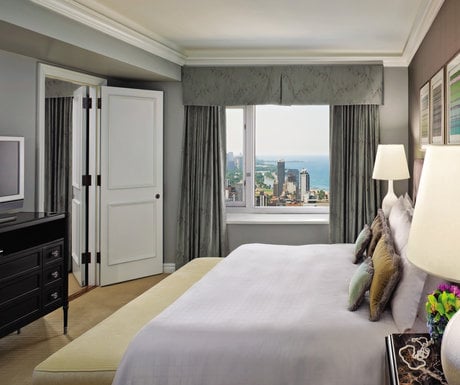 One of Allium's menu items is an official Chicago hot dog. No one visits Chicago without eating a Chicago hot dog, usually on the street with mustard dripping. Allium's hot dog and the condiments are made in house: beef, casings, pickle relish, mustard and the bun are from the chef's kitchen. A Chicago hot dog never has catsup on it, but the fries come with a tangy balsamic catsup the chef created. They are served in a little paper bag so the catsup will not drip on the hot dog
Dawn Yoga and basketball with a legend
The Ritz-Carlton Chicago (a Four Seasons Hotel) has dawn yoga classes on the 75th floor rooftop. Children love the Candy Man who rolls his candy cart into guest rooms so children can fill quart-sized bags with their favorite sweets. A new, half-basketball court can be rented by the hour. Guests can play basketball with former Chicago Bulls player Toni Kukoc, a member of Michael Jordon's Dream Team.
Deca Restaurant right off the 12th floor lobby is an art-deco brasserie and one of the few Chicago restaurants that smoke their own salmon. The scones really do melt in your mouth and come with fresh clotted cream and house-made marmalade. Decadent chocolate cake with espresso-soaked layers and chocolate frosting could be a meal in itself.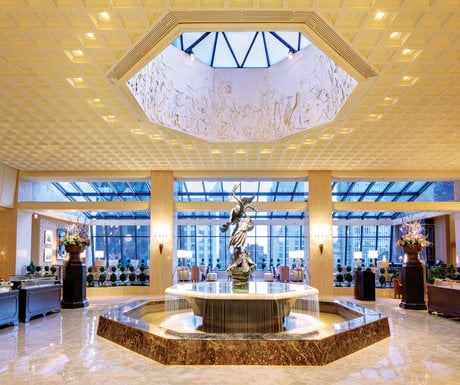 A two-hour cooking class with one of the chefs can be arranged and is a great way to enjoy a tasty meal with an accomplished chef who will share some culinary secrets. Cookie-making lessons are a hit with the kids.  The Ritz Carlton Chicago (a Four Seasons Hotel)  is located above Water Tower Place, the seven-story upscale retail mall with stores such as Macys and Coach plus children's favorites: the LEGO Store and The American Girl Place.
Mini Coopers, pages and princesses
The Peninsula Hotel's Chinese Guardian Lions flank the entrance to keep all who enter safe. The lions wear team jerseys in support of the Chicago Bulls, Bears, Blackhawks, and baseball teams. Two MINI Coopers sport seasonal decorations such as bunny ears for Easter and rooftop spiders for Halloween. The lobby is five floors up and a stroll down a majestic hall with soft, golden tones and windows displaying select designer goods. A page is available to run pesky errands and walk dogs.
The Peninsula Academy provides in-depth learning in luxury. The Academy's river tour of Chicago's iconic buildings and historic architectural landmarks is on a private, 48-foot yacht. Art lovers appreciate private tours of a favorite collection at the Art Institute by the curator in charge of the collection. Elegant picnics beside the lake are arranged and served by a Peninsula page and butler.
Young firefighters in training are transported to a Chicago fire station in a MINI Cooper for a tour of the station and a fire safety lesson. The boys return to the hotel in their firemen uniforms and make fire safety inspections.  For young ladies, the Princess for a Day experience includes a staff of attendants for hair styling and makeup and a shopping spree in a horse-drawn pumpkin-shaped carriage. Upon her return, she is greeted by her prince who presents her with glass slippers.
Check the hotels' websites for seasonal specials!