By
Rose Hipwood
on Feb 18, 2015 in
Accommodation
,
Adventure Travel
,
Africa
,
Botswana
,
Camping
,
Kenya
,
Regions
,
Speciality Travel
,
Tanzania
,
Zambia
Mobile safaris in Africa are the best way to see the bush if you want a completely private guide, camp and staff all to yourself. Often these mobile camps will be set up in the most remote and off the beaten track locations one could possibly imagine, and you will be in areas where game is abundant and people are not – this is the absolute dream for many people and this is why luxury mobile safaris are so popular. They work brilliantly in conjunction with a lodge or permanent camp and give families, groups or couples the chance to get off the beaten track alone. Here are Africa's top five luxury mobile safaris:
Uncharted Africa Mobile Expeditions, Botswana
This amazing operation employs some of the world's best safari guides, and takes you into areas of the Okavango Delta or Kalahari Desert that one can only imagine – nothing can compare to the grandure of this safari – every luxury mobile tent is decorated throughout with antique campaign furniture and the food is gourmet, cooked in a baking tin over a fire. The staff here really make this once in a lifetime with their cheer making for a wonderful camp atmosphere. Nights spent under the stars, boat safaris and swimming in the Delta are just some of the things you have to look forward to on this luxury safari.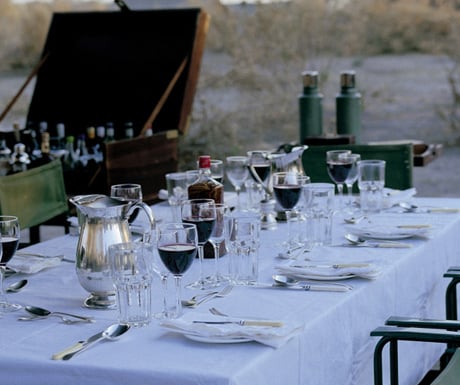 Sanctuary Mobile Expeditions, Kenya
The Sanctuary Retreats mobile safaris are very luxurious but are slightly more understated than the Uncharted operation. They work hard to get people into remote parts of the Masai Mara – here you will have your private camp and staff and will enjoy utter privacy throughout the area your camp is in. Tents are exceptionally comfortable and wonderfully romantic, with fantastic food and guides.
Singita Serengeti Explore, Tanzania
This is another ultra luxurious mobile camp which moves around the vast and private Grumeti Reserves in Northern Tanzania. This huge area has numerous conservation projects running and has wonderful game, as well varied topography from plains to rivers and thicker bush. Here you will have this huge area to yourself (apart from the other Singita camps and lodges, which are small and exclusive) and will enjoy being utterly spoilt with Michelin star standard food and a wonderfully romantic and old fashioned yet luxurious mobile camp.
Robin Pope's Mobile Walking Safari, Zambia
Taking a mobile safari is often about getting into the most remote un-trodden parts of Africa – imagine doing this with a walking focus, this is the dream for many people and you can literally imagine exactly what it was like for the first great explorers who ventured deep into the bush in Africa. Robin Pope has some of the best walking guides in all of Africa and their mobile walking safari unit will show you some of the best game viewing anywhere in the world.
Safaris Unlimited Mobile Riding Safari, Kenya
Gordie and Felicia Church run an exclusive riding safari operation which operates mainly from the Mara, but can be tailor made to your wishes. Their top quality horses go hand in hand with their mobile camp, which is comfortable and wild. The staff are some of the most charismatic and friendly you'll meet and you certainly feel as if you have your own little piece of Africa. Riding safaris take you through some of the most beautiful parts of the famous Mara, where game is abundant and people infrequent, apart from traditional Masai tribesmen. Riding with the Wildebeest Migration is also a highlight.
Rose Hipwood is Managing Director of The Luxury Safari Company.
If you would like to be a guest blogger on A Luxury Travel Blog in order to raise your profile, please contact us.