Paradores are luxury hotels in converted-convents, monasteries and castles – a new trend in luxury tourism in Spain, and other Spanish-speaking countries like Puerto Rico. Most of Spain's Paradores are actually state-owned, and the 'Paradores Spain' chain was founded by King Alfonso XIII and the Marques de Valle-Inclan in the 1930s as a means to promote tourism. More than just hotels, they now market themselves as 'Experiencias Paradores' – giving visitors the chance to combine staying in their hotels with experiences around food & wine, nature, heritage, and more. These 3 hotels are located near Madrid, perfect if you're looking to extend a city trip:
16th century monastery in Almagro
Don't underestimate this adorable little town, famous for its charming Plaza Mayor (which according to legend holds the remains of an Arab castle). Just an hour away from Madrid, Almagro hosts a celebrated International Festival of Classical Theatre every year during the month of July. It also offers unique local culinary specialties including a special variety of eggplant, which can be sampled in the Parador de Almagro – berenjenas de Almagro.
This Parador, a converted 16th Century Franciscan Convent, has kept an authentic atmosphere whilst providing modern facilities. Its wine cellar has been converted into a bar with a wonderful 'Cervantine' ambiance. Go for the junior suite for the top of the range, and let hotel's cloisters, arches, shuttered windows and stone corridors take you into a quiet repose.
8th century castle in Alarcon
If 16th century isn't quite old enough, why not try staying in this converted 8th Century medieval castle? Perched atop the Pico de los Hidalgos in a meander of the Júcar River, the Parador overlooks the ancient village of Alarcon. Steeped in history, this medieval castle has seen many sieges and revolts. It was founded by the Muslims in the 8th century and was then captured by King Alfonso VIII in the 12th century. It has been home to the Marquises de Villena and later, the home of the famous writer Don Juan Manuel.
If you're into sailing, windsurfing, canoeing, rowing, or even fishing – this is your place. There are wetlands, dotted with small sandy beaches along the banks, a perfect backdrop for long after-dinner walks to burn off all the Sangria and Serrano ham. A good, secluded break from everything. And the castle isn't haunted.
A manor house in Toledo
Perched up high on a hill, Toledo is a perfectly preserved medieval city, less than an hour away from Madrid by train. Home to El Greco and once the home of vibrant Arab and Jewish communities it's a great city to discover by foot. Getting lost in its twisty winding streets is the best part – it might lead you to some breathtaking views (the more uphill the route), or to one of the dozens of artisan shops selling Toledo's specialty – marzipan.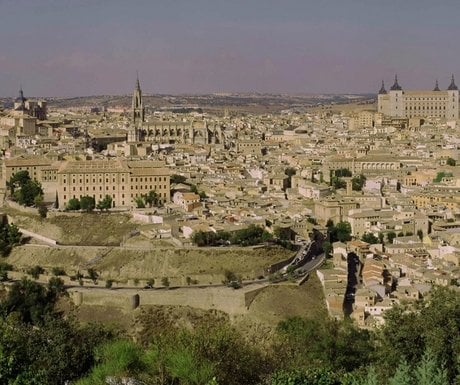 The Toledo Parador, a converted manor house, has a swimming pool and gorgeous views over the city. It also has one of the best restaurants in the city, with regional food borrowing from Arab and Jewish cuisines and blending them with La Mancha products – we're talking chorizo, Manchego cheese and the like.