Langkawi is a beautiful jungle-clad tropical island situated just off the northwestern coast of Malaysia, close to the border of Thailand. Designated as a UNESCO Geo Park due to its unique geological and ecological features, Langkawi is the largest island in a picturesque archipelago of 99 limestone islands, some no more than bare rocks.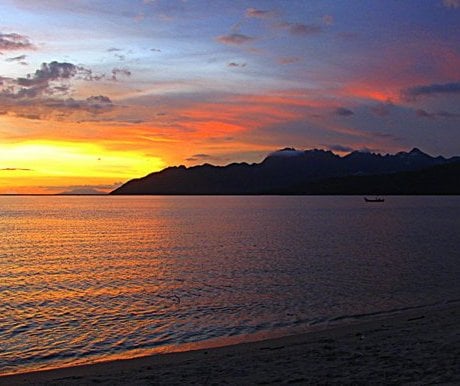 Much of the mountainous island is covered in dense jungle, but there are also rivers running through vast mangrove forests, long white sand beaches, rocky coastlines, stark mountains, rice fields and water buffalo grazing in pastures. With over 200 species of native birds and rare mammals such as the flying lemur, Langkawi is becoming increasingly famous for bird and wildlife watching.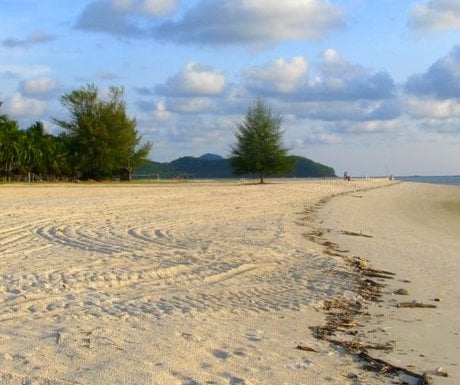 To Malaysians and expats living in Kuala Lumpur, Langkawi is generally known as a lush, luxurious escape from city life on weekends and holidays. Aside from the island's varied ecosystems and pristine beaches, Langkawi's upscale reputation is also due to its many superb luxury resorts scattered around the island. Its status as a duty-free island, where luxury goods are sold at a fraction of the price elsewhere in Malaysia, also helps attract up-market visitors.
I've spent several months living at Langkawi in recent years, exploring its many outdoor charms and visiting dozens of luxury hotels and resorts. Among them I've discovered some truly unique and remarkable resorts featuring stunning architecture and designer interiors, exemplary customer service and amazing settings.
The following are my top 5 recommendations for unique luxury accommodation on Langkawi Island:
Bon Ton offers a truly unique resort experience. Set inland amidst rice fields and a large lotus pond, accommodation consists of eight antique Malay villas that were sourced around the country, disassembled and relocated to Langkawi. Constructed of wood with thatched roofs, the villas have been lovingly restored to pristine condition, preserving their beautiful Malay accents and natural, country-home styles.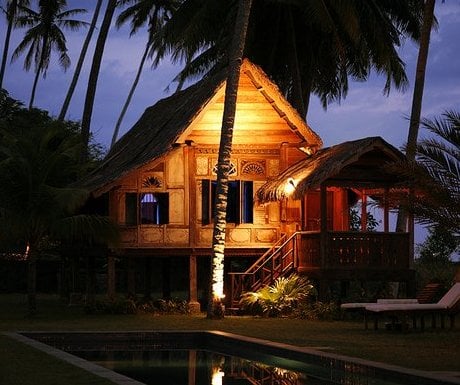 Modern bathroom fixtures, four-poster beds with white mosquito netting, designer lighting, and a combination of traditional and modern interior pieces spruce up the villas, creating a superb blend of modern and traditional styles. Some villas are accented by bright color splashes, others are decor-ed with simple white against the natural grain of wood.
Bon Ton also features a superb open-air restaurant, swimming pools and a tranquil setting beside a large lotus lagoon surrounded by fields.
You'd be hard pressed to find a more stunning combination of traditional cultural heritage buildings mixed with modern touches.
Temple Tree is Bon Ton's 'sister resort', located just next door and sharing pool facilities and natural settings. This superb boutique resort also consists of historic buildings, though of a different nature than Bon Ton. Temple Tree's villas include original Chinese, Indian, Malay and Eurasian mansions that have been relocated to Langkawi.
Each of the villas features its own unique period detailing, well-coordinated furnishings and luxurious color schemes. Set along a walkway, the resort takes on the appearance of a small community, town or housing estate full of historic homes.
Reception is housed in another stunning historic building nearby. The lovely wood house offers beautiful sitting areas, a gourmet restaurant featuring western & Asian cuisine, a bar, a library and pool table. It's a wonderful place to relax in addition to lounging at the outdoor pools and the privacy of your own villa.
I've always considered Four Seasons Resorts to be a notch above other international hotel chains. All their properties that I've visited around SE Asia feature remarkable, custom-designed architecture and superb interiors, always incorporating local cultural design elements. Their beautiful one-of-a-kind properties are situated in stunning settings with impressive views and lush, landscaped gardens.
Four Seasons Langkawi is no exception. Situated on one of Langkawi's most pristine beaches at Tanjung Rhu, far from the madding crowds of popular Cenang Beach, this Four Seasons property features Arabic design elements, a large serene reflecting pool at the lobby, a plush spa, miles of fluffy white-sand beach and lovely sitting spaces.
The resort's 91 accommodations, known as Villas and Pavillions, are spread out over 48 hectares of landscaped gardens and beach front, providing plenty of space and privacy to guests. Villas are constructed in beautiful wood, stone and marble with Asian accents, while Pavillions feature Malay design elements.
For visitors to Langkawi seeking a complete escape into undisturbed, chic luxury, Four Seasons is the place to go.
This petite boutique resort has racked up quite a well-deserved reputation for itself in recent years. Winning Trip Advisor's 'Travelers' Choice' Award year after year since 2010, Casa del Mar is particularly noted for superb, personalized service and remarkable attention to detail. Visiting guests quickly find out why it's so well-acclaimed – staff greet them by name, serve up chilled lemon water to their beach chairs throughout the day and remember their dining preferences, to mention just a few personalized touches during a typical stay.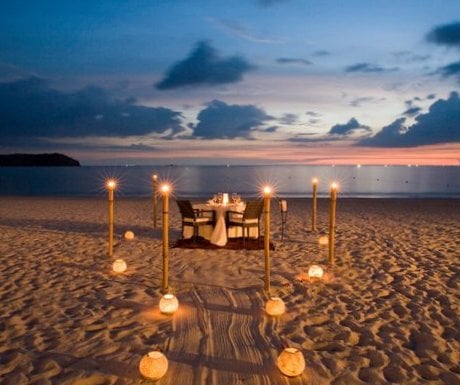 Casa del Mar is also located right-smack on the most beautiful stretch of Langkawi's main beach, Cenang, removed from Cenang's main hustle and bustle. The resort's studio, junior and deluxe suites feature gorgeous turquoise, golden and beige interiors, private sitting gardens, aromatherapy spa products in the bathrooms and an assortment of high-end, complimentary treats.
The resort's over-indulgent gourmet buffet-plus-a-la-carte breakfasts are to die for, as are the lunch and dinner selections. In evenings, guests can dine at tables set out on the sand under stars, with sounds of the sea gently lapping the shore nearby.
An outdoor pool-side bar features a vast selection of signature cocktails, along with standards, beers and wines. Happy Hour is always an entertaining event, with the gregarious general manager personally hosting the gatherings and offering many unique drink specials.
Travelers who prefer small intimate resorts, personalized service and extra-special touches will be delighted with Casa del Mar Langkawi.
Ambong-Ambong Rainforest Retreat
This unique resort is set up more like a collection of private condos in the jungle, rather than a hotel. Each beautifully-furnished and self-contained unit features a kitchen with basic appliances, a dining room, veranda, bedroom(s), sitting areas, bathroom(s) and a staggering amount of closet space. Plentiful windows keep the condos filled with soft natural light.
Set on a steep hillside at the far end of Tengah Beach, Ambong-Ambong treats guests to cool, shady jungle where they are serenaded by birds, wind rustling the trees and an occasional visit by monkeys.
'Retreat' is an excellent word to describe Ambong-Ambong as it's the perfect place to escape from the 'real world' to chill out for a few days. In addition to the luxurious condos, a plush spa, an award-winning Japanese restaurant and yoga classes are located on the property, giving further incentives to stay on-site and indulge in serenity, well-being and self-pampering.