There is something always more exciting and adventurous about exploring unknown grounds by car rather than trains or buses. Itineraries can be created at your own pace and comfort. Andalucía is definitely one of those areas which are best explored on your own in a car. There is plenty to do and see in the South of Spain. From Malaga, to Granada, Seville, Ronda, Cadiz, the numerous white towns, the dramatic and rugged mountains; this road trip really is a fascinating one. While each big Andalusian city has lots to offer in terms of history, culture, beauty; here are 4 stops you would definitely want to make while cruising through this rugged and raw beauty:
Granada
This town in the South of Spain is a perfect blend of yesterday and today. Ruled by Muslims many years ago, Granada's past not only shows glimpses of the Muslim world but also boasts of Spanish charm. There's the Renaissance cathedral in the city center. Then there's the Arab neighborhood of Albayzin, there's narrow cobbled alleys that lead up to a plaza with stunning sunset views of Alhambra bracketed by the stunning Sierra Nevada mountains; and there is the majestic, Moorish Alhambra – one of the biggest architectural designs of Europe.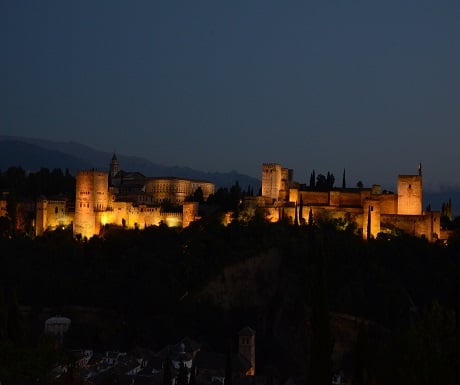 The Alhambra's intricate designs are grandeur, the calligraphy beautiful and the Moorish architecture so vastly different than the rest of Europe. The gardens of Alhambra tell the tales of the lifestyle of the Moors.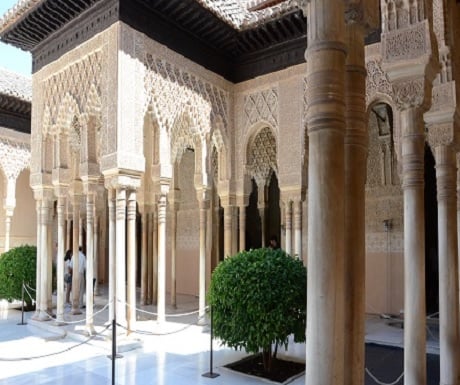 If you are an architecture buff, Granada will definitely keep you interested with its spectacular Moorish Palace and Renaissance Cathedral.
Ronda
This small charming town cannot be missed due to it's dramatic escarpments and views, the El Tajo gorge and the landmark Puento Nuevo (new bridge). Ronda also has one of the oldest bullrings – Plaza de Toros.
If you are short on time and can't stay the night, Ronda can be a perfect day trip from Malaga or a few hours' stop over while driving through. The Puento Nuevo really is a sight to see – lovely views of what's around it. But it's an even better sight once you walk down and check out the bridge standing tall in all its glory with waterfall!
Zahara de la Sierra
This lovely white town is perched up on the hills and can be spotted from far away. The Moorish fort built back when the Arabs ruled still sits right atop the town. Throughout the Southern Spain, there are many small towns called pueblos blancos or "White towns" because of all the white washed walls. And while it would be lovely to get a chance to explore them all, Zaharra de la Sierra stands out because of the beautiful landscape – white buildings nestled in the hills with an ancient fort and a gorgeous lake right next to it.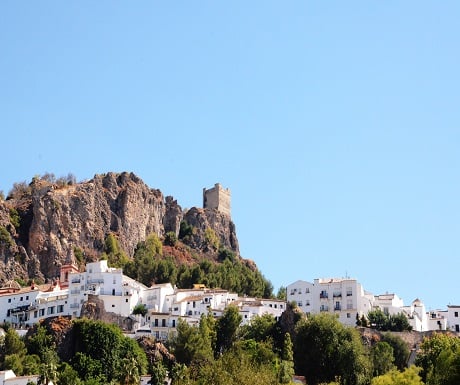 The streets are a hilly, narrow maze so driving can definitely be a feat. Taking the stroll around this quaint town will take one back in time – carefree lives, children running around playing outside their homes. Hiking around this lovely town.
Seville
This could very well be the highlight of Andalusia with its charming neighborhoods and old-world feel. Old town Barri Santa Cruz is filled with sprawling narrow cobbled alleys and adorable squares such as Plaza Dona Elvira. Sitting around in a cafe, smelling the fresh oranges on the trees is definitely one of the many highlights of Seville. Strolling the old town is like walking back in time.
Horse drawn carriages outside the Alcazar paint a scene right out of a fairy tale. Many flamenco shows offer great evening entertainment. Plaza Espana is probably one of the most gorgeous squares in all of Europe to walk around in, or boat around in; in the canals of the Plaza. The little bridges around the canals are covered in beautiful tiles.