As the world becomes increasingly interconnected and international travel all the more common, it can be hard to find new destinations that aren't totally packed with tourists. If you're a seasoned traveler, visiting mainstream destinations can be dull and unsatisfying. Big crowds, jaded locals, and overpriced hotels are what you often find in a country's most popular destinations. Fortunately, there are still many awesome places in the world that are relatively unknown.
From Guatemala to Peru, we've tracked down some of the coolest places that you've probably never heard of. They include coastal hamlets, misty mountain villages, and idyllic islands. You're guaranteed to have an enjoyable and authentic experience in any of these places.
San Gerardo de Dota, Costa Rica
San Gerardo de Dota is an absolute gem. In a country that's becoming increasingly popular with international tourists, this small town has managed to stay under the radar for most travelers. The town is a nature lover's dream — set at the base of the Talamanca Mountain Range, San Gerardo provides travelers with easy access to dense rainforests, swift rivers, and lovely waterfalls.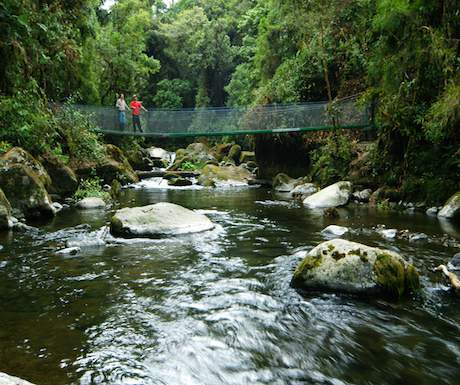 There are a handful of mountain lodges in the area that offer up comfortable rooms, organic meals, and beautiful views. This area is especially popular with birders, many of whom come here for a chance to spot the ever-elusive resplendent quetzal. In San Gerardo de Dota you can also enjoy trout fishing and hiking, or even tour a local coffee plantation and sample some of the world's finest (and freshest) coffee.
Isla Contadora, Panama
Part of Panama's Pearl Islands, Isla Contadora is a short flight from Panama City, but it feels like a world apart. This small island is one of Panama's best, but sees few visitors and retains a wholly tranquilo vibe. Eleven beaches dot the island, offering travelers powder-white sand and turquoise waters. The swimming is stellar, and it's fun to spend an entire day sunbathing, sipping cold drinks, and splashing around in the water. You can take boat trips to other islands in the archipelago and enjoy snorkeling, scuba diving, and sport fishing along the way. Between June and October, you also have the opportunity to see humpback whales. The island is small (less than a square mile), and golf carts are a popular form of transportation. The hotels on Isla Contadora offer travelers instant access to the ocean, as well as some seriously fresh seafood.
Río Dulce, Guatemala
Guatemala's Río Dulce runs a short, 18-mile course from Lake Izabal to the Caribbean Sea. Along the way, it passes through thick tropical jungle and dramatic rock canyons. A number of upscale eco-lodges are scattered along the river's banks, providing travelers with a unique setting for their Guatemalan vacation. The lodges are isolated from one another and give off a secluded, tropical feel. This part of Guatemala stands in stark contrast to places like Antigua and Quetzaltenango, which boast cobblestone streets and far more visitors.
Activities in Río Dulce are abundant and often revolve around water. You can swim beneath warm-water falls, ride boats within the La Cueva de la Vaca canyon, or search for manatees in the Chocón Machacas Biotope. The Caribbean town of Lívingston is also within range—with a Garífuna population that exists nowhere else in Guatemala, Lívingston is utterly unique. Travelers can experience Afro-Caribbean culture and zesty culinary dishes on a day trip here.
Máncora, Peru
Peru is internationally known for the Inca site of Machu Picchu, but the country's northern Pacific coastline also deserves mention. This area is sunny and spectacular and home to Máncora, a town with awesome surfing, pleasant weather, and ample dining and lodging options.
Once a backwater fishing village, Máncora is now the coolest coastal town in all of Peru. Its laid-back, bohemian vibe gives it a friendly atmosphere that fits perfectly the lovely local landscape. The surfing is good year round, and with warm water, it's always time for a swim. There are several smaller beaches nearby that are nice places to sunbathe and watch the waves roll in. While in Máncora, you can also book fishing, snorkeling, and diving tours.
Travelers will enjoy staying in cute bed and breakfasts or secluded beachside bungalows. The food in town is stellar, with a range of ceviche and pizza options, and there are more than a handful of bars where you can grab a cold beer.
Uvita, Costa Rica
Uvita is just 11 miles south of the popular town of Dominical, yet it's much less developed and infinitely cooler than its neighbor. If you want a beautiful beachside vacation but don't want to jockey for position on the sand, this might be your best bet. The broad beach at Uvita backs up to palm trees and forested hills, providing visitors with a scenic setting and relaxing atmosphere.
The ocean is ideal for swimming, snorkeling, and diving, and even hosts migrating humpback whales between December and April. Head to the nearby Marino Ballena National Park to watch olive ridley and hawksbill sea turtles lay eggs between May and October. Kayaks can be paddled through mangroves and estuaries, or you can ride horses to some super-scenic waterfalls.
Book a room at the Kura Design Villas, an exclusive boutique hotel that boasts lavish accommodations and an infinity pool overlooking the coast. There is an assortment of other hotels here as well, all of which are sure to put you in a pura vida state of mind.
Zach Smith is CEO of Anywhere.
If you would like to be a guest blogger on A Luxury Travel Blog in order to raise your profile, please contact us.