Of course you have to see Florence. Its treasures are worth enduring the hordes of people who want to see what you want to see when you want to see it. The fight for foot space is ongoing during the tourist season, and the lines are daunting. There is always the danger you will become embedded in a tour group and end up in Pisa. After the Florence marathon, you can relax by taking a train to enchanting Tuscan towns many tourists do not visit.
Siena
Siena (30 minutes from Florence) is a popular tour coach stop, but this ancient town still has enough space to turn around unless you visit during the famous horse race, The Palio, 2 July and 16 August. The shell-shaped Piazza del Campo hosts the Palio and is surrounded by buildings that gave the name to the color 'sienna'. You can tell which team lives in which section of town by noting the flags. Another site not to be missed is the 12th Century Siena Cathedral, one of the greatest examples of Italian Romanesque-Gothic architecture. Inside is a famous Gothic octagonal pulpit supported by lions and the labyrinth inlaid in the floor for penitents to contemplate their sins or visitors to contemplate their next meal. L'Osteria, via dei Rossi, 79-81, is close to the Piazza del Campo and serves expertly prepared typical Tuscan dishes.
Lucca
Lucca (one hour from Florence) is a small, medieval walled city dedicated to preserving its buildings and character. The main square is the old Roman forum, now circled by shops and little restaurants. Don't be surprised to see "Pharmacy" carved in 16th Century stone above an entrance to a shoe shop. Old signage must be preserved. Puccini lived here and composed many of his famous operas in a house now open to visitors. Lucca honors its native son with free musical performances nearly every night in an ancient deconsecrated church. During Lucca's annual Puccini Festival, you can enjoy one of Puccini's operas in a theater on the lake where he composed some of his music. Biking around the medieval walls, on top of them, is a popular activity and a pleasant way to pass a peaceful hour. Ristorante Puccini, beside Puccini's home, serves good, regional food at indoor and outdoor tables.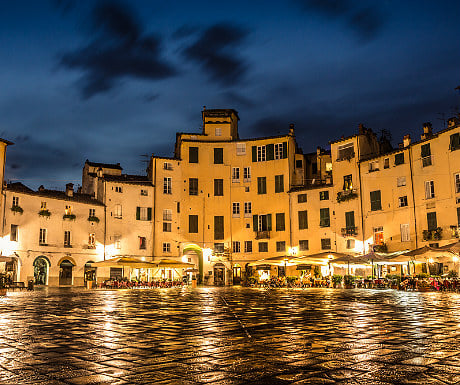 Pietrasanta
Pietrasanta (30 minutes from Lucca) meaning 'Sacred Stone' is dedicated to the arts, particularly sculpture. Michelangelo lived here while selecting marble from the nearby Carrara quarries, mined since ancient Rome. Today, the town exhibits the work of contemporary sculptors in its main square and in the Church of Sant'Agnostino, built in the 14th Century. The town's trattorias serve authentic Tuscan food, and it is easy to secure a table with a view of the historic square.
Images: Shutterstock