Top 10 luxury safari spots to see zebra
Now we know these amazing animals are perhaps a little undervalued compared to their big cat competition, but they are wonderful to watch and see when you are on safari – and you probably wouldn't feel like you'd been to Africa without having seen a zebra. They have fascinating family connections and relationships, and wonderful predator warning systems so they really are fascinating. Some
luxury safari
camps and lodges are lucky enough to have zebra which graze around the camp, and this makes for a wonderful relaxing afternoon watching them play, graze and generally just be the happy animals they are known to be. Zebra foals are also one of the most endearing of all the African babies. Here are our top ten luxury safari spots to see zebra:
1. The Masai Mara, Kenya
Now of course this was always going to be the first mentioned, every year between July and October thousands upon thousands of zebra crowd into this amazing area of vast plains, river and escarpments with the annual Wildebeest Migration. To see them in their thousands is really breathtaking and contrary to popular opinion if you stay on one of the private conservancies you will find you will not see other tourists at all.
2. The Serengeti, Tanzania
Again, of course this amazing area full of game had to get a mention – here you can see the Zebra and Wildebeest Migration in full swing all year round, even when it crossed into Kenya some of the herds remain in the far North of the Serengeti. Again it is the private conservancies surrounding the Serengeti that make for the most exclusive luxury safari.
3.  Lewa Wildlife Conservancy, Northern Kenya
This beautiful area is one of the best places in Kenya to see rhino but also plays host to the endangered Grevy's Zebra, an altogether fluffier, cuter and more endearing version of the zebras found in Southern Kenya. Their huge satellite dish ears and brown stripes make for fantastic vintage looking photographs, to complete your luxury safari album.
4. Samburu National Reserve, Northern Kenya
Due to the fast flowing Ewaso Nyiro River, which passes through Samburu this area attracts a lot of game, and the Grevy's Zebra who live here also live with gerenuks and other rare species not seen in Southern Kenya.
5. Okavango Delta, Botswana
This vast wetland attracts much game due to its lush vegetation and permanent water supplies – luxury safaris here are famous for being some of the most exclusive and private in the world, and the game viewing never disappoints. Due to the flat nature of the Delta the sunrises and sunsets are particularly colourful, which makes for excellent photographic opportunities when you do find your herd of zebra.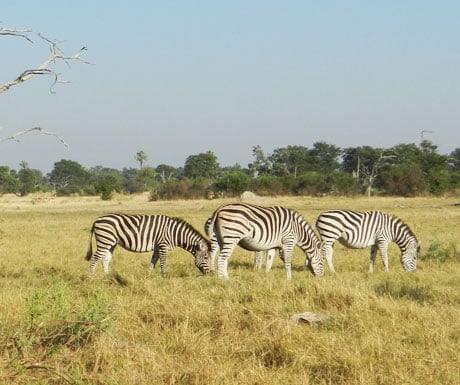 6. The Makgadikgadi Pans, Botswana
Unbeknown to even the most intrepid luxury safari enthusiast this area plays host to the second largest zebra migration during the months of February and March. Here you can see them flock into this area of the Makgadikgadi and Kalahari and the remote and wild feeling you get here just makes seeing them even more special, especially since you won't see another soul.
7. Etosha National Park, Namibia
This area is made up of a large salt pan and has abundant game – plains game absolutely thrives here which is why predators do too. Here you will enjoy a variety of game species when on a luxury safari, from rhinos to cats, and lots of zebra in between.
8. Samara Game Reserve, Eastern Cape, South Africa
Here the emphasis is on freedom – the reserve is so beautiful it will take your breath away and the abundance of plains game only means one really can get out of the vehicle and explore on foot. Here the zebras and other species look picture perfect strolling over grassy hills and rocky mountains.
9. Liuwa Plains, Zambia
This area is so remote that you can only go there on scheduled departures with famous safari operator Norman Carr. Here plains game thrives, as do predators such as cheetah, wild dog and hyena, who all love hunting the zebras and other species on the vast open short grass plains.
10. Tswalu Kalahari, South Africa
Once again we look at an area which offers the plains game wide open spaces and short grass plains – Tswalu is one of the most beautiful private reserves in Africa and there are tonnes of game species which thrive here, zebra being amongst them.
Rose Hipwood is Managing Director of The Luxury Safari Company.
If you would like to be a guest blogger on A Luxury Travel Blog in order to raise your profile, please contact us.
Did you enjoy this article?
Receive similar content direct to your inbox.