By
Paul Johnson
on Feb 28, 2015 in
Accommodation
,
Asia
,
Featured
,
Food and Drink
,
Going Out
,
Hotels
,
Japan
,
Regions
,
Restaurants
,
Travel Miscellany
I'd been tipped off on how to get to the new Aman Tokyo on landing at Tokyo's Haneda Airport: I was to take the monorail from the airport to Hamamatucho and to then take a taxi from there. The first part proved seamless, but the latter not so, with the first three taxi drivers all refusing to take me because they didn't know where it was. So new was the hotel – just a month old – that even the taxi drivers didn't yet know about it. And I later discovered that this was a cultural difference – the taxi drivers weren't being rude as such, but rather didn't want to face an embarrassing situation of being unable to get me to my destination.
With the fourth taxi driver, I was in luck… or so I thought. He claimed he knew where to take me, but it later materialised he actually didn't. Such is the joy of travelling in a country where you don't know the language, but thankfully several telephone calls later, we finally made it to the Otemachi Tower, situated in a business district between the Imperial Palace Park and Tokyo Station.
The welcome
The hotel has 84 rooms and suites on the uppermost floors of the tower – floors 33 to 38 – although there is a small reception area on the ground floor also. What strikes you when you reach the 33rd floor of the Aman Tokyo is the vast lobby which serves as a stunning centrepiece as you arrive. It's a beautiful space designed to replicate the interior of a Japanese lantern, capturing lots of natural light and with fabulous views over the city. On a good day (which I sadly didn't get during my time there), you can see out to Mount Fuji.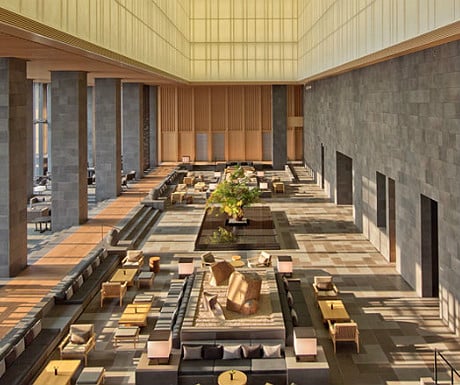 The room
I stayed in room 317 – a spacious and minimalistic Premier room.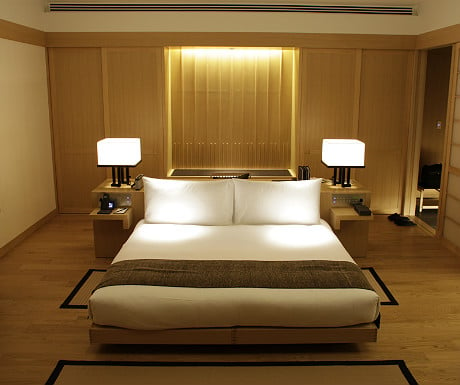 Subtle, sliding Shoji screens made of delicate washi paper help serve to subdivide the bedroom from the bathroom.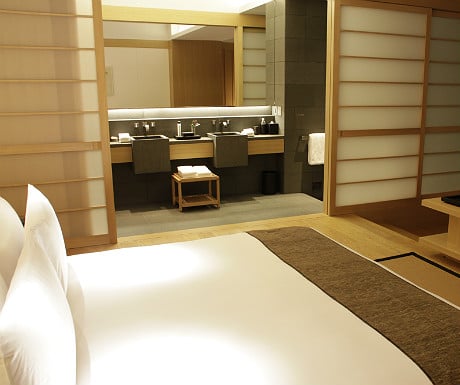 From my room I could see the Skytree (Japan's tallest building) as well as other city landmarks.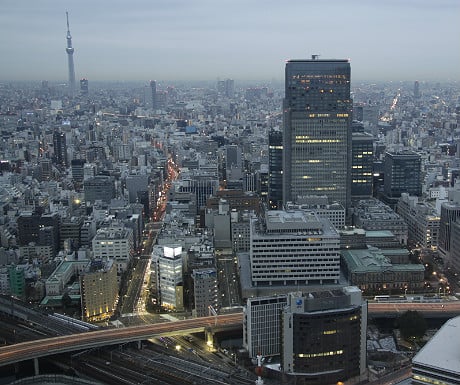 The bathroom
My slate bathroom formed an L-shape with a hi-tech toilet (already mentioned in this post) and twin basins found along the length of the room and a bath and shower at the end.
It was a deep, square-sided bath known as a furo – a traditional form of Japanese bathing, meant more for relaxation than for washing – overlooking the city.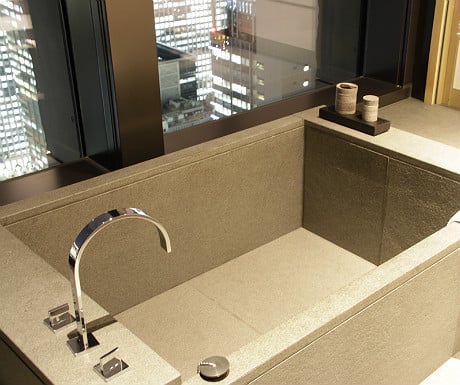 The facilities
The hotel has all the usual facilities that you might expect from a top quality city hotel, including free WiFi, a swimming pool and an impressive 25,000 sq ft spa with outstanding views of Tokyo.  The spa is home to the largest hotel pool in the city at 30 metres long and 6 metres wide. There are also steam rooms, Japanese and western showers, and hot baths.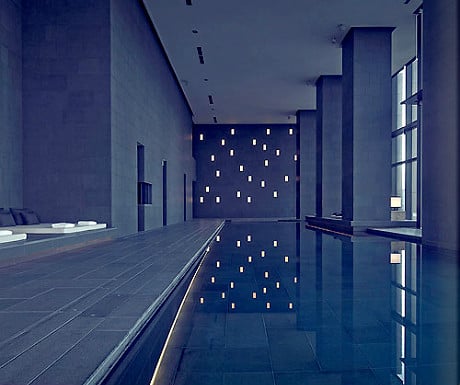 With the spa, the hotel has drawn on the traditions of Japan, with integrated treatments that use natural products – both their own range of chemic free Aman Spa products and Kampo herbs, with principals of movement and relaxation to provide a holistic approach to wellbeing. Treatments range from individual therapies to signature journeys and programs, be it pure relaxation and indulgence or a desire to achieve stated health goals. There's also a fitness centre, yoga and Pilates studio.
For me the highlight was the restaurant. Dinner was nothing short of superb, from the food to the service, and the set menu worthy of a photograph for each course, so here you go:
Amuse bouche (deep fried prawns on top of Japanese potato)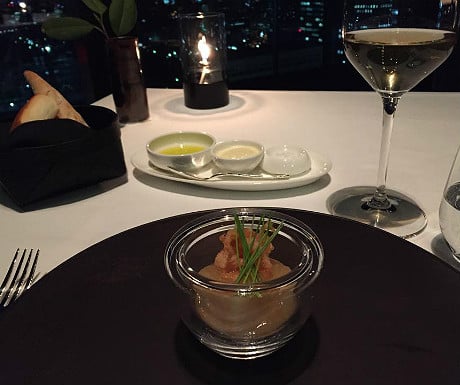 Hokkaido scallops and sea urchin with Bottarga organic vegetables and green espuma (this course was the pick of the bunch for me, although I enjoyed them all!)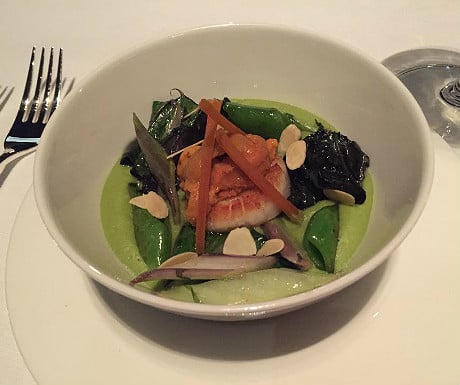 Sautéed French fois gras, Tokyo shiitake muschrooms with grilled leek soup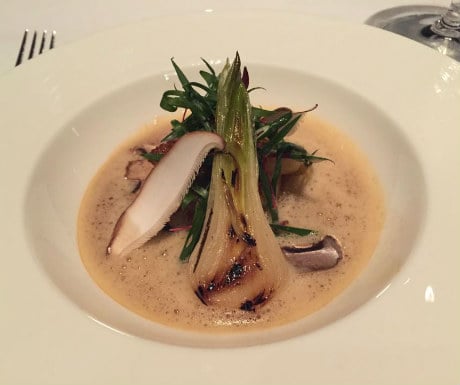 Tortellini of pumpkin in two colours, Amaretto biscuit, sage butter sauce with shaved 24-months aged Parma prosciutto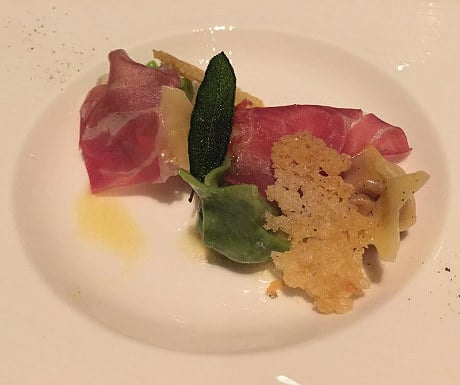 Deep fried Hokkaido botan prawn and seared tuna, wrapped in kadayif with lobster bisque foam, asparagus and truffle essence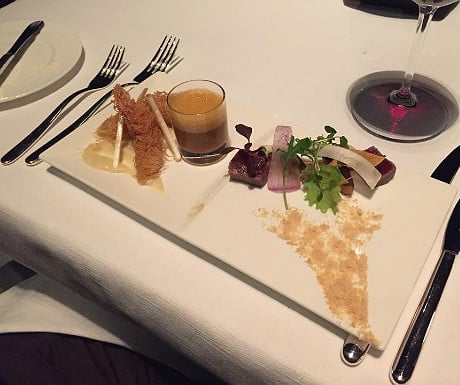 Grilled Kobe beef sirloin with Mie 'DAIKOKI' Shimeji mushroom wasabi infused veal stock served with Amabito sea salt from Setouchi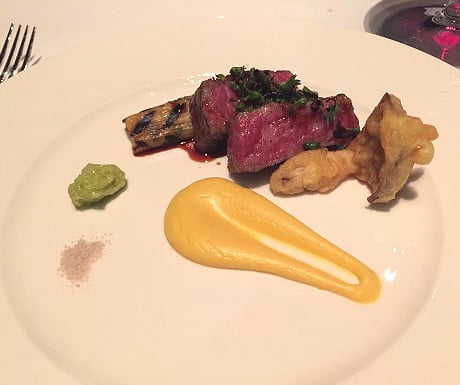 Pipe of bitter chocolate with gold leaf 70% cacao Ecadorian chocolate ice cream, and Yuzu sherbet with warm espresso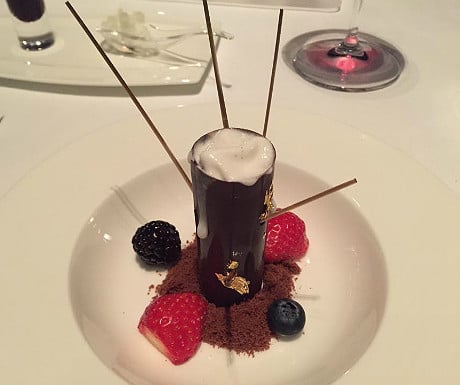 Espresso and petit fours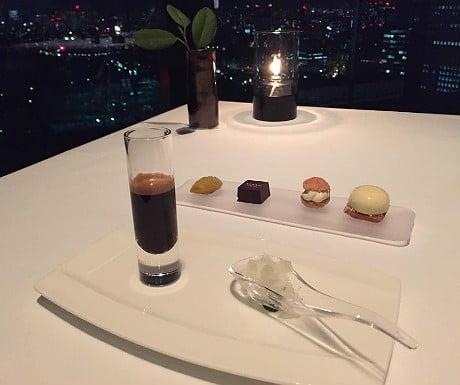 Private dining is also available on the 34th floor.
Breakfast was also good – Aman Tokyo's egg dishes are cooked with free range eggs produced at Inoue farm, located in Sagamihara, Kanagawa prefecture.
Other nice touches
An attention to detail and subtle Japanese influences can be found throughout the hotel, from the rock gardens and sculptural ikebana floral art in the lobby to the library with books on Japanese culture and various Japanese artefacts.
Cost
Entry level De Luxe rooms start from around 90,000 Japanese yen per night, including taxes.
The best bit
Although the accommodation was very comfortable and I have no complaints there, dinner was the highlight for me.
The final verdict
The Aman Tokyo is Aman's first foray into Japan and is sure to be successful enough for us to expect other Aman hotels in the country to follow; it is also their first city hotel, further strengthening the notion that the brand isn't just about tropical retreats in SE Asia.
Disclosure: This post was created in partnership with ANA – All Nippon Airways. All opinions expressed in the post are my own and not those of ANA.