The best oysters in Sub-Saharan Africa
Oysters. Some call them slimy little suckers. Some argue that you will not find a better hangover street food. Others will only go for oysters in gourmet restaurants. Whatever your take on oysters may be, in Sub-Saharan Africa these mollusks constitute a great part of traditional cuisine and livelihood of the local population.
TRY Oyster Women's Association in Gambia is a perfect example of a community project that not only brings you the best oysters from Gambian mangroves, but also provides stable work and income for many local women in need to support their families. In the perilous mangrove forests, harvesters must beware of crocodiles and spend long hours in the water. Oysters that you buy from the street stalls in Banjul are harvested in the Tanbi Wetlands National Park, where TRY was recently granted exclusive right for oyster cultivation. Not only do they make sure your oysters are delicious and succulent, but they look after the local ecosystem by taking an eight-month break between harvesting seasons to let the mangroves rest.
In the neighboring Senegal, in the Sine-Saloum region, locals also pick the oysters off mangrove roots (mind that cutting off the roots is illegal, so oysters must be taken from a live tree) and barbecue them in the fire – something that every curious foodie should try.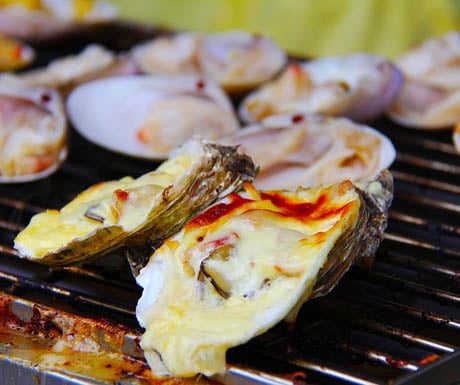 Although there are wild species of oysters around southwestern Africa, it is the Pacific oyster, introduced here over 30 years ago, that is now invading both the local ecosystem and local restaurants. Considering the general decline of traditional fisheries, these mollusks might be a great solution for a possible food crisis, should their mass production be increased.
Meanwhile, in Banana Island in Sierra Leone, you can rent special equipment and pick your own oysters right from the sea, and then prepare and eat them on the beach.
Namibian oysters are quite rare and considered especially delicious by oyster-lovers. Something about the cooler water temperatures and the concentration of plankton in Walvis Bay makes them grow much faster than in other places. However, there is no developed mass production of Namibian oysters, and there are few places in the world where you can try them as fresh as on the Namibian coast.
South African oyster production is among the most developed on the continent. Knysna Oyster Festival usually happens in July and revolves around a variety of sport events, athletic competitions, oyster-eating contests and wine tasting. The rest of the year, Knysna Charters company offers different activities around the lagoon, including oyster-themed tours, where you can taste both farm-grown Pacific and wild oysters from the area, as well as visit the farms. Most of the oysters on the West coast are grown in Saldanha bay and Algoa bay.
Not far from Knysna, between Sedgefield and wilderness, a new establishment called Oysters R Us is one of the major suppliers of wild oysters for major restaurant chains. They also can organize events at the farm at your request: be it a corporate retreat, a birthday party, or a simple tourist visit.
Other recommendable restaurants in the area include Haute Cabrière Restaurant (Pass Road, Franschhoek) in Franschhoek, Mother Shucker Oysters (373 – 375 Albert Road, Woodstock) in Cape Town, and The Noisy Oyster (62 St. Augustine Road, Paternoster) in Paternoster village.
Finally, in coastal Kenya, you can try both the Indian ocean oysters and oysters grown in the mangrove forests. Ali Barbour Cave restaurant in Mombasa might be the best place to check out if you are looking for diversity of the menu and a memorable atmosphere (it is actually a cave!).
Shuck it and slurp as loudly as possible.
Javier Luque is a Co-Founder and Director of Your African Safari.
If you would like to be a guest blogger on A Luxury Travel Blog in order to raise your profile, please contact us.
Did you enjoy this article?
Receive similar content direct to your inbox.