By
Paul Eyers
on Mar 10, 2015 in
Accommodation
,
Asia
,
Food and Drink
,
Going Out
,
Hotels
,
Regions
,
Resorts
,
Restaurants
,
Thailand
,
Travel Miscellany
Thailand is known as 'The Land of Smiles', and for good reason if you are a vegan who loves luxury and fine dining. You'll certainly be smiling if you visit any one of the 4 locations listed below who all deliver superb gourmet vegan experiences. These are places where choosing a vegan diet does not prevent you receiving a top end luxury experience, these are places which will leave you amazed by their food, spoilt by their service and with enough ammunition to silence those nay sayers who think you can't go gourmet if you only eat plants.
Right in the heart of Bangkok, Thailand's bustling and lively capital city, Bo.lan is the place to go if you love Thai food. It's not a vegan restaurant so it's perfect to take your non-vegan dining partners; they'll marvel at their food and probably be shocked to see that your 'Bo.lan Botanical' plant based tasting menu is pretty impressive too.
You'll have moments where you're not sure if your food is food, or art, as the presentation is stunning, but one taste of those classic Thai flavours will send you straight to heaven.
Dishes are laced with local herbs and vegetables and, as in all good Thai food, spiciness is perfectly balanced with sweetness, sourness and saltiness, giving an all round taste senstation that's hard not to like.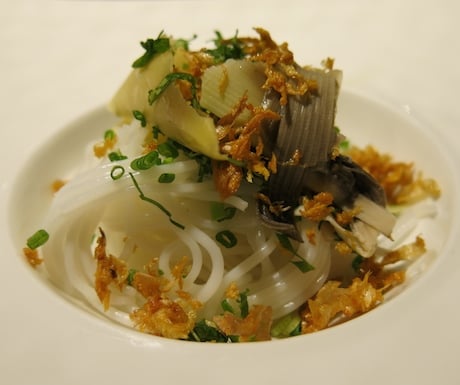 Course after course of beautiful food will arrive at your table; dishes created from local produce using regional recipes and presented with a fine dining twist.
Cooking school at Four Seasons Resort Chiang Mai
Head North to Chiang Mai, Thailand's second largest city, and a vegan gourmet experience awaits you at the Four Seasons Resort Chiang Mai cooking school. Sign up for their luxury experience and learn every thing you need to know about Thai cooking. You'll start with a trip to the local 'Thanin Market' which has to be one of the most vegan friendly markets in all of South East Asia on account of it's amazing vegetable section which is separate to the meat and fish laden 'wet' area. It also has a stall selling 100% vegan food, is really clean and incredibly friendly.
After you've explored the market, learning about common Thai ingredients and culture as you go, you'll head back to the beautiful Four Seasons to get cooking in their luxury cooking school. Expert chefs will veganise recipes for you and help you make food which will impress even the harshest of critics. Some of our friends think vegan food tastes bland? They won't once they taste the dishes you've learnt to make at the Four Seasons Resort.
You'll be pounding spices into potent, fresh curry pastes; you'll be throwing things into sizzling woks, watching as your plant based ingredients come together to produce the best Thai vegan food you've ever made.
You'll learn the secrets to stir-frying, the way to skewer a banana leaf parcel with bamboo and the art of 'cracking' coconut milk like a pro, and even better than learning all this stuff to impress your friends back at home, you get to eat what you've cooked.
Terraces at Four Seasons Resort Chiang Mai
If cooking isn't your thing then vegan guests needn't miss out on the luxury gourmet experience at the Four Seasons Resort because it just so happens that they serve pretty outstanding vegan food in a wonderful luxurious setting at Terraces, their signature restaurant. The restaurant is named after the lush rice terraces that provide an ever changing and intriguing backdrop to the dining area.
And the food matches up to the awesome scenery; from appetisers to dessert you'll be delighted with the vegan food at Terraces. Imagine healthy East meets West fusion flavours with local ingredients adorning your plate. Enjoy delicate little arancini, flavoured with Thai basil and hot Chiang Mai pepper.
Score extra points for eating healthily whilst at he same time feeling like youre being spoiled with their nutritious quinoa salad followed by a tofu in a soy reduction served with local red rice.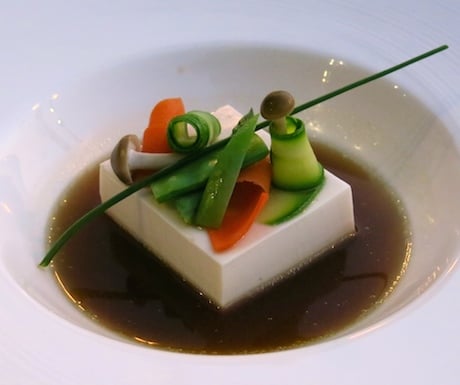 But don't get too carried away with the healthy vegan food; the Terraces' vegan chocolate brownie with strawberries is something you won't want to miss.
Whilst in town check-in to the Shangri-La Chiang Mai for a luxury vegan gourmet experience in a great location enabling you to enjoy all the sights that Chiang Mai has to offer, and when you've finished your sightseeing head back and enjoy relaxing by the pool.
Start your day with a breakfast banquet of delicious vegan food including museli, fruit salads, the usual Western options, fresh noodle soups and 'Pad Thai' a noodle dish that's synonymous with Thailand. Usually stuffed full of non-vegan ingredients like eggs and shrimp and fish sauce, the Chefs at Shangri-La's Ked Cafe, where breakfast is served, can whip up an animal-free Pad Thai which is absolutely divine, with no fuss at all.
Make sure to leave some room after your vegan breakfast extravaganza because like all Shangri La hotel properties, they have a Cantonese fine dining restaurant that will knock your socks off, Cantonese fine dining is particularly well suited to vegans because of the high quality and often medicinal ingredients that are used in each dish.
Are your non-vegan friends and family still not convinced that you can eat gourmet food without an animal product in sight? Take them for lunch at the Chef's table at Shang Garden.
This food is not only good for you but it tastes great too, and we're pretty sure you'll feel the benefits after eating all those ancient health giving superfoods.
You'll be basking in the glory of your luxury vegan gourmet dining but there's more to come when the Horizon Club cocktail hour begins in the evening. Suddenly you can add awesome vegan cocktails to your list of 'Why vegans don't live a life of baconless, cheeseless suffering and deprivation' and at the same time the Shangri-La Horizon Club staff team (with their legendary service) will make you some specially prepared vegan food.
We know that as a vegan luxury loving traveller, you'll be smiling once you've checked out all these top end luxury gourmet vegan experiences but we're also pretty sure that if you drag your meat eating nearest and dearest along with you to sample life on the green side, then they'll be smiling too.
Paul Eyers is Founder of Vegan Food Quest.
If you would like to be a guest blogger on A Luxury Travel Blog in order to raise your profile, please contact us.