When defining the World's best safaris of course there's an awful lot that goes into it, and much of this will of course be based on personal opinion. The following luxury safaris are by no means the be all and end all, but are a very good starting point when it comes to thinking about which safaris in Africa really are at the top of their game. Not all of them will break the bank, and some of them require more than a little travelling to reach, but we believe this is what makes them so special. Here are ten of the world's best and finest luxury safaris:
Uncharted Africa Mobile Safari
Let's start with something wild, off the beaten track and authentic. Here you return to the safaris of the first great explorers, you will find yourself in your own fully staffed, private luxury mobile camp furnished exclusively with antique campaign furniture. You will be in the most remote spots in the Okavango Delta and Kalahari and will have some of the best guides in Africa. Food is gourmet, of course, and the game viewing exclusive and sublime.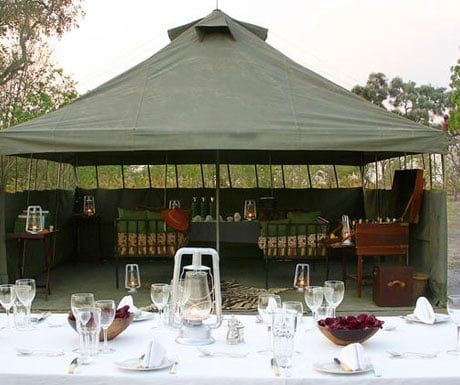 Duba Plains Camp itself is currently undergoing refurbishment, but the Duba Plains Exploration Camp is worth a mention, all due it's amazing location in the Okavango Delta – here you have a vast private concession all to yourself, and one with hugely varying topography at that. This luxury safari will take you into the ultimate area for spotting lion hunting buffalo, and the freedom you'll experience here will have you returning year after year.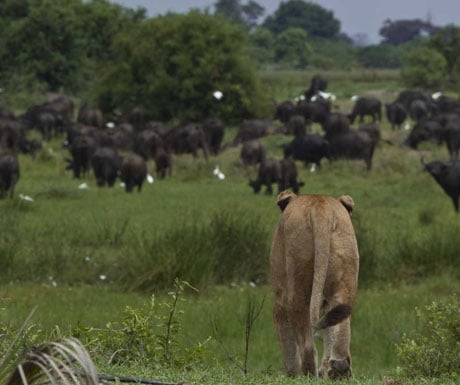 This lodge is unique in both design and location – it's prime location in the Sabi Sands with a dam directly in front of camp is unrivalled in terms of game viewing, and to say that about this area really means something. This extremely modern, and chic safari lodge is owned by an artist, and as a result every room has it's own flair. Game viewing here is done in comfy open sided vehicles with some of the best guides in the business. This is a truly modern luxury safari with all the frills.
Another lodge which is incredibly modern in design this luxury safari delight is in the red dusty and heavenly Madikwe Game Reserve where wild dog are seen regularly and anti poaching patrols are actually a success. This amazing reserve is wonderful to see, they are the pioneer for anti poaching measures across South Africa and many of their ideas and formulas were created by Molori's owner. Here exclusivity is the game.
The Lower Zambezi in Zambia has recently become far more popular with those that want a truly remote luxury safari, and don't want to see another soul. Here you may bump into one game drive vehicle, but you probably won't. You will experience some of the finest game viewing in Africa, and the camp is exceptionally luxurious but incredibly relaxed so you always feel at home. The Lower Zambezi is all about the experience so get out of the car and walk, canoe, boat and explore anyway you like.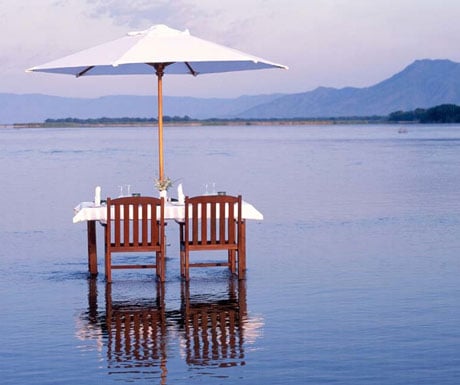 This is not a luxurious safari (an extremely luxurious intimate safari lodge is being built here for 2016) but is worth it. You will join set departures of 4 and 5 nights for this year only and experience what has to be the best place in Africa to witness cheetah, wild dog and hyena thriving, hunting and living. There is a small wildebeest migration too and you will be the only people up there, staying in a very comfortable tiny bushcamp with the capable Norman Carr guides leading this very special luxury safari.
Although this lodge is just forty five minutes on a light aircraft from Dar es Salaam it really does feel like the ends of the earth – there are so few people here that all of the guiding is done the old fashioned way, by listening to the birds and the bush. This lodge has a charm and magic about it which is hard to put into words. The purple mountains in the distance, and the flowing river only go on to make this area even more beautiful and this is certainly a luxury safari lodge which sees many repeat clients.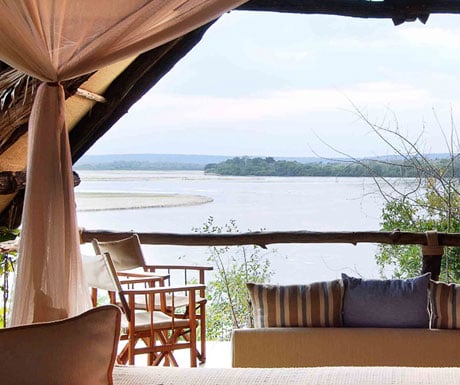 Now in Tanzania there are many luxury safari camps and lodges who are offering absolutely extraordinary safari experiences, but this small and understated camp is certainly one of the best – moving to follow the migration the locations are always unbelievable and the game viewing sensational. This camp makes you feel as if you're part of the family from day 1 and although there are other camps which are more luxurious, this is the best for guides, food and atmosphere.
Again there are many camps which cost more, but this camp is so wild, so remote and so unique that it has to be mentioned. Your open rooms have the most dramatic views in Kenya, and there are often elephant dust bathing in the valley below you. The rooms are set at the same height as birds of prey soar and the focus here is on walking or riding safaris – the food is gourmet and the staff are some of the most charismatic and friendly. This is an experience which shouldn't be missed if you're after the real Africa.
Richard's River Camp is located in a wild part of the Masai Mara where there are fewer people and more freedom to explore. The location is so good that the camp has seen everything from hippos fighting on the lawn, to male lions having it out below camp. The tents are beautifully furnished with Indian style ceilings and chic décor. The new star truck is also a wonderful way to spend a night out in the bush with a loved one.
As mentioned, there are many luxury safari camps and lodges, and safari experiences, which are all magical – these are just a few of the best.
Rose Hipwood is Managing Director of The Luxury Safari Company.
If you would like to be a guest blogger on A Luxury Travel Blog in order to raise your profile, please contact us.