Beautiful Bali is deservedly famous for luxurious tropical vacations. The naturally stunning island features gorgeous beaches, steeply terraced rice fields, several volcanic peaks complete with crater lakes, and incredibly lush vegetation. Added to that is Bali's unique, all-encompassing religious life, culture and arts that include superb temples, intricately-carved stone and wood statues, world-renowned paintings, exquisite architecture, fabrics and jewelry.
Throughout the island there are hundreds of luxury resorts, ranging in size from petite private boutique hotels on up to massive international-chain resorts. Set at glistening beaches, in rice fields, along river gorges and in charming towns, visitors have a huge selection of choices.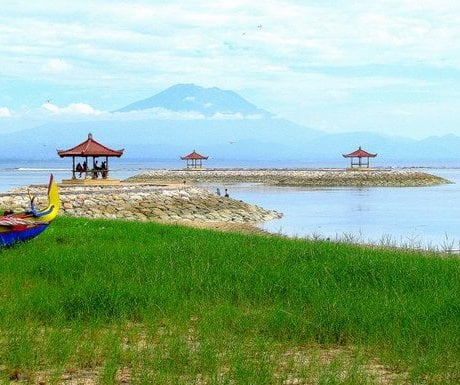 Bali's most unique luxury resorts are those started and developed by wealthy upper-class Indonesian families and accomplished Balinese artists. They include some of Bali's very first resorts from the 1920s and 1960s. Historically, they've been patronized by celebrities and artists and actively support Bali's traditional culture and arts via cultural trusts.
These amazing resorts all feature traditional Balinese architecture with rooms constructed of white stone, red brick, carved wood detailing and thatched grass roofs. They are further accented with Balinese statues, lanterns, paintings, fabrics and other interiors. These special resorts are all set within beautiful landscaped gardens at superb locations.
In more recent years these long-standing luxurious resorts have been renovated and fitted out with the latest mod-cons that are found in luxury resorts all over the world. Guests can now experience Bali's amazing traditional design and hospitality with all the modern comforts & conveniences.
Dating from 1962, Sanur's very first resort started life as a secondary home of a wealthy upper-class Jakarta family. Initially using it as their private residence during visits to Bali, the family gradually added more private rooms and villas to welcome friends to their beach-side estate. The residence quickly became a famous gathering place for jet-setting friends, artists and celebrities. The family's fine homemade Indonesian meals soon became equally renowned.
Eventually Tandjug Sari, 'Cape of Flowers', was opened as a resort, prized for its understated elegance and simplicity within a lush natural environment of landscaped gardens set on beautiful Sanur Beach. Tandjung Sari's accommodations, called bungalows, are all stand-alone dwellings set in privately-enclosed gardens, some offering beach views. Also on the grounds guests can enjoy massage, a carefully-stocked library and a relaxing stone swimming pool. Tandjung Sari is so engrained in Balinese history that an entire book was written about the resort in 2012 to commemorate its 50th year anniversary.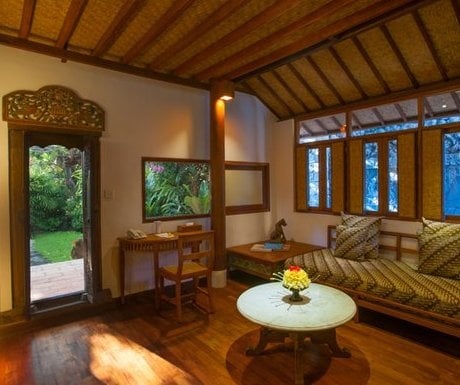 At Tandjung Sari, expect the highest in Balinese hospitality and class plus renowned home-style Indonesian cuisine from their poolside, open-air restaurant. An extensive library is housed in another open-air Balinese style pavilion, beach-side. Located on Bali's southern shores, Sanur is just 30-45 minutes from the international airport.
Despite its distinctly un-Balinese name, La Taverna is another traditional Balinese-style resort set on beautiful Sanur Beach, not far from Tandjung Sari. Like Tandjung Sari, La Taverna opened privately in the 1960's as one of Bali's first resorts. It also attracted famous writers, artists, musicians and celebrities who came to unwind and socialize at the resort's comfortable, informal Balinese gardens and opulent beach.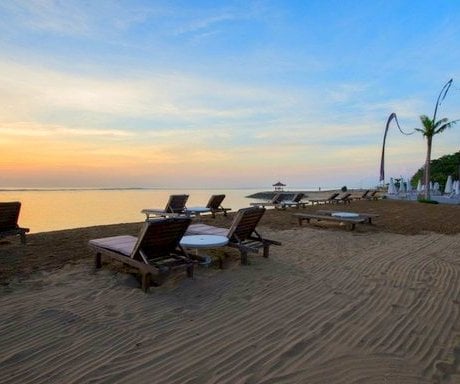 Today La Taverna offers 47 accommodations in five categories of deluxe rooms and suites, all situated amidst extensive landscaped gardens. The largest suite is a two-story villa affording beach views and set within a private, walled garden with a swimming pool and Balinese-style pavilion. All rooms and suites present Balinese style architecture, interiors, furniture and art pieces with splashes of modern accents such as air conditioning, bathtubs, colorful throw pillows and glass walls to allow in light but seal out heat.
La Taverna's large beach-side, open-air restaurant features a distinctly high thatched Balinese roof, handsome tiled floors and a large stage where live gamelan orchestras entertain guests in evenings. Within the resort grounds are several sitting pavilions, a massage pavilion and swimming pool. The resort's expansive beach area offers guests tasteful beach lounge chairs, umbrellas and several open-air roofed 'cabanas' for dining on the beach.
Set on the exceedingly steep banks of the Wos River Gorge on the edge of Ubud and dating from 1928, this former guest house of Ubud's royal family attracted artists and celebrities, much like its counterparts further south in Sanur. One of Hotel Tjampuhan's major points of fame is that it was home to German painter Walter Spies, one of Bali's most famous western painters. Nowadays, hotel guests can stay in Spies' former residence within the resort grounds, if they so choose.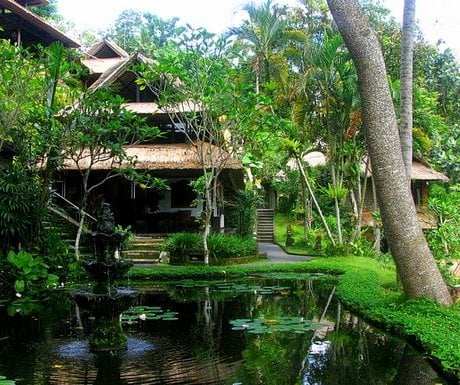 The resort's remaining rooms, scattered along the steep ravine banks, all feature Balinese style architecture with white stone, red brick, carved wood accents and thatched grass roofs. Interiors are primarily Balinese with modern accents and amenities added. Tchampuan Hotel also features award-winning landscaped gardens, a unique cave grotto spa, splashing fountains, a Balinese Hindu temple and two outdoor swimming pools set in lush gardens, all with the distant roar of the Wos River rushing by below.
Come night-time at Tjampuhan, the whole gorge-side resort is engulfed in the buzz of insects and the deep-throated croaking of frogs. Guests feel as though they've magically landed in a dense tropical forest rather than on the edge of a bustling town. It's quite an experience.
Ubud is Bali's artistic and cultural heartland, full of museums, galleries, boutiques and evening performances of traditional Balinese gamelan, dance and theater. Located on the gentle slopes of Mt. Batur, inland from Sanur, Ubud is about 40 km / 1 ½ hours from the international airport.
ARMA Resort (Agung Rai Museum of Art Resort)
ARMA Resort is perhaps the most unique and precious of them all. Its primary purpose is to help promote, fund and cultivate traditional Balinese visual, cultural and performance arts, including the ongoing training of young Balinese dancers, gamelan players, painters and artists so that these unique, exquisite arts continue to thrive.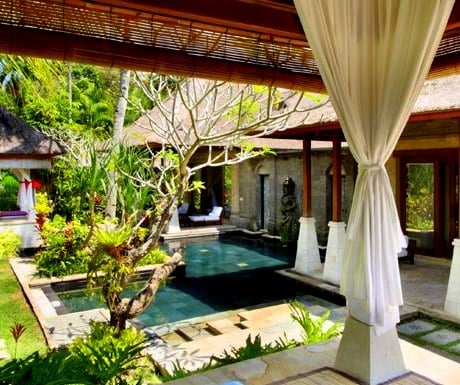 ARMA Museum is located within the 12 hectare / 30 acre resort grounds, as are several Balinese-style pavilions and courtyards where training and classes are held. Workshops in over a dozen Balinese arts, handicrafts and cultural traditions are also offered to western visitors. The Museum and Resort were opened in the 1980s by Mr. Agung Rai, a local Balinese painting aficionado and art dealer. As his entrepreneurial success grew, Mr. Rai devoted himself to promoting and preserving all traditional Balinese arts, which he funds through ARMA.
This remarkably peaceful resort is set along a fast-flowing river under massive shady trees and within working rice fields. With lotus ponds, trellised bridges, stone courtyards, Balinese statues, traditional-style fountains, a modern swimming pool and plenty of lush tropical vegetation, the resort embodies a tranquil world of its own.
ARMAs rooms, suites and villas are a combination of traditional-style Balinese architecture and modern Balinese resort design. The original 15 rooms and suites from the 1980s are primarily Balinese cottage style while the eight spectacular private villas, added in 2002, are designed in classic Balinese style and look distinctly more modern. The villas, set within high stone walls and protected by entrance statue guardians, feature serene pools, thatched roof pavilions and sleek Balinese residences.
If you're heading to Bali, I highly recommend all of these wonderful traditional-style luxury resorts, where you'll get a genuine taste of Balinese design, art and hospitality while relaxing in amazingly serene environments. Stay at more than one if you can.