The Maldives is known as a world class destination for honeymooners and scuba divers, but what about families? Fortunately, just because you're traveling with kids doesn't mean you're excluded from the very best luxury resorts in the Maldives. In fact, the savvier properties have recognized that many of their especially well-heeled guests if anything splurge more for their vacations with the kids, and that today's kids are future adult guests. Here are my picks for the very best luxury resorts in the Maldives for families, including the aspects that will appeal both to parents and to kids:
Four Seasons Resort Maldives at Landaa Giraavaru
Four Seasons hotels and resorts have a knack for being able to cater superbly to both honeymooners and families with kids, and Landaa Giraavaru is a perfect example. To start with, the island is large, and offers the softest, whitest sand I've experienced in all my visits to various luxury resorts in the Maldives. Perfect for couples walking along the beach, but also for kids building sand castles. And with long stretches of beach, most times we were alone or with only a couple others some distance away.
Another benefit is that even entry level beach bungalows have their own pool, and there are larger family beach bungalows with even larger pools, so many kids splash around their own private pool. Worried about a toddler who can't swim? Not a problem—the resort offers childproofing and will set up a locked fence around the pool. Prefer a water villa? That's no issue for older children or if parents sign a waiver.
And even if kids do venture out to one of the resort pools, the main infinity pool is the only Olympic sized pool in the Maldives—so there's still plenty of space for everyone. And if that's not enough, there's the adjacent seawater pool that is also used for aqua yoga, and also the romantic pool at Blu, perfect for parents to enjoy some time to themselves while kids are at the Kids for All Seasons Kids Club, which even has its own shallow pool with waterfall.
Kids receive a very nice welcome amenity from the Kids Club: a colorful tote bag with a manta ray t-shirt, "Passport to Adventure" with puzzles and challenges (complete the challenges to earn ice cream sundaes for the entire family at Blu Restaurant!), frisbee, coloring pencils, playing cards, and a big beach ball.
The Kuda Velaa Kids Club is complimentary and open to kids 4-12, from 9am-5pm daily. Staff were very kind, and my son loved it and didn't want to leave the resort thanks to all the fun he had here, and I was impressed with the variety of activities offered, from helping marine biologists transplant coral fragments to help grow new coral reefs, to making pizza to learning about turtles at the resort's turtle rehabilitation center, which cares for rescued turtles. Of course there's free play time as well, and the kids' club is one of the most thoughtfully equipped I've seen, with plenty of indoor air conditioned space for arts and crafts, air hockey and other games, plus a spacious outdoor area with a Pirate Ship shaped climbing structure, swings, trampoline, and shallow kids' pool. Your kids won't lack for exercise even when getting to and from the kids' club, since each villa comes with its own bicycles, personalized with your first and last initials.
Soneva Fushi is one of the original luxury resorts in the Maldives, and is the originator of the Six Senses spa, which now is a separate brand. Think of barefoot luxury and eco-conscious, and you have Soneva Fushi. There are no water villas here, due to the destruction typically caused to the coral reef in building them, but even the entry level one bedroom Crusoe Villas are enormous, at 2529 square feet, compared to any regular rooms at other resorts, and a family of three or four will most likely take a two bedroom villa with private pool, with options ranging from over 4250 to nearly 7000 square feet of living space.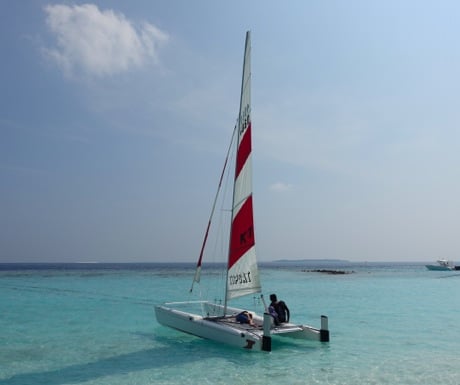 While Soneva's kids' club was started just a few years ago, the fact that there are many families who are repeat guests and enjoy long stays at Soneva Fushi means that there's a good chance for kids in the 6-9 age range in particular to get to know others and make friends during their stay. The current kids' clubhouse, called The Den, itself is rather small, but that's about to change with a new, much larger one currently being constructed and slated to open later in 2015. It will offer two swimming pools, a children's mocktail bar, a Lego room, dress-up area, cinema, learning area, sound-proof music room with instruments, and a tunnel leading to organic gardens.
The complimentary kids' club has shorter hours than at the Four Seasons, with morning activities from 10:30am-12:30pm, a break for lunch, then afternoon activities from 3-5:30pm. The international staff are great with the kids, and activities included snorkeling with resident marine biologists, yoga, hide and seek, a lesson in Dhivehi (the native language of Maldivians) and sailing around the island.
A popular feature for parents and kids alike is the ice cream room, where you can help yourself to any of 30 or so different ice cream and sorbet flavors, from passion fruit, mango, raspberry or coconut sorbets to ice cream flavors such as rocky road, mint chocolate chip, honeycomb, or chili pumpkin.
Four Seasons Resort Maldives at Kuda Huraa
The Four Seasons Maldives at Kuda Huraa is also popular with families, especially those with little ones who want to avoid a seaplane flight from Male, since the resort can be reached via a 30 minute speedboat ride. As a smaller island, it's more in the style of a tropical Maldivian village, and it's easy to find your way around.
As at Landaa Giraavaru, the Kuda Velaa kids club is complimentary for kids ages 4-12, and is available 9am-5pm. Activities include scavenger hunts and hermit crab races, Maldivian and beach crafts, cooking classes, mini-spa days and a touch tank for learning more about the local marine life.
In addition to the kids' club activities, a unique activity at Kuda Huraa for kids and their parents is surfing. During the summer season, there's world class surfing at Kuda Huraa, although fortunately for complete novices, as my son and I were, there's also a calm lagoon, perfect for learning the basics of standing up on your board without toppling off!
While there is snorkeling right around Kuda Huraa, I highly recommend taking a turtle safari via speedboat to be able to see turtles as well as the myriad varieties of fish.
For a relatively small island, Kuda Huraa manages to make each of the beach bungalows and water villas seem very private, thanks to the lush landscaping around the beach bungalows and angles of the water villas. The main pool was never crowded, even though we were there during high season, and there's also also a nearby children's pool, in addition to an adults only serenity pool by the Reef Club restaurant.
The Conrad Rangali spans two islands that are connected by a long jetty, with a boat that regularly runs between the two. The main island, where the lobby and most restaurants are, is also home to the Majaa Kids Club. My son enjoyed it, especially the pirate day that culminated in an energetic water fight, although the club seems mainly targeted at kids 4-6–at least when we were there, the few kids in the club were these ages and my 7 year old son was the oldest.
The Kids Club offers morning drop-off as early as 8:30am, with a lunch break 12noon to 1pm, then afternoon session 1pm-7pm, although the last couple hours each day are water play and free play. Days of the week are themed, for example "Maldivian Monday" with lessons in Maldivian Bodubero dance, Dhivehi language lessons and Maldivian games; "Ocean World Tuesday" with a beach walk, sea mural, sand castle competition; etc.
While visually beautiful, overall I was least impressed by the Conrad Maldives, which had by far the most uncomfortable beds, numerous design flaws and uneven service–some great staff, but some rather unfriendly.
Which luxury resort in the Maldives would you like to visit with your family?
Hilary Stockton is the CEO at TravelSort.
If you would like to be a guest blogger on A Luxury Travel Blog in order to raise your profile, please contact us.