By
Paul Johnson
on Apr 21, 2015 in
Accommodation
,
Alaska
,
Asia
,
Austria
,
Celebrities
,
Europe
,
Featured
,
France
,
Going Out
,
Indonesia
,
Interviews
,
Mexico
,
North America
,
Regions
,
Resorts
,
Restaurants
,
Travel Miscellany
,
USA
,
Vacation Rentals
,
Western Europe
George Gorrow was born in Australia and raised on the Northern Beaches. He's one of four brothers and a loving creative and entrepreneur. He was heavily into the surf and skate scene from a young age, so followed that path for a while. His best friend was the number one surfer in the world at twenty, and he was designing things for him until he was approached to work on a surf label called Insight, which quickly became hugely successful. He then started a denim fashion brand off the side called Ksubi, and both of these companies became a large part of his life for about ten years. From there he fell in love with and moved to NYC to explore new things and then moved from NYC to Bali, which he now calls home.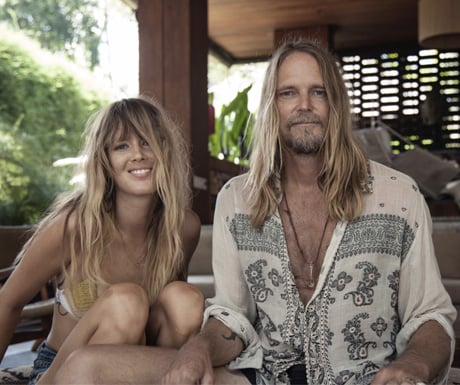 What is it that you do exactly?
I'm currently consulting on a new resort called BASK, which is something I'm quite excited about. I have teamed up with architect Gary Fell and we are working quite collaboratively. I'm making use of all my years travelling extensively, pulling from all the experiences in hotels, restaurants, bars, dive clubs and escapes to help shape a new style of island stay.
What do you enjoy most about what you do?
I'm really liking relaxing and enjoying living in Bali at the moment. I have been infatuated with butterflies and birds lately, I can watch them for hours. I find this style of life really fulfilling, but at the same time I do get really excited about working on interesting projects.
What would you say are the 3 best places you've ever stayed?
(I'm not going to list the best but I'll list three very memorable ones)

This seriously decadent villa on the beach in Punta Mita sits on about 1500 acres of beachfront land, and was designed by Martyn-Lawrence Bullard. I managed to spend some time there surfing with good friends. The waves were small but it didn't matter, time in the water was time out of the villa and this place was dope, definitely something you wanted to soak up. And yes, there is an 'anything' button in your room.

Cardboard box, Paris

I was staying with a friend in Paris for couture, and one night it was really late and I happened to get locked out. I had just flown in so I was overly tired, and I managed to find a cardboard box in a nearby dumpster. It was a washing machine box so it had enough room to roll up in, and was surprisingly comfortable and reasonably warm. It wasn't as bad as you would think. I had early appointments so I sat it right out the front of the fashion week tent in Tuileries. The spot was great, and I woke up to pretty women everywhere. It was kind of stupid, but memorable.

Grasleiten Hütte, Tirol

I was just recently in the Austrian Alps, hiking with my wife and her family. It was a five-day hike and we stopped at several mountain lodges, but our aim was to finally reach the Grasleiten Hütte located in the Dolomites in Tirol. This lodge was built in 1887 with every piece of the lodge being carried up by hikers and slowly assembled on the mountain. The location is incredible, as you can imagine. On the night of our arrival, an all-male choir from the local town had hiked up to celebrate in the cottage. The place was dancing, drinking, singing and yodelling all night to traditional songs. My wife's great-grandmother was the first woman to ever hike up this particular mountain, so she was a bit of a legend around the area.
What's been your most memorable dining experience to date?
Chef Dan Moran and his golden hand cooking a 100% romance guaranteed degustation for me and my now wife at the Metropolitan's Nahm restaurant in Bangkok. The man can really cook and is one hell of an interesting character as well. He's since left Bangkok, now found either in Turks and Caicos, Phuket, Bali, or Miami.
Have you rubbed shoulders with the rich and famous, either through your work or your travels?
I have been lucky enough to have an interesting career where I have hopped around a lot and had the pleasure of spending time and working with some great people, including Jimmy Iovine, Kanye West, and as of late I have been working with will.i.am. At the moment I'm working on a cool project with Will, Graz Mulcahy and Slick Rick.
What currently ranks highest on your travel wish list?
It's kind of a long-time dream of mine to be sitting on a mountain ridge in Alaska with my wife, sharing a glass of wine and watching the Aurora borealis.
Thank you for taking part in our interview, George.
If you would like to be interviewed on A Luxury Travel Blog in order to raise your profile, please contact us.