10 Javanese experiences not to be missed
Quite simply, Java is the heart of Indonesia; go here to soak up the culture and the natural beauty; mingle with the locals, absorb sights, smells and sounds you've never experienced and you'll begin to understand a little bit about this amazing island. Java is a luxury destination with heart, soul, culture and beauty at every turn; here are 10 Javanese experiences not to be missed:
1. Embrace the madness in Jakarta
Jakarta is the busiest city in the most populous island in the world so you won't be surprised to learn that it's packed. It's traffic jams are legendary and have to be experienced to be believed and the city is literally bursting at the seams. With ultra modern mega-malls, nightclubs, markets, museums and more to to be explored in the capital of Indonesia; rest-assured you'll never be bored.
2. Stay in some great luxury hotels in the capital city
Trust me, you'll want somewhere good to stay when you're in a capital city that's this crazy and luckily Jakarta has a good choice of luxury accommodation to help you recover from the outside world. For an urban oasis of calm, right in the city centre, stay at the
Shangri-La Hotel Jakarta
where you can lose yourself in the manicured tropical gardens or relax by the huge free-form pool.
Just outside of the city centre, in the cultural heritage zone of Menting, the
Doubletree by Hilton Jakarta
is perfectly situated to see this historic area of Jakarta which has unique 'Indo-European' architecture and was where U.S President Barack Obama once lived as a child.
3. Get your fill of world-class fine dining
Don't leave Jakarta without eating in one of it's amazing restaurants where you can eat world class fine dining from a range of International cuisines.
Casa D'Oro
 at the Kempinski Hotel has a huge selection of quality wines to enjoy with their exquisite food and the setting is as top notch as you would expect from this luxury brand.
For some of the best Italian food you might ever eat, head to
Rosso
at the Shangri-La where you'll be blown away by beautifully presented, creative and delicious Italian food. Beetroot gnocchi in pumpkin cream with a red wine reduction anyone?
And for fine dining Cantonese food,
Shang Palace
(also at the Shangri-La) is the place to go, enjoy one of their luxurious set menus, or order a la carte, as you sip Chinese tea and enjoy the flavours of this ancient cuisine.
The only problem you'll have in Jakarta is fitting in all the places where you'll want to eat.
4. Visit Bandung
Once known as the 'Paris of Java', Bandung is a favourite 'getaway city'  for people living in Jakarta and can be reached in just 2 hours from the capital. This university town is surrounded by lush rice fields and has a rich colonial history that can be seen in it's architecture. Stay at the
Hilton Bandung
for a great location, excellent service and a taste of Indonesia's legendary cuisine served in 'Purnawarman', their signature restaurant, for added luxury, book one of their Executive Rooms or Suites and enjoy the privileges of daily cocktails and canapés in the Executive Lounge.
5. Escape from it all and stay in a restored traditional Javanese house in the middle of a coffee plantation
Head to central Java to get away from it all at
Mesa Stila
, an exclusive wellness retreat that's set within pristine gardens in a historic coffee plantation. Relax and take in the stunning views that stretch over the plantation to the mountains and volcanoes in the distance. Stay in one of the 23 unique villas that have been reconstructed from original Javanese antique Limasan, Joglo or Kudus wooden houses and soak up the peace and quiet.
Swim in the pool, visit the spa (equipped with South East Asia's only authentic Hammam), take a yoga class or just wander around the grounds.
A few days at Mesa Stila are guaranteed to give you a new lease of life and this one opportunity for luxury that you wont want to miss.
6. Visit the world's largest ancient Buddhist temple at Borobodur
Built in the 9th Century, Borobodur is an ancient Buddhist temple complex that lay hidden under volcanic ash and jungle for years until it's rediscovery in 1814. A UNESCO World Heritage site, Borobodur is Indonesia's most visited attraction and is the world's biggest Buddhist archeological site.
Wander amongst the giant stone stupas and statues, wondering what life must have been like for the people who lived and worshipped here and marvel at the craftsmanship of the carvings that adorn the stonework. Quite simply, it's a magnificent place you'll never forget.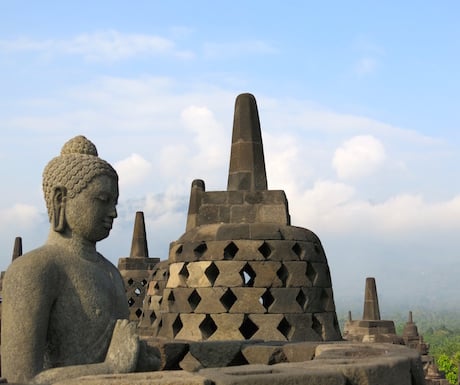 7. Jogjakarta
No visit to Java is complete without a stay in Jogjakarta; Java's spiritual heart. It's ancient palaces, bustling markets and great food make it a cool place to be. Immerse yourself in history as you wander around the 'Kraton', the old palace of the Sultan; visit the royal bathing pools at 'Taman Sari'  or even take a trip to see abandoned houses on the side of Merapi Volcano.
8. Try 'jamu'
Jamu is the Indonesian name for the traditional herbal medicine brewed daily from local herbs and plants. Javanese people drink these health giving concoctions to prevent and treat illness and a shot or two of the local brew will certainly leave you fighting fit and raring to go.
For the adventurous amongst you, go to a local market and barter with the locals but if this isn't your thing then pick up a shot at breakfast in your hotel or, even better, take a tour to see how it's traditionally made. They come in sweet, sour and bitter varieties which all relate to different illness or health conditions; be brave and try the bitter ones but be sure to have a sweet one on standby to take the taste away!
9. Take a tour through the beautiful countryside
Java has some breathtaking scenery; from waterfalls to rice paddies, volcanoes to rolling fields and of course amazing tropical beaches too.
Take a tour outside any of the major cities and you'll be stunned, if you like a bit of adventure on your luxury travels then why not hire a scooter?
Everybody rides a scooter in Java, it's the quickest way to beat the traffic and get were you need to be, but it's also a great way to see some of the amazing scenery that this island has to offer. Let the wind fly through your hair and take to the open road to explore at your own leisure or take a tour on 4 wheels, either way you'll be wowed by the landscape.
10. Eat, eat, eat!
The Javanese love their food and if you do too, you'll want to experience their cuisine at every opportunity. Eat with the locals at 'nasi campur' restaurants where you can point and choose from a variety of delicious dishes where you'll just have to follow your nose and select what looks good.
Try local favourites such as 'tempeh', 'gado-gado' and 'burbur sum sum' as you eat your way around the country and don't forget to seek out one of the many local delicacies in each place you visit.
Once you've ticked these 10 things to do in Java off your luxury travel list you'll realise that there's a lot more to see and do. Add 'Climb Mount Bromo at sunrise' or 'island hopping around the Karimunjawa archipelago' for starters and be sure to send us a postcard as you sip an ice cold Bintang under the Javanese sun.
Paul Eyers is Founder of Vegan Food Quest.
If you would like to be a guest blogger on A Luxury Travel Blog in order to raise your profile, please contact us.
Did you enjoy this article?
Receive similar content direct to your inbox.