While it can be tempting to spend all your time in Rio on the city's spectacular beaches, culturally-curious visitors should tear themselves away from the sunlounger long enough to discover the artsy inland neighborhood of Santa Teresa. High on a hillside overlooking the city's hectic center, this boho-chic neighborhood is home to Rio's finest colonial architecture in the form of grand mansion houses, many of which now function as guesthouses, restaurants, art galleries, cultural centers and arts and crafts stores.
Although it is only a few minutes from downtown, Santa Teresa's steep cobbled streets, lively neighborhood squares and friendly bars give it the feel of a small village, and it's easy to forget you are in one of Brazil's biggest cities.
Known as the artistic heart of Rio, Santa Teresa was once home to city's rich elite, but when the favelas began to spring up on the hillsides nearby, the wealthy descended to the beaches and the grand homes were abandoned until the 1960s, when artists and musicians set up studios in the old buildings and the neighborhod became famous for parties attended by the likes of Mick Jagger and his cohorts. Today, that musical and artistic spirit is alive and well, and the neighborhood has become famous for its lively drinking and dining scene as well as its strong cultural scene. Sitting high and proud over the city, it also offers some fantastic panoramic views, which in some cases take in beaches, Sugar Loaf an the Christ Statue in one sweep.
Santa Teresa can be a little difficult to reach by public transport from the Zona Sul, but it's less than half an hour's drive, and a good private guide will be able to take you to the best of the neighborhood's attractions; many of which are little-known to tourists.
Work is currently ongoing to reinstate the famous Bonde – the yellow street cars that ferried locals and visitors over the Lapa aqueduct and up the steep hills of Santa Teresa from 1877 until a tragic accident in 2011 closed the line until now.
Until then, visitors can drive or stroll around the scenic neighborhood – we've cherry picked some of the top spots for food, views, culture and local flavor.
Museu Chacara do Ceu and Parque das Ruinas
Tucked away on a quiet street away from Santa Teresa's touristic center, Chacara do Ceu Museum and the adjoining Parque das Ruinas are two of the most compelling reasons to visit the neighborhood. The Museum, set in lush tropical gardens, is a modernist building housing an impressive collection of Brazilian and European art, which belonged to the art-loving former owner Raymond Ottoni de Castro Maya. A metal walkway brings visitors to Parque das Ruinas Park of the Ruins), where the former home of 20th Century socialite Laurinda Santos Lobo lay in ruins for decades before being restored and reopened as a cultural center in the 1990s.  Visitors can climb metal stairs to the top floor, where they are rewarded with 360 degree panoramic views over Rio de Janeiro's downtown, Guanabara Bay, Sugar Loaf and the Christ statue. There's a pleasant cafe, a small children's playground, and an exhibition space.
Selaron Stairs
Also known as the 'Lapa Steps', this stunning stairwell between Lapa and Santa Teresa was a never-ending labor of love by Chilean artist Selaron, who covered the steps in colorful tiles – and his own distinctive artwork – to create something truly unique. The offbeat artist could be found working on the stairs until his death in 2013. Much-loved by fashion photographers, the colorful steps also feature in the video for Snoop Dogg and Pharell's Beautiful.
Largo do Guimaraes' Gastronomic Center
Santa Teresa has become a major draw for foodie visitors to Rio, and many of the neighborhood's best eating and drinking opportunities can be found on and around the main square, known as Largo do Guimaraes. There's excellent seafood to be found at Sobrenatural, great coffee and light meals on a leafy terrace at Cafecito, and arguably the best Pao de Queijo (golden, chewy cheese breads made with manioc flour – a Brazilian staple) at organic cafe Cultivar Brasil. Nearby, Bar do Mineiro is a classic boteco (casual bar-restaurant) that is a social hub for locals and visitors alike.
Santa Teresa Convent
The Carmelite convent which gave its name to this enchanting neighborhood is an imposing and rather austere 18th Century building, standing proud and gleaming white on the hillside, it can be reached on foot – but it's a steep uphill climb from Centro.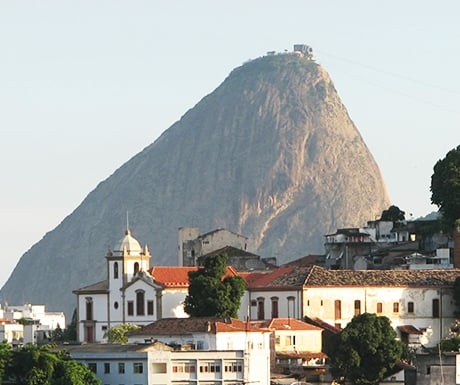 Fabio Mendonça is a Founder of Rio Cultural Secrets.
If you would like to be a guest blogger on A Luxury Travel Blog in order to raise your profile, please contact us.