It's a top holiday destination, but if you're after something a little bit special, what are your options in Gran Canaria? From child-friendly holidays to resorts where the staff know how to make a fuss of you, we've found five of the best. One thing we can assure you of is all of these places offer fantastic food; from breakfast to late night snacks, you can enjoy culinary treats prepared with flair and panache. Now all you need is that poolside cocktail.
Seaside Grand Hotel Residencia
Located a few steps from Maspalomas beach and a firm favourite with older and younger visitors, this gorgeous and well-kept hotel offers the last word in world-class comfort. Guests stay in two-storey Sanish-style villas, which are set in a spotless tropical garden. If you love to swim, the expansive heated freshwater pool is the perfect place to enjoy an afternoon dip. Guests rave about the lengths the attentive staff will go to to keep them happy and the food is terrific – especially the breakfast buffet, which offers every kind of breakfast food you could want. There is an on-site spa for those seeking a bit of extra TLC and there's plenty for sports fanatics – you can play golf, tennis, or work out in the open-air gym. There are even personal trainers available. Lotf of people rave about the tapas served by the poolside bar; a word to the wise. Don't bother leaving the hotel if you'd like good food, you've already found it.
If you'd like to take your pick of three pristine beaches, visit homely fishing villages or scuba dive in the clearest waters this side of Egypt, you're in the right place. The rooms at this popular resort boast large balconies with unbeatable views of the Atlantic, and  chic, modern decor. There are freshwater and saltwater pools, an extensive outdoor leisure area with volleyball courts and gardens, and you'll never have to worry about getting up early to secure sunbeds; there are always enough to go round. The breakfast buffet is a crowd pleaser, fresh juices and fresh fruit are served alongside a large spread of pastries and hot food.
Here's a top tip – choose a higher room away from the pool noise to make the most of your excellent seascape balcony. If you'd like to leave the hotel to explore, taxi rides to local villages are quick and cheap, but it's very easy to stay at the hotel; for the length of your stay.
Lush gardens, a poolside bar oozing class, a Siam-themed spa and a wellness centre which will ensure you leave looking trim and toned as you leave. It can only be Bohemia Suites and Spa, a modern, tidy and stylish hotel just five minutes from the beach. Customer service here is taken seriously; the hotel highlight is the rooftop bar, which is perfect for pre/post dinner cocktails. Not sure of your tipple? The barmen will enthusiastically offer suggestions or will mix cocktails which are not on the list. The great views, fairy lights and fleecy blankets supplied for the cooler evenings show just how dedicated this hotel is to making its guests as comfortable as possible. The best touch? Guests using the sun loungers round the pool are given cold flannels, complimentary fruit, and extra towels on request.
According to many of this hotel's hardcore fans, it is, hands down, the best place to stay in Maspalomas. It's a 50 metre walk to the beach, and this German-run hotel knows exactly what its guests need to have a wonderful stay – be prepared for efficient, friendly staff who get things done. When you arrive, you'll be given a complimentary drink in the lobby, and expect great things from the breakfast buffet; fresh coffee, well-presented hot and cold foods and, if you want it, a glass of cava to get the day started.
Quiet but centrally located, Seaside Palm Beach is surrounded by a fabulous palm tree oasis on the edge of a nature reserve. If you'd like to leave and explore, there are plenty of amenities within walking distance, but the hotel's so good you probably won't want to. Don't forget to try of the hotel's spa packages; the Turkish brush massage is especially good.
This African-inspired resort is a visual delight; it's especially popular with honeymooners. Huge tropical gardens with several pools, ponds, waterfalls and sand beaches with African huts give it a blissfully-exotic feel,and the hotel's main building, a magnificent 21m high African lodge with bars, restaurants and a café, means that guests want for nothing. This is also a great hotel for children – the layout is very easy to navigate, especially around the gardens and pools, and there are a good variety of pool and several sandy areas to play in. And what of the rooms? They're large, modern, and most have massive baths. Nearby town Meloneras is a short walk away if you fancy eating out, but at night, the food available here is top-notch; look out for the flamingos that light up the ponds at night.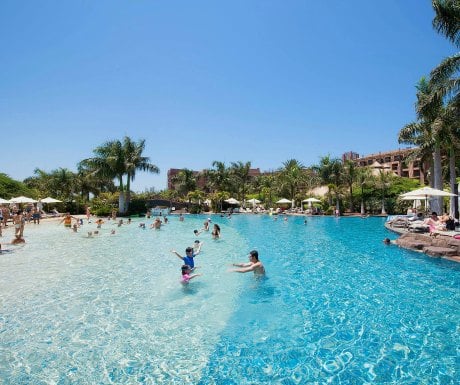 Vicky Anscombe is Editor-in-Chief at Columbus Direct.
If you would like to be a guest blogger on A Luxury Travel Blog in order to raise your profile, please contact us.