The small Belgian town of Bruges is an enchanting place of medieval buildings, narrow cobblestone streets and romantic canals. It also has an exceptional culinary scene, with many outstanding restaurants run by some of the world's top chefs and a total of eight Michelin-starred restaurants. Of the three restaurants in Belgium which have received the top rating of 3 Michelin stars of excellence, two are located here. All of these Michelin stars give Bruges one of the highest ratio of Michelin stars per capita in the world, putting it on the map as Belgium's unrivalled capital of gastronomy.
As a culinary destination in itself, a visit to atmospheric Bruges is a must-do not only for romantics and history buffs but also for serious connoisseurs of fine food. Here's a short guide to Bruges' most select restaurants as rated by the renowned Michelin guide.
Chef Gert De Mangeleer and Sommelier Joachim Boudens took over Hertog Jan as a team in 2005, receiving their first Michelin star in 2007, a second in 2010 and a third in 2011 which they have maintained ever since. In the summer of 2014, the restaurant moved from the outskirts of Bruges to a restored barn on a working farm in Zedelgem, 8 km away from its original location – technically not in Bruges at all, but the restaurant continues to be associated with the city. The restaurant's new rural location has been a hit, with the 2015 Michelin guide reporting that the chefs "have once again created a buzz by moving to this authentic Flemish farm and its distinctive contemporary extension. Vegetables from the lovely cottage garden take pride of place on the menu, whose inspired dishes leave the diner speechless. This is 21C sophistication." Chef De Mangeleer offers a delectable seasonal menu of Hertog Jan's signature dishes with vegetables picked fresh from the garden as well as the chef's latest culinary creations.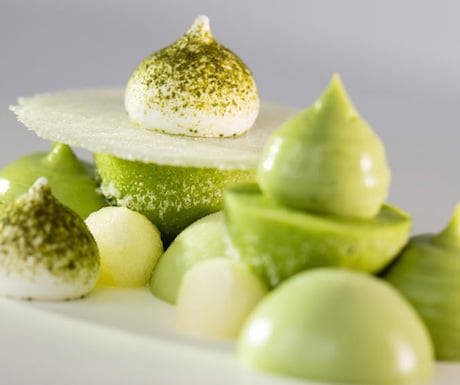 Bruges' other 3 star is De Karmeliet, which is also Belgium's longest running 3-star restaurant, having been awarded its third star back in 1996. Chef Geert van Hecke started the restaurant along with his wife Mireille De Demunck in 1983, receiving their first star only two years later. One of Belgium's best known fine-dining restaurants, the 2015 Michelin guide calls Van Hecke "one of Belgium's godfathers of fine food" and a "genuine champion of national cuisine" before declaring that "fine flavours are a religion here!" There are three tasting menus on offer of 3, 4, and 8 courses as well as à la carte. Riding on the success of De Karmeliet, chef Van Hecke opened a second casual dining restaurant called Refter with his son in 2009.
Chef Filip Claeys of the 2-star De Jonkman restaurant located in a villa on the outskirts of Bruges is known for the locally sourced ingredients he uses to create what the Michelin guide describes as "inventive seasonal cuisine". He's also known for his love of fish: his grandfather was a fisherman and his table offers lesser-known types of fish caught fresh from the North Sea, especially on Fridays when a special fish menu is on offer in an informal atmosphere.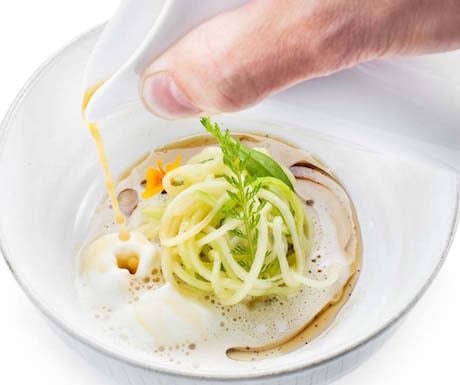 Located in a lovely 17th century building in the historic centre of Bruges, Den Gouden Harynck (The Golden Herring) restaurant took its name from the fish shop which used to occupy the same space. The restaurant was awarded a Michelin star in 1996, which it has kept ever since. Chef Philippe Serruys is a classically trained chef who loves to explore and experiment with modern cuisine. The 2015 Michelin guide praises the "excellent match of wine and food" and declares the chef is "keen to innovate and occasionally delves into Asian traditions".
Its website describes San Cravate as "a business with a soul" and its cheeky name ('no tie') hints at the informal and relaxed atmosphere the staff aims to create to make their guests feel at home. The latest Michelin guide describes it as "lovely and comfortable" and declares that for Chef Henk Van Oudenhove, "cookery rhymes with invention". This restaurant which has earned a Michelin star offers 3, 5, and 6 course tasting menus as well as an à la carte menu, except on Saturday evenings when there is one special menu on offer.
Chef Karen Keygnaert loves to bring home new tastes from her travels to use and experiment with in the kitchen at A'Qi, in the Sint-Andries district of Bruges. Known for its 'Asian fusion' cuisine, the restaurant was awarded a Michelin star in 2012 which it retains to this day.
Another 1-star restaurant located in Sint-Andries is Auberge de Herborist, a 11th century cottage which has been converted into a restaurant with an attached garden growing edible flowers and herbs. The 2015 Michelin guide calls Chef Alex Hanbuckers "a consummate master of colour and presentation" and describes the dishes served here as "fresh, intelligent and beautifully enhancing the quality of the fine produce". There is no menu card here, but a fresh daily menu is on offer instead, with the possibility for diners with dietary restrictions to inform staff in advance.
Connoisseurs of molecular gastronomy will love Ter Leepe in Zedelgem, near Bruges. Chef Kristof Marrannes was born in the restaurant world: this was his parents' restaurant which he took over in 2005 and was rewarded a Michelin star soon after. He is known for his innovative and creative dishes, and has earned rave reviews from diners and food critics alike.
Michelin's star rating system decoded (from the Michelin website):
One star indicates a very good restaurant in its category, offering cuisine prepared to a consistently high standard. A good place to stop on your journey.
Two stars denote excellent cuisine, skillfully and carefully crafted dishes of outstanding quality. Worth a detour.
Three stars reward exceptional cuisine where diners eat extremely well, often superbly. Distinctive dishes are precisely executed, using superlative ingredients. Worth a special journey.
Paola Fiocchi Van den Brande is Director of Passepartout Homes Ltd.
If you would like to be a guest blogger on A Luxury Travel Blog in order to raise your profile, please contact us.