Exploring the Rocky Mountains is one of the most exhilarating adventures you'll ever have; there's nothing quite like being completely surrounded by beautiful mountains, dazzling lakes and picturesque mountain towns. And if nature isn't enough for you, there are some truly epic outdoor activities to get stuck into, such as zip-lining, sky-diving and walking 918 feet above a canyon… bring it on!
Fly down the mountain on a zip line
If you're visiting Banff or Lake Louise, be sure to add an exciting zip-lining tour to your itinerary. Soar through this adventurous course, which finishes on an epic 500m long line crossing the splendid Kicking Horse River.
Experience the Rockies from above
The Rocky Mountains may look good when you're standing on the ground, but imagine descending onto one of the most beautiful mountain ranges in the world from above. The adrenaline rush of jumping out of a plane is second to none, but you'll be completely awestruck by the beauty of your surroundings as you parachute back to earth.
Drive the magnificent Icefields Parkway
This breath-taking driving route is one of Canada's national treasures, taking you through the heart of the Rockies, across a vast wilderness of mountain lakes, ancient glaciers and sweeping valleys. The ideal route for any fly-drive holiday to Canada!
Walk above a canyon
While driving the Icefields Parkway be sure to stop off at Jasper's newest attraction, the Glacier Skywalk. Walk out onto the glass walkway suspended 918 feet above the canyon and admire some of the best views in the whole of the Rockies.
Explore the Rockies on foot
Get your hiking boots on and walk some of the best trails in Canada. Climb to the top of Mount Ida and enjoy panoramic views from the summit, or hike to Emerald Lake that takes you deep into the Tyndall Gorge. You'll want to remember your camera to capture these spectacular views.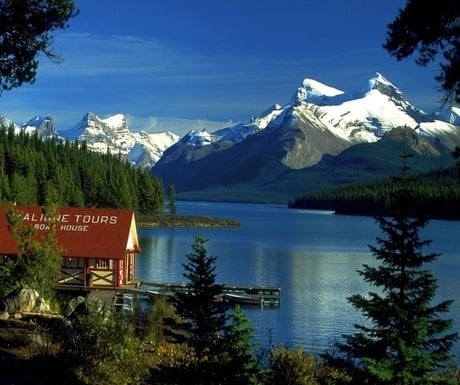 Relax in the local Hot Springs
After all that adventuring you'll need somewhere to relax. Journey to the Radium Hot Springs just outside of Kootenay in BC; also known as the warm side of the Rockies, this is one of the area's best mountain getaways, boasting Hot Spring pools amongst stunning alpine scenery. Just sit back, relax and enjoy the view!
Stay the night in authentic ranch
To finish it all off, why not book a room in an authentic mountain ranch and hunker down for a cosy night next to a log-burning fire. After a good night's sleep you can wake to experience the magic of a Canadian sunrise by horseback before starting all over again…
Kathryn Munro is Managing Director at Canadian Affair.
If you would like to be a guest blogger on A Luxury Travel Blog in order to raise your profile, please contact us.