Siem Reap in Cambodia is home to the ruins of the ancient Khmer city of Angkor which include famous sights such as Angkor Wat, Angkor Thom and Ta Prohm (the magical ruins overgrown by giant trees where Tomb Raider was filmed). It's hot, dusty and busy; yet it's an amazing travel destination that will leave you exhausted after a day of exploring, clambering over ruins and up steps, managing the crowds and generally being stunned by the sights you've seen.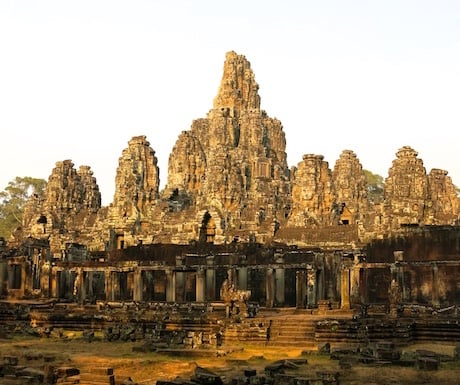 Likelihood is, you'll find yourself up before dawn to make it in time for sunrise over Angkor Wat and will be on the go until you climb the steps at one of the famous sunset spots like Pre Rup to mark the official end to your sightseeing day.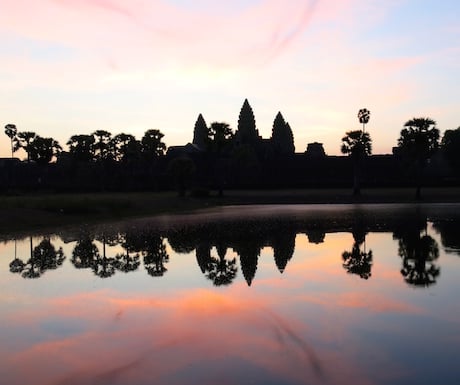 Most traveller's head back to their hotels after a day at the temples to be fed and pampered whilst they reflect on what incredible sights they've seen but if you're a vegan traveller (or even vegetarian in this part of the world) you'll need to pick your accommodation and restaurant visits wisely to make sure that you don't arrive back to base to be presented with little more than a salad or a stir-fry.
There are numerous luxury hotels, resorts and restaurants to visit at but here are 5 luxury vegan experiences in Siem Reap that will make sure you're not only fully rested and recovered from your sightseeing but you're fed plantbased food that's as amazing as great Angkor Wat itself.
This centrally located hotel was designed by famous architect Bill Bensley; it has a cool, laid back vibe with beautifully crafted lotus flowers everywhere, interesting vintage objects to discover and fun, giant swing seats in the restaurant. It's one of those places where you instantly feel at home and also one of those places that does luxury really effortlessly.
The staff are locally renowned for being well trained and professional and you'll find it hard to fault their friendliness, commitment to their jobs and willingness to try to make your stay a memorable one.
This is one of the reasons that it's such a good choice to stay at if you are a vegan guest; every member of the team will try their hardest to adapt what they have to make it vegan friendly and the result is really impressive. Food-wise, you can be guaranteed some of the best vegan food you'll get in Siem Reap as Chef Chamnan and his team work hard to veganise locally inspired dishes to bring a taste of Khmer cuisine to your table.
It's always a delight when you get to try to vegan versions of traditional local food but at Shinta Mani there are little twists of modern influences and creativity thrown in. Our delicious 'Amok' style curry came with tasty root vegetables and apple; a perfect and interesting combination with the creamy coconut and lemongrass flavours in the sauce. We also loved the more contemporary parts of the menu on offer, with rich marinated mushrooms and light courgette fritters. Laid back luxury dining at it's best.
A visit to Embassy Restaurant whist you're in town is almost as essential as seeing the sunrise over Angkor Wat or having your photo taken in the same spot as Angelina Jolie at Ta Prohm; it's just one of those things that should be a must-do part of your visit to Siem Reap.
The all female staff team create, prepare and serve a tasting menu (optionally paired with a good choice of wines) which changes monthly and showcases Khmer fine-dining cuisine. The atmosphere is chic with modern art mixing with the traditional Khmer building that houses this intimate and exclusive restaurant; book your table in advance because spaces can fill up fast even on a weekday.
Their usual monthly tasting menu isn't vegan but with a little advance warning the Embassy Chefs are happy to create a plant-based vegan version for guests who need it. It's totally worth the visit with food tasting as good as it looks (which is beautiful). Local, seasonal ingredients are crafted into course after course of traditionally inspired cuisine, introducing you to new flavours and ingredients.
Expect vibrant looking plates of food like 'Vegetable Caramel' or a 'Local stuffed snake Zucchini in Sweet Potato Broth'; also expect to be seriously impressed.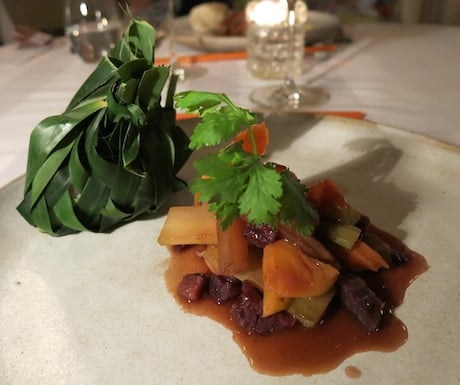 Opt for the paired wines too; it's a fabulous way to end your day of sightseeing by eating delicious food whilst enjoying a nice glass of wine.
Victoria Angkor Resort and Spa
The Victoria Angkor Resort and Spa is a popular hotel in Siem Reap in a great location for visiting both the temple ruins and other attractions such as the old market area and (if you have the energy) the town's lively 'Pub Street'. You'll find Siem Reaps' only salt water swimming pool here, right at the heart of this 1930's French Colonial inspired hotel, and it makes for a great place to relax, cool off and collect your thoughts after a day of sightseeing.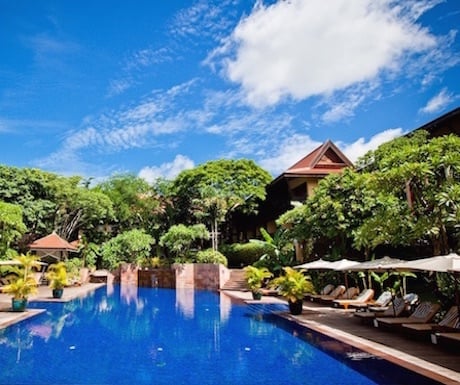 This property already has an established vegetarian menu which includes vegan items, so you can rest easy knowing you'll be fed well with little fuss. One of the great things about the menu is that it has a really strong focus on healthy eating (they also have a 'Fitness Menu", with the nutritional information being clearly marked on the menu under each item. Who says luxury travel can't mean that you can still indulge yourself with some food that tastes great but is good for you too?
Our top pick of the healthy  'Fitness Menu' dishes we tried was definitely their 'Mediteranean Lentils', a green lentil salad that was full of artichokes, avocado, tomatoes and spinach and finished with a herb and garlic olive oil dressing. Its a seriously tasty, protein packed plant-based dish that really hit the spot.
At breakfast there was a selection of fresh and health food available for vegan guests; sushi, fresh juices and smoothies and an especially made rice noodle and bok choi soup. You're guaranteed a good start to the day as well as a good end the day at Victoria Angkor Resort and Spa.
The Dining Room at Park Hyatt Siem Reap
The Park Hyatt is our go to place to catch one of the beautiful Apsara dance shows in Siem Reap. There are numerous options to see this hypnotic, skilful and traditional dance which tells the story of some of the myths that are carved into the walls of the Angkor Temples. By day you can see hundreds of carved stone Apsara figures on the Walls of every temple you come across and by night you can see a modern day re-enactment whilst eating in the calm, stylish dining area of this luxury brand hotel.
The Dining Room, like the rest of the Park Hyatt Siem Reap, is another example of renowned architect Bill Bensley's Siem Reap creations, with giant swing seats where you can soak up the luxury as you enjoy a tasting menu of traditional Khmer cuisine.
You can look forward to fresh, tasty flavours and well balanced menus from a team who fully understand vegan and vegetarian guests' requirements and add this to their skill in creating delicious food that matches the quality of the Park Hyatt brand.
One of Siem Reap's newer luxury boutique properties, Sarai Resort and Spa is a beautiful property situated just outside of the central market area of town. Its Morroccon inspired decor and central sun drenched swimming pool, make it a great luxury property to pick for a cool, poolside rest-day (always needed if you are planning more than one trip to the temple ruins). Features such as a complimentary poolside foot massage from the spa team make it a good choice to recover from too much temple exploring.
Vegan guests will be well looked after here with staff being enthusiastic about adapting dishes already on the menu and making sure that additional options are offered. You can look forward to a mix of Western stye food such as a roasted vegetable salad or traditional Khmer food including creamy tofu curries or mushroom rich hotpots.
Pick one of our 5 luxury vegan experiences in Siem Reap to make your luxury vegan travels really special, or even better, pick all of them, after all, you only live once, so why not add a bit of vegan luxury into your life?
Paul Eyers is Founder of Vegan Food Quest.
If you would like to be a guest blogger on A Luxury Travel Blog in order to raise your profile, please contact us.