4 of the world's most wonderful spas with a view
Hitting the spa is a wonderful way to enhance your vacation and rid yourself of any lingering stress. All across the world are a host of spas which not only boast opulent treatments, but opulent surroundings too. From those immersed in forestry to others suspended over shimmering waters, the world is privy to some truly spectacular spas. Take a look at our top picks of spas with a view and get planning your next relaxing getaway.
Anantara Dhigu Resort & Spa, Maldives
The Indian Ocean provides the perfect backdrop to your spa retreat, with its tranquil waters and lush surroundings. The
Anantara Dhigu Resort & Spa
is especially decadent, as its spa juts out over the water, providing you with interrupted views of the ocean.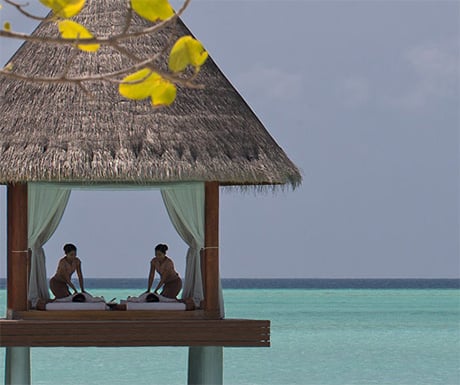 Indulge with a range of treatments, from massages to cleansing facials, whilst focusing on the gently lapping waters beneath you. Whether you choose an hour long therapeutic massage or an on-going treatment which is spread out over three days, the Anatara Dhigu Resort & Spa guarantees to make you feel like a brand new person by the time you leave.
Kayumanis Ubud, Indonesia
Located on the beautiful island of Bali, the remarkable
Kayumanis Ubud Private Villas and Spa
awaits your arrival. Situated in Ubud, which is considered to be the culture capital of Bali, this sumptuous resort boasts views of abundant forestry. In fact, it is surrounded entirely by the forest, creating a unique and immersive backdrop.
The Kayumanis spa uses only the highest quality ingredients, ensuring your treatments are unparalleled in quality. From invigorating body exfoliations to pampering massages, you can enjoy a range of indulgences as the sound of swaying trees gently soothes you.
Bagni di Bormio Spa Resort, Italy
Harnessing the beneficial qualities of the mountain's thermal springs, the
Bagni di Bormio
spa is the ideal selection for those who appreciate nature. With stunning views of the mountains, this spa is at the helm of relaxing getaways.
Two dedicated massage centres ensure that you receive the highest quality treatments, with each massage tailored to your specific requirements. Talented therapists take into account your tastes and preferences, as well as your individual personality, to deliver a one of a kind massage. There is also a range of products which you can select from to enhance your massage. The spa also features a selection of beauty treatments, including waxing, manicures, pedicures and face cleanliness.
Mandarin Oriental New York, USA
An alternative spa with a view, the Mandarin Oriental spa in New York boasts vistas of the Hudson River and busy Manhattan, which can be admired through floor-to-ceiling windows.
There's nothing quite like the juxtaposition of enjoying a soothing massage whilst surveying the hustle and bustle of New York below; it will allow you to fully appreciate the calming atmosphere of the Mandarin Oriental spa. Aside from a host of holistic treatments, the spa also boasts a Thai yoga suite, which includes a deep soaking tub, and an Oriental Tea Lounge, where guests can go to enjoy delicious refreshments before and after their treatments.
Matthew Coe is Online Marketing Manager for Wanderforth.
If you would like to be a guest blogger on A Luxury Travel Blog in order to raise your profile, please contact us.
Did you enjoy this article?
Receive similar content direct to your inbox.