By
Campbell Bevan
on Jun 03, 2015 in
Accommodation
,
Attractions
,
Europe
,
France
,
Going Out
,
Hotels
,
Real Estate
,
Regions
,
Vacation Rentals
,
Western Europe
If you're looking for the ultimate luxury holiday, you simply can't beat a trip to France. And to push the envelope even further, book some accommodation in a genuine castle. Living like royalty for a weekend will be an experience you will never forget. Awe inspiring castles around the world are favourites among photographers and travellers, but nothing can compare to actually living in one. So, without further ado, here's our top 4 amazing castles in France.
With 12 bedrooms, 9 bathrooms and big enough to sleep 28 people, this spectacular castle is a sight to behold, with an interior that would leave guests stunned. Located in one of the original 83 departments created during the French Revolution on March 4, 1790; Maine-et-Loire. known as the Garden of France, the Loire Valley boasts and abundance of Vineyards and fruit orchards, it is one of the world's most well-known areas for wine production.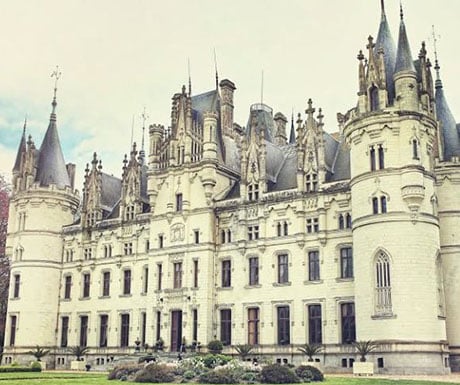 The castle itself is situated on beautiful grounds filled with gardens and only 30 minutes from Paris via high speed train. Guests are spoilt by staff, with all meals included. Both the exterior and interior are styled with wood sculptures, gothic panelling, large fire places and French painting on the ceilings.
Chateau de Mirambeau, Charente, France
This 11th century castle is perfect for large gatherings, with 24 bedrooms, 24 bathrooms and enough room for 48 people.The castle is situated near Cognac in Southwest France, and was established on the site of a medieval wood fortress. If you are a Brandy enthusiast, then you will likely be familiar with Cognac as the name of a world famous type of Brandy. The town of Cognac gives its name to drinks made in the area, and are held to very strict regulations to be branded with the famous name.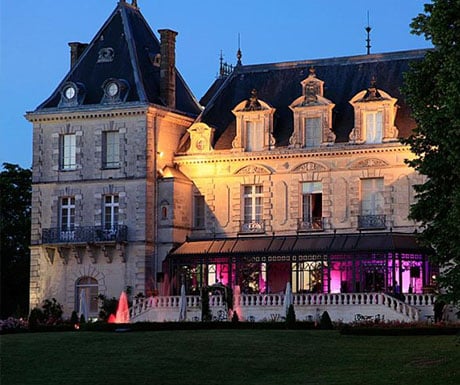 During your stay at this amazing castle, you will have access to a gymnasium with a sauna, an outdoor swimming pool as well as in indoor spa pool. Once again, staff are available to make your stay even better. What better way to pass the time than sipping Brandy in the spa pool, then exploring the many lounges and living areas? Pure bliss.
Chateau Robert, Landes, France
On an expansive 40 acres of landscaped grounds sits this stunning Chateau making for a magical and exclusive hideaway. It has a rather modest 7 bedrooms and bathrooms, and has room for 18 guests. As you'd expect, staff are available, and you even get the use of a car and driver to take you sightseeing, while there is plenty to keep you active at the Chateau. Make use of the tennis court, stroll through the gardens or enjoy a laid-back afternoon dip in the gorgeous swimming pool.
Nestled into the beautiful region of Landes which is well known for Europe's longest beach, Côte d'Argent with over 100km's of coastline to explore, as well as it's large pine forests. Fine sandy beaches makes for a wonderful day trip, or if you prefer you can spend the afternoon visiting sidewalk cafes and restaurants. There are also frequent festivals throughout the year.
Chateau de Hattonchâtel, Vosges, France
Overlooking the Wouvre Valley, no one can perfectly describe the beauty which this authentic Chateau portrays. An absolutely stunning 12 bedroom and bathroom Chateau that sleeps 26 people standing proud on the hillside with its gables, tall chimneys and pointed towers. Your stay includes meals served by staff, a grand dining room with open fireplace, amazing valley views and beautiful Surrounding gardens.
The Vosges, which is also known as the Vosges Mountains, is a mountain range in Eastern France along its border with Germany. It makes for very impressive scenery, and the area also has two major nature parks: The Ballons des Vosges Nature Park and the Northern Vosges Regional Nature Park, and is perfect for exploring dense forests with impressive foliage and waterways.
Campbell Bevan is Founder and Managing Director at Amazing Accom.
If you would like to be a guest blogger on A Luxury Travel Blog in order to raise your profile, please contact us.