By
Carolyn O'Donnell
on Jun 03, 2015 in
Accommodation
,
Asia
,
Clubs
,
Food and Drink
,
Going Out
,
Hotels
,
Leisure Travel
,
Regions
,
Resorts
,
Restaurants
,
Speciality Travel
,
Thailand
,
Travel Miscellany
With sea, sun and Champagne, Thailand's largest island has evolved into a destination travellers return to again and again, with European trends and local hospitality converging to produce what has been called "Riviera spirit". The wonderful beaches, friendly people and local attractions such as the Old Town still attract a wide range of visitors, but more guests now return for the seductive combination of tropical warmth, relaxed atmosphere and sophisticated amenities found at Phuket's premier resorts. Many are clustered on the western side of the island, capitalising on beaches and sunsets, but properties in other areas offer spectacular views. Since 2007 Phuket has experienced a boom in beach bars and clubs, catering for those who want grown-up fun with world-class food, wines and music.
With its own airport, Phuket is easy to reach with a selection of daily flights from Bangkok and Singapore. As one hotelier puts it, people come to Phuket now "to enjoy more, to see and be seen". These resorts offer a tempting mix of beach, luxury places to play.
Overlooking Phuket's northwestern coast, Trisara's opulent villas with their infinity pools and sea views are so scenically peaceful guests might be tempted to stay there swimming, playing music on the Bose sound system or nibbling the truffles that appear daily.
However it is worth emerging for walks in the landscaped grounds, a beautifully presented cocktail at the private beach club or dining on the sea-facing terrace. Trisara's award-winning SEAFOOD restaurant offers a classically eclectic menu using local organic produce and line-caught fish which can also be served at tables in the sand. At the immaculate spa, the signature massage is a six-handed event that should be experienced at least once. For guests who want to mix in some socialising, Trisara also arranges seamless sea transfers to the upmarket all-day party at the nearby Phuket branch of Nikki Beach.
Occupying a 40-acre chunk of Cape Panwa in south Phuket, Sri Panwa sprawls across its hilly terrain to capitalise on its jungle setting and glorious sea views. Guests stay in contemporary villas of one to five bedrooms with infinity pools overlooking the sea. The ambience is luxurious but not stuffy, designed to embody "sanook", or what Thais regard as the "essence of fun" (with some influence from the "adult playground" of Miami). Its Baba Poolclub features (naturally) a large pool with tables set into its edges, live music, sushi, cigars and of course sea views. The spa is worth visiting for the nautical panoramas, as well as the highly professional treatments. For many the literal high point of visiting is a sunset drink at the award-winning Baba Nest bar, which serves signature cocktails on a lofty platform surrounded by an infinity pool and miles of ocean in every direction.
A relatively recent addition to the quieter, less-developed eastern side of Phuket, Point Yamu is perched on a rocky fingertip overlooking the Andaman Sea and the dramatic limestone formations of Phang Nga Bay. Italian interior designer Paola Navone has blended local Thai motifs with airy, contemporary luxury to create a property full of contrasts and quirky detail. Water, whether in sea vistas, reflection pools, the 100m infinity pool, or in one of the private pool suites, is ever-present. Eating options include vibrant southern Thai street food at Nahmyaa or Italian at La Sirena, along with COMO Shambhala-style "spa cuisine", such as grilled salmon with quinoa salad. Activities include yoga and diving, and the beautifully appointed spa offers very relaxing massage.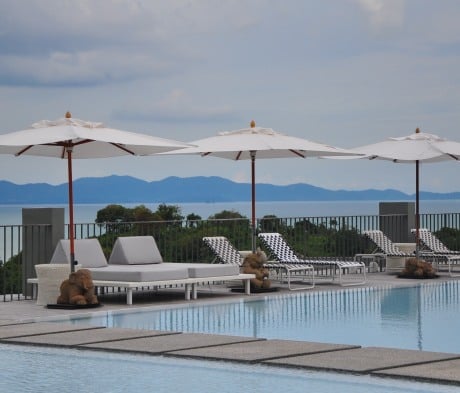 Point Yamu plans to open a beach club on a private island later this year.
Located on an enviable sweep of Kata Beach, for 25 years the compact but exquisitely formed Boathouse has delighted guests with its proximity to sand, sea and sunsets.
Refurbished in 2012, it combines almost everything required for a tropical holiday in one sand-sprayed package. Decor is contemporary Thai, and some of its 38 rooms and suites feature private balconies overlooking the waves. The resort's restaurant, the Boathouse Wine & Grill, has a terrace from which diners can step onto the beach. Its extensive menu features French and Thai food, with curries, foie gras and lobster being popular choices, along with desserts featuring Valrhona chocolate. Its award-winning cellar is one of the finest in the country with more than 800 labels, enticing discerning palates with wine-pairing dinners and multi-course tasting menus. The resort's RE KÁ TA Beach Club is just steps away, with alternative light healthy beach fare. Additionally RE KÁ TA has a bar, spa, surf shop, pool, loungers, seaside Champagne selection and DJs.
Sleekly adult, this tranquil resort feels indulgently secluded and offers guests a library, pillow menu and fantastic baristas at breakfast. Elegantly contemporary, Twinpalms is dominated by a huge lagoon pool that ripples through its centre under frangipani trees.
(Duplexes have their own pools, commissioned art and a wine cellar.) In recent years beach clubs have boomed on Phuket and Twimpalms has two on Surin Beach: Catch, the first beach club on the island, and its more relaxed sibling Bimi. Catch is regarded as one of Phuket's most fashionable venues, entertaining guests such as Kate Moss and Shah Rukh Khan. With its motto of "affordable luxury", it has enough rosé to satisfy the thirstiest visitor requiring a fix of St Tropez. Relaxed during the day, at night Catch hosts seafood buffets, fire dancers and DJs for a full evening of tropical entertainment.