The Greek mainland and its surrounding islands have long been regarded as one of the leading holiday destinations. The country attracts several million tourists each year and continues to appeal to global audiences with its unique mix of beautiful coastlines, timeless culture and charming people. Greece offers so many attractions; from stunning nature and overwhelming historical heritage to a food culture that defines Mediterranean cuisine alongside the staples of Italy, Spain and France – not to mention the colourful society and local community spirit.
Being so popular, Greece is fully geared up to accommodate visitors of all budget levels and travel needs. However, the country's luxury accommodation niche has been undergoing a significant boost. Providers are raising the bar to provide fantastic service and a highly memorable experience for customers from all over the world.
There are as many choices as there are destinations across Greece, but we have handpicked a few of our favourite luxury boutique hotels, each based on personal experiences and our own preferences!
This hotel, a member of Luxury Small Hotels of the World, is a relatively small and new name to make its way into the business. The quality and attention to detail is remarkable and of the highest standard. This hotel features a varied selection of private villas complete with swimming pools and all the other wonderful amenities which make for a comfortable and unforgettable stay.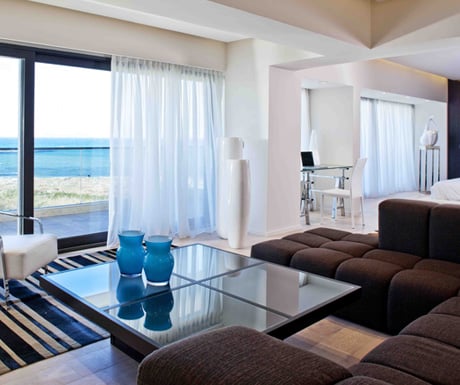 Greece is particularly well-loved because of its fantastic combination of scenery, leisure, culture and food. The setting for this particular accommodation reflects the country's eclectic nature and appeal. You can expect dedicated service with attentive and caring staff looking after your needs. A luxury spa with indoor swimming pool and the wonderful "5 Mondes" treatments creates the ultimate Zen experience. Up there with the best is a really delicious food culture, ranging from rich breakfast options to tasty lunches and gastronomic dinners with a Mediterranean flare. If you are looking for a stay in Greece that offers a good compromise between authenticity and luxury, then look no further!
Ephelondon Paleon Polemiston, Lambi Beach, Kos 853 00 Greece
Utopia Resort and Villas, Mykonos
Utopia, a member of the Relais & Chateaux chain, is a highly appropriate name for such an establishment because the setting, service and premises will really surprise you. It is a stunning network of villas and resort facilities that sits in one of the most fascinating areas in the whole of Mykonos—one of the most popular Greek islands.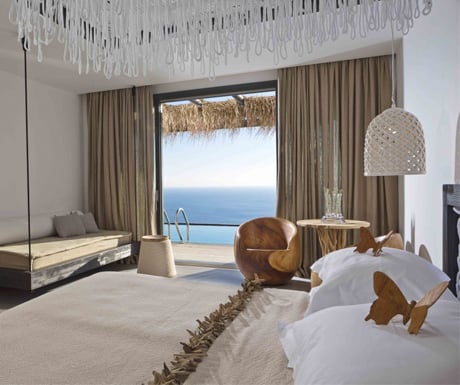 When staying at Utopia, it's as though being in a privileged and somewhat removed location, far from the clutter of the island, and deep into its beauty, nature and core traditions.
Apart from the beautiful settings, the rooms are truly delightful and the service of the staff is always attentive, discrete and polite!
Myconian Utopia Resort – Elia Beach, Mykonos 84600 Greece
San Giorgio Boutique Hotel, Mykonos
San Giorgio, a member of Design Hotels, is another choice on the island of Mykonos. The setting and type of accommodation feels slightly different from the Utopia. Instead of the villas and resort facilities, San Giorgio is styled as a cosy, luxurious and elegant bohemian style boutique hotel—a true embodiment of "small is beautiful".
Boutique hotels are often recognised for their ability to offer better quality, more personal services because the staff and crew are able to focus on a relatively small number of customers on a more direct basis. The San Giorgio adheres to this principle and you can definitely expect some serious pampering!
The rooms are comfortable and all creature comforts are provided—not that you're going to want to spend a lot of time staring at a big TV screen while on your dream vacation in Mykonos, but the option is there!
The catering and restaurant facilities certainly deserve a special mention. The San Giorgio treats guests to the most beloved staples of traditional Greek cuisine, but revisited in a modern and creative pan-Mediterranean way. If you are looking for an elegant, yet understated, tranquil accommodation with a free and bohemian vibe to it, The San Giorgio will definitely resonate with you and your expectations!
Paraga Mykonos 84600 Greece
Olivier Templar-James is Chief Editor at Luxury Travelers Guide.
If you would like to be a guest blogger on A Luxury Travel Blog in order to raise your profile, please contact us.