4 hotspots for foodies in Paris
France is definitely one of the world's most celebrated culinary meccas. It is home to one of the most influential food cultures in the western world—a culture that laid the foundations of many of the staples of European/Western cooking and is still loved and celebrated the world over for its unique outlook on ingredients, techniques and flavour matching. As the capital of France, Paris is a bit like a crossroads where the very best of French cuisine converges, resulting in the highest levels of expertise and quality. In order to make a name for yourself in one of the world's most exciting food capitals, you must really focus on quality at every possible level. From some of the best old world bakeries and coffee shops to chocolate factories, luxury food boutiques and restaurants to die for, this city will certainly satisfy even the most demanding and discerning of palettes. Here are some of our favourite foodie stops in the capital. Whether you are looking for a quick snack while on the road or an unforgettable dinner, don't miss these exciting spots when you are in Paris!
La Patisserie Des Reves
Unless you have been living under a rock for the past two hundred years, you probably know that France is synonymous with patisseries—those bakeries which particularly specialise in desserts, sweets and cakes. If you really want to understand why French patisseries are considered an art form, head over to La Patisserie Des Reves and let the food do the talking.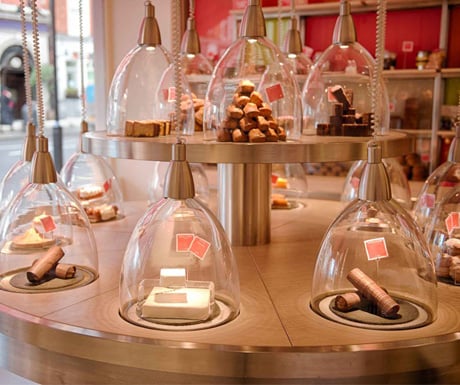 You'll find freshly made, high quality offerings every single day—from incredibly beautiful and delicious cakes to the best homemade ice-cream and organic chocolate. This place is heaven for anybody with a sweet tooth. It boasts a long-standing history of quality and local appreciation, together with several locations throughout the city and internationally, as far away as Japan!
93 Rue du Bac 75007 Paris
Georges Larnicol
If chocolate or sweets are your guilty pleasure—your secret fantasy—Georges Larnicol is probably going to be a gateway to your dreams. This chocolate factory focuses on bridging the gap between traditional techniques and creative innovation: it is where the finest ingredients and the oldest secrets of the true master chocolatiers are combined with a unique and innovative approach to chocolate-making.
Whether you appreciate the purity of noir (dark) chocolate or can't resist 'chocolate au lait', you'll be able to find everything from the most exotic pralines to the rawest forms of chocolate, all aimed at the true connoisseur.
132 Boulevard Saint-Germain 75006 Paris
Fauchon
A lot of people go to Paris to enjoy and take advantage of the city's luxury shopping scene. While some focus on clothing stores or antique boutiques, others love to spend their time and money at luxury food shops!
Fauchon is probably one of the most celebrated and popular luxury food chains in the city. This is where you'll be totally spoiled by the experience and the knowledgeable staff who will tell you all about the most incredible French delicacies and pastries, from macaroons to croissants. The store is also a popular destination for tea and coffee lovers, thanks to their monumental collection of teas and coffee blends. If you need a quick bite while exploring the streets of Paris, why not grab something at the in-store fresh deli?
30 Place de la Madeleine 75008 Paris
La Grande Epicerie
With a name that sounds as grandiose as the incredible food offered, La Grande Epicerie of Paris is one of the most popular luxury food stores in the city.
Styled as a diverse and colourful in-door food market with a rather pleasant, old-fashioned charm, getting lost within this store is an absolute pleasure for the senses. As you walk along the aisles, your senses will be lost among the colours, scents and appearances of the world-class food being sold, from the rich aromas of the coffee and tea blends to the delicatessens and the fragrant smell of freshly baked baguettes straight from the oven.
38 rue de Sèvres 75007 Paris
Olivier Templar-James is Chief Editor at Luxury Travelers Guide.
If you would like to be a guest blogger on A Luxury Travel Blog in order to raise your profile, please contact us.
Did you enjoy this article?
Receive similar content direct to your inbox.